Cleveland's Restrictions on Convention Protests Are Unconstitutional
A judge has ruled that a 3.3-mile zone around the convention, to be held in July, infringes on demonstrators' rights.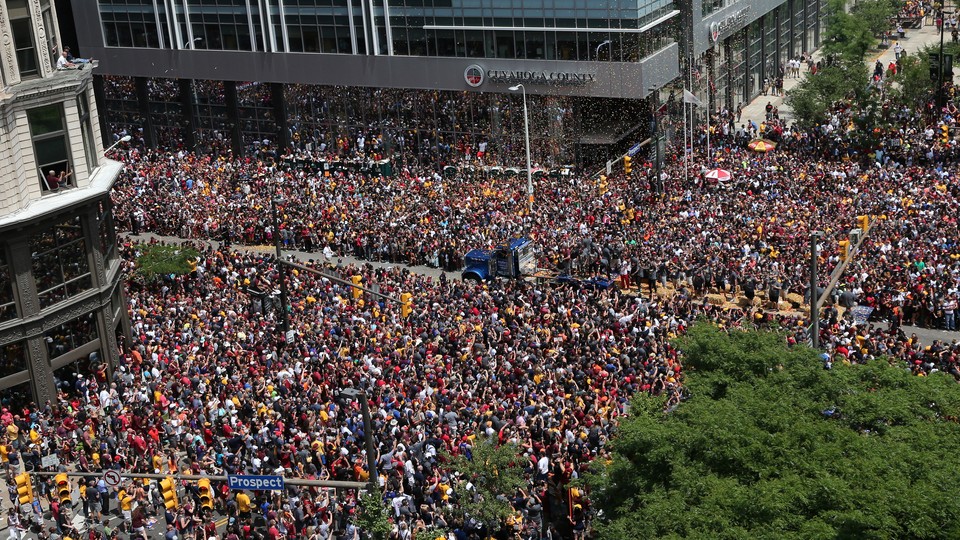 It's been a big week for parades in Cleveland.
A day after 1.3 million people packed into the Forest City to celebrate the NBA champion Cavaliers, a judge has struck down restrictions on parades and protests during the Republican National Convention in July. During a hearing on Thursday, U.S. District Court Judge James Gwin said that a 3.3-mile square zone around the site of the convention, in which protests and demonstrations were to be prohibited, was unconstitutional, The Plain Dealer reports.
The ruling comes in a lawsuit brought by the ACLU of Ohio on behalf a trio of rather disparate groups: Citizens for Trump, the Northeast Ohio Coalition for the Homeless, and Organize Ohio. While courts have tended to give cities wide leeway on setting up zones around major events, there's a constitutional "sight and sound" requirement, which says that protestors have a right to have some proximity to their target.
"Every municipality starts out with, 'We love the First Amendment, we love everybody's rights, we're going to be there for them.' They spin that for month, and then the convention comes and they arrest everybody," Christine Link, executive director the ACLU of Ohio, told me this week. "This all begins to look and feel a little but like martial law. Court cases have said, you can have your zones, but they can be no larger than absolutely required for safety purposes."
The city of Cleveland has promised to appeal the decision.