Cleveland Just Can't Catch a Break
The city is riding high after the NBA final. But with the GOP convention looming, residents are bracing for disappointment.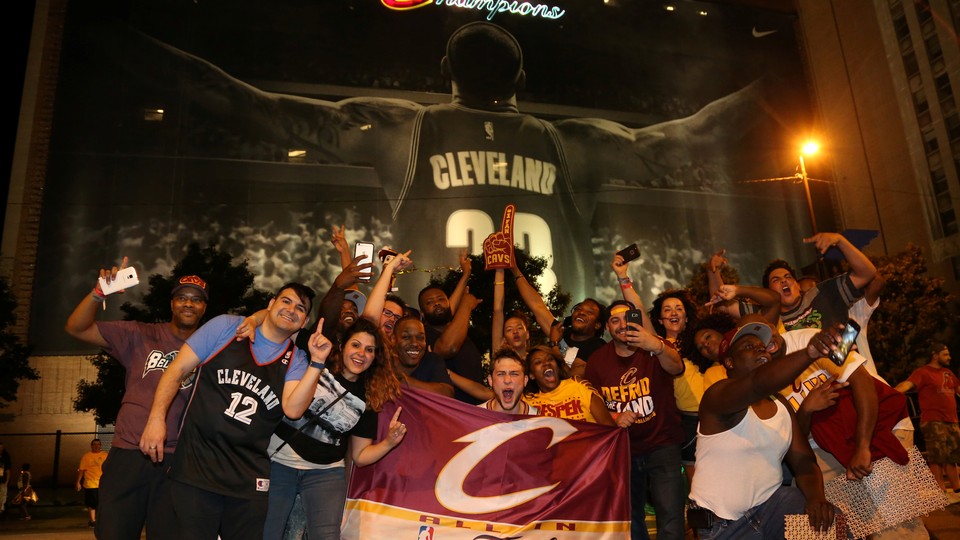 Cleveland's in a weird mood.
My son and I attended the Indians game on Father's Day, the afternoon before game seven of the NBA Finals—which, in retrospect, now seems like it should be blockbustered simply as The Afternoon Before—when the Cavaliers would take on the Golden State Warriors and bring the city its first major-league sports championship in 52 years.
I am 52 years old. I've lived in Northeast Ohio all my life. I know what Cleveland feels like. And it's not this.
In the ballpark that day, 25,269 of us sat watching a pitcher's duel, and the place was palpably subdued. The announcer and digitized big-screen signage made no acknowledgement of the city's excitement over the Cavaliers. There were no chants of "Let's Go Cavs," no special seventh-inning-stretch cheer for the Indians' basketball brothers, who play next door in the Quicken Loans Arena, which in a few weeks will host the Republican National Convention.
It seemed like everyone was braced for something, but we didn't know what.
The game, an appropriately tense affair, went to extra innings. The Indians won with a walk-off single in the 10th. Afterward, we exited the ballpark onto a sidewalk teeming with fans heading to various watch parties downtown, the same sidewalks that will soon be filled with RNC visitors. We walked up East 9th Street, the main drag, toward Lake Erie. It looked and felt like a happening for sure, but it also seemed… weird.
I began to notice that every single person was in some version of a Cleveland T-shirt: wines and golds, the silhouette of Ohio and the city skyline incorporated in various ways, slogans reading, "Cleveland is the City," "Cleveland Against the World," or simply "CLE." But they all looked new, and it seemed that none of them were the same, as though somehow Cleveland love was rapidly spawning into infinite positive mutations.
My own T-shirt that day was one I'd bought back in Lebron James's first go-round with the Cavs, before he departed for Miami, when he was trying to win a championship with the likes of J. J. Hickson and Delonte West. It is yellow, with the classic 1970s Cavaliers logo, bubble letters, and an imagined d'Artagnan jabbing his sword. It has a series of pinholes down at the beltline, probably from where it rubs against the lawnmower handle, and a collar I'd sewn back together just that morning so I could wear it to the game. Stitched up and frayed: That's the Cleveland I understand.
The recent narrative of this city is one of cautious optimism, which is really the only kind of optimism one can afford in a region famed more for its litany of challenges than achievements and has traded heartily on its hardscrabble image, with "Burning River" beer and "You've Got to Be Tough" T-shirt logos. As the television commentator and Ohio native Chris Rose once observed, "Cleveland sports fans are 90 percent scar tissue."
The same could be said of the populace overall. When we learned in July 2014 that the city had landed the Republican National Convention, there was a euphoria, a weakening in the usual caution to our optimism, a feeling that things are indeed going in the right direction. That same week, LeBron James announced he was returning to the Cavaliers after his four-year, championship-fueled stint with the Miami Heat. This was a new feeling. A good feeling.
But of course, in the past several months, clouds have been gathering over this political hoo-ha. Clouds are a familiar image here. According to the weather site currentresults.com, Cleveland is the fifth cloudiest city in America, which makes us an also-ran even in the realms of drudgery.
Fears of a contested convention. Donald Trump's hot-winded volatility. The cost to taxpayers. Protesters and pugnacious Trump supporters booking rooms in the same hotels. Bars staying open till 4 a.m. Recurring tear-gas references. The American Civil Liberties Union winning its lawsuit against Cleveland over its announced restrictions on demonstrators. The idea of this event putting Northeast Ohio in a positive spotlight has been skidding and stumbling along for months. The region has been bracing for something quite familiar: the strong odds that something will go terribly wrong.
When the Cavaliers fell, hard, to 0-2 in the NBA finals, I posted on Facebook: "So basically, at this point, all Cleveland gets is Donald Trump." I gladly eat those words now, but would ask at least for understanding. It's what I know. Or, I guess, knew. I'm in uncharted territory.
Despite all odds, Cleveland won. Father's Day ended with an epic championship victory for the Cavaliers, a much-deserved Most Valuable Player trophy for James, the Akron-born homegrown hero, who collapsed in tears at the sound of the final buzzer.
Three days after that Father's Day championship, my family and I were again in downtown Cleveland, for a victory parade that drew an estimated 1 million people. By way of comparison, the population of Cuyahoga County, of which Cleveland is the seat, is 1.25 million. There were a lot of people there. More than I've ever seen in one place.
As we waited and waited for a parade late in starting and stop-and-go in its progress, many of us commented that this would be a good test run for the convention—how crowds would be handled, how the city's preparedness would fare, how the police would act, how we ourselves would act. The air of good feeling was uniform and effusive. Even as the un-barricaded route remained clogged with spectators who were repeatedly cleared by law-enforcement officers, there was never a sense of tension. East 9th Street looked like an organism, contracting and expanding. The logistics were full of glitches, yet nothing seemed wrong.
With the convention, it's hard to avoid an opposite tone, one of acrimony and concern. To an uncannily consistent degree, whenever I've mentioned that I'll be there working as a journalist, the response has been, "Bring a gas mask."
So the mood before this historic championship was weird, the mood in its aftermath has been weird, and the mood entering July and the convention is weird. None of these is the same weird.
What does seem consistent, in each of these phenomena, is the way Cleveland manifests itself a great American city. It is a soulful city, rich in its messed-up, garage-band, beer-soaked pragmatism. Perhaps the most enduring image I'll take from the parade is that of the Cavs player J.R. Smith, shirtless and tattooed, standing atop the cab of a truck with his arms spread wide in a transcendent attitude of love and celebration, the multitudes responding in kind, and the truck crawling along beneath with its local towing-company business name and phone number on the door. That same driver will probably be hauling some poor slob's Hyundai to the impound lot tonight.
Cleveland is a resurgent city, but one seldom perceived that way, because surges here are so Sisyphean. In the summer of 2016, Cleveland is learning for the first time what it feels like to be at the peak. Who knows what the convention will bring, but even if it's a disaster, this city knows what to do if it all starts rolling back downhill. Keep pushing. It's what we do best.