The Twin Challenges Facing Charlotte
Like other southern cities, it's becoming more inclusive—but finding equity more elusive.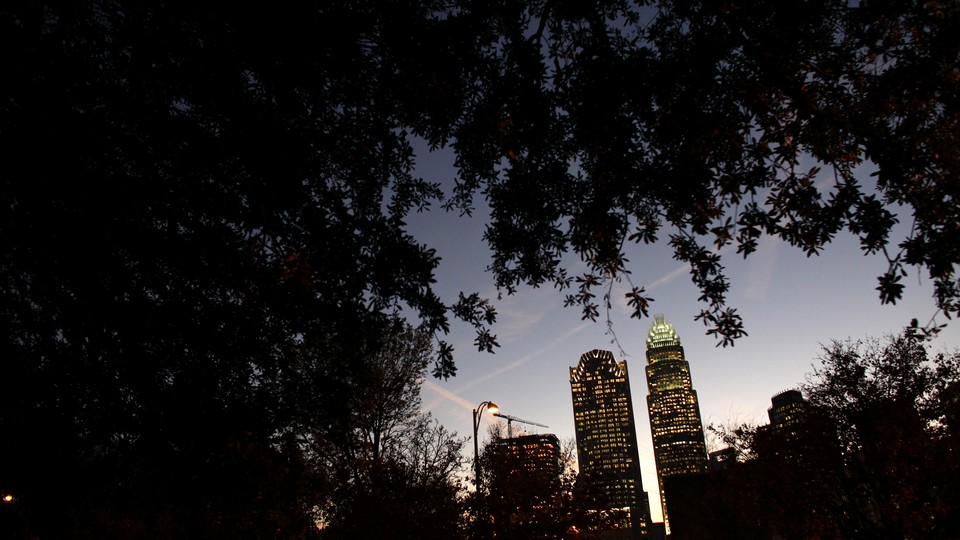 CHARLOTTE, N.C.—Prosperous, tranquil and sometimes a little bland, this steadily growing Southern city has long been known more as buttoned-down than cutting edge.
But now it unexpectedly finds itself at the crossroads of two debates driving the 2016 election: inclusion and equity. Far more explicitly than most communities, Charlotte is now grappling with each question. The answers it is formulating preview the strains the nation will face in confronting both challenges.
From the start, the 2016 election has unfolded as a referendum on national identity—how Americans live together, or not, in an inexorably diversifying country. Donald Trump has built his campaign on a message of European-style racial nationalism rooted in fears that demographic and cultural changes are undermining traditional American values and threatening the nation's prosperity and security (an argument he's amplified since the Orlando shooting). Hillary Clinton has responded by insisting that diversity and tolerance make the U.S. stronger.
On this broad divide, there's no question where Charlotte falls. Like virtually every major city, it has forged a strong consensus behind inclusion as central not only to its social values, but also its economic strategy. Reflecting the "creative class" arguments of the urban theorist Richard Florida, local leaders here view a tolerant climate as indispensable to attracting the well-educated young people filling the new apartments and craft breweries sprouting across its Uptown neighborhood. "We know talent comes in all shapes and sizes," Jennifer Roberts, who was elected as mayor last November, told me at an Atlantic forum here this week. "We've got to show that we are welcoming, that we are inclusive, and that we are going to treat people equally."
With the city's Latino population rapidly increasing, that impulse translated into a June 2015 City Council resolution asking its police department not to enforce federal law aimed at detaining undocumented immigrants. More famously, the same instinct drove last February's City Council vote (with Roberts's strong support) in which Charlotte joined almost all large cities by adding gay and transgender people to its local non-discrimination law.
But in each case, Charlotte's initiatives drew a fierce backlash from the North Carolina Republican Party, which is now grounded, as almost everywhere, in suburban and rural communities beyond the state's urban centers. The GOP-controlled state legislature voted to overturn Charlotte's immigration and gay rights moves, and Republican Governor Pat McCrory, ironically a former Charlotte mayor known then as a moderate, signed both bills.
These fights—particularly over gay and transgender rights—have dramatized a cultural gulf between urban and non-urban America that may now be at its widest since the battles over prohibition and immigration in the 1920s. "This is not something that just Charlotte is facing," Roberts says. "My worry for America is that we have states that are holding our cities back." The broad business backlash against the state's gay-rights override underscores how much of corporate America has embraced the urban consensus that cosmopolitan cultural values are now indispensable for attracting talent. Roberts appreciates the support but worries about the tactics: Companies and local governments boycotting North Carolina, she says, might shape the debate more by engaging with Charlotte than ostracizing it. And despite all the pressure, many here believe the impasse is more likely to be broken by court rulings than by state Republicans repealing their legislation blocking Charlotte's action.
Though largely obscured by this heated struggle over gay and transgender rights, Charlotte is also grappling more overtly than most places with the other central domestic issue of 2016: inequality. Since 2000, Charlotte has ranked near the top in cities for both job and population growth, and wages have increased by one-third. But about one-third of both African American and Hispanic children here live in poverty, compared to only about one-in-20 white kids. And one major academic study ranked Charlotte last among the 50 largest metro areas in achieving upward mobility for young people born into poor families.
Charlotte has succeeded more in attracting young college graduates from elsewhere than in equipping its own minority kids to fill the best jobs it is creating. That's a common equation in fast-growth cities from Seattle to Austin. What's unusual is Charlotte is examining this disparity head-on. A task force on better integrating its growing immigrant community issued a report last year, another task force on opportunity is expected to make recommendations early in 2017, and there's a high-stakes ongoing review of how Charlotte assigns students to schools.
That last effort may be key. After court decisions and mounting white complaints dismantled the county's landmark desegregation program in the 1990s, local schools have dramatically re-segregated along lines of race and income: fully 77 percent of black and 80 percent of Hispanic Charlotte students (compared to 23 percent of whites) now attend schools where a majority of their classmates qualify as poor or low income. "You see the impact economically and in educational outcomes," said Dan Roselli, who runs a popular incubator for local start-up companies. "There's no question we were better as a community when we had integrated schools."
Asked how Charlotte might crack inter-generational poverty, Roberts points to policies in early childhood, K-12 education, affordable housing, and transportation. Most of those are beyond the capacity of this, or any city, to address without support from states and Washington. Promoting inclusion, like Charlotte's battle with the state over gay and transgender rights, may be the most incendiary struggle cities face. But advancing equity remains their most intractable challenge.