The Man Who Said He Wanted to Kill Trump
A teen was charged Monday after trying to take an officer's gun at a Las Vegas rally over the weekend.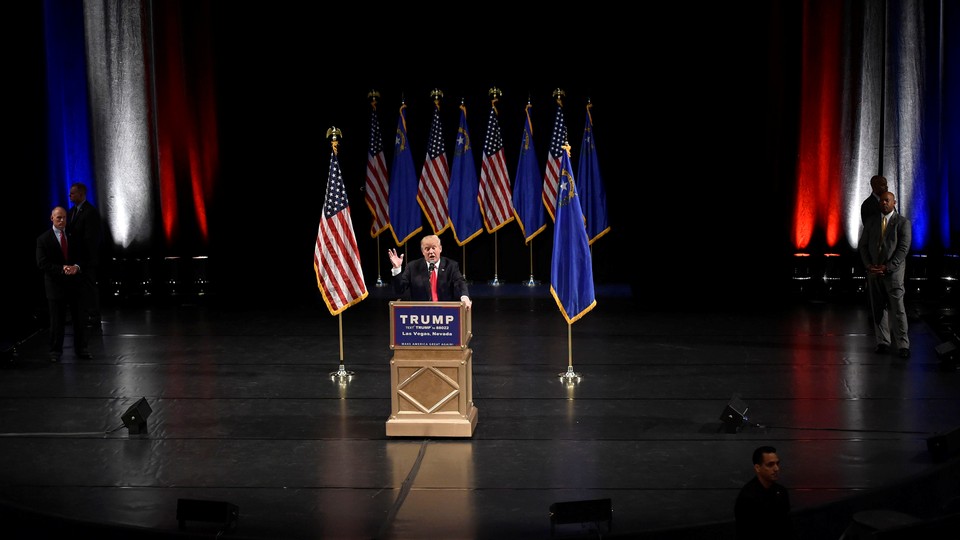 A 19-year-old man was charged Monday with an act of violence on restricted grounds after he tried to seize a police officer's gun at a Donald Trump rally over the weekend, the Associated Press reports. The man, Michael Steven Sandford, apparently told officials he intended to kill the presumptive Republican nominee. The complaint was filed Monday in the U.S. District Court in Nevada:
It cites a report by Special Agent Swierkowski, whose first name was not included, saying Sandford told officers he drove from California to kill Trump and went to a Las Vegas gun range the day before to learn to shoot.

Sandford later went to a Trump rally at the Treasure Island Casino and approached a Las Vegas police officer to say he wanted an autograph from Trump.
Sandford was arrested after he went for the officer's gun. According to a CNN report on the incident, local police officers assisting the Secret Service at the rally helped detain Sandford.
Trump rallies have been a source of conflict in recent months, including occasionally violent encounters between protesters and Trump supporters. A local ABC affiliate reported Saturday that at least two individuals were removed from the rally, though it's not clear whether Sandford was one of them. About 1,500 people were expected to attend.