Can Donald Trump Move the NRA on Guns?
The presumptive Republican nominee wants a meeting to discuss restricting firearm sales to people on the terrorist watch list.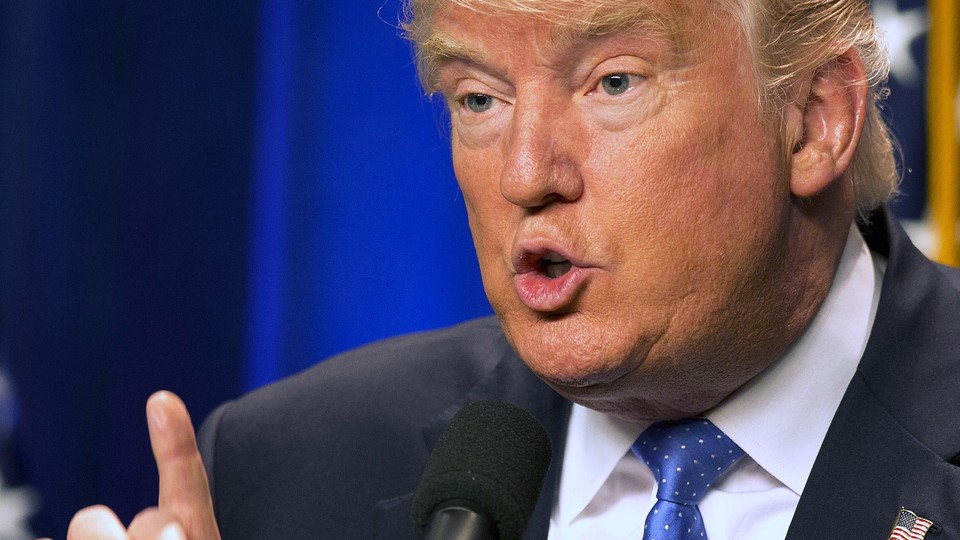 Updated on June 15 at 1:07 p.m. ET
Donald Trump's powers of personal persuasion are about to face their biggest test yet.
The presumptive Republican nominee tweeted Wednesday that he would be meeting with the NRA to discuss proposals to bar people on the terrorist watch list from buying guns.
I will be meeting with the NRA, who has endorsed me, about not allowing people on the terrorist watch list, or the no fly list, to buy guns.

— Donald J. Trump (@realDonaldTrump) June 15, 2016
Support for tighter gun restrictions for suspected terrorists puts Trump at odds with Republicans and in line with Democrats, who have renewed their push for closing what they call the "terror loophole" in the days after a man who had been under investigation by the FBI murdered 49 people in an Orlando nightclub. But it's not a new position for Trump. "If somebody is on a watch list and an enemy of state and we know it's an enemy of state, I would keep them away, absolutely," he said on ABC's This Week in December, around the time when Democrats made their last effort to change the law.
The NRA and most Republicans have opposed linking the terror watch list, or the smaller "no-fly" list, to gun restrictions as both an infringement on Second Amendment rights and on due process, since many of the people on the list have never been convicted or even accused of a crime. The ACLU has also criticized the proposal as a violation of civil liberties. "The standards for inclusion on the No Fly List are unconstitutionally vague, and innocent people are blacklisted without a fair process to correct government error," Hina Shamsi, director of the ACLU's National Security Project, wrote in December. But that may not bother Trump, who's floated any number of proposals in the name of combatting terror that would constrict civil rights.
Lost in much of the discussion is the fact that the proposal from Democrats likely would not have prevented Omar Mateen, the Orlando shooter, from buying his guns in the days before the massacre. The FBI had investigated Mateen for ties to terrorism twice in 2013 and 2014, and during those inquiries he was placed on the main watch list, known as the Terrorist Screening Database. But his name came off the list when those investigations ended. Democrats say that a proposal from Senator Dianne Feinstein of California would allow the attorney general to block gun sales to suspected terrorists even after a formal investigation is closed, but it would not require the government to do so.
Beyond Trump, there have been signs in the last 24 hours that Republicans might be shifting on the issue in the wake of the Orlando massacre and as the November elections approach. Representative Robert Dold of Illinois, a Republican representing a swing district, called for a vote on measures to restrict gun sales to suspected terrorists. Senator Rob Portman, who is in a tough reelection fight in Ohio, also told reporters that anyone on the terror watch list should be barred from purchasing guns. (A spokesman later clarified that Portman's position was the same as it was in December, when he voted in favor of a weaker Republican bill to give the Justice Department more power to delay or block gun sales to suspected terrorists.) And on Wednesday morning, another vulnerable Republican senator, Kelly Ayotte of New Hampshire, responded to Trump's tweet about an NRA meeting with her own call for a resolution to the debate: "We need to work together to solve this and ensure terrorists can't buy guns," she wrote.
The NRA responded to Trump later on Wednesday by saying it was glad to meet but that its position had not changed.
Happy to meet @realdonaldtrump. Our position is no guns for terrorists—period. Due process & right to self-defense for law-abiding Americans

— NRA (@NRA) June 15, 2016
Perhaps the most significant comments, however, came from Senate Majority Leader Mitch McConnell, who said he was "open" to legislation that would keep guns out of the hands of terrorists. Republicans, he told reporters, were "open to serious suggestions from the experts as to what we might be able to do to be helpful." McConnell's top priority this year is not electing Trump president; it's maintaining a Republican majority in the Senate, and the more pressure he gets from vulnerable members of his caucus, the more likely he is to move on legislation dealing with the watch list.
Any debate on restricting gun sales to people on the watch list is likely to center on the due-process provisions in the legislation. Democrats say their bill allows individuals to appeal their placement on the list, but it did not go far enough for the NRA or Republicans. Most Republicans instead voted for an alternative proposed by Senator John Cornyn of Texas, which would have allowed the attorney general to delay a sale of firearms to someone on the watch list for up to 72 hours and required the FBI to obtain a court order blocking the sale if the judge found probable cause that the person "has committed or will commit an act of terrorism." Democrats deemed that standard far too high, and most voted against the bill.
The NRA's Chris Cox issued a statement early Wednesday afternoon making clear that the organization backed Cornyn's proposal. "Anyone on a terror watch list who tries to buy a gun should be thoroughly investigated by the FBI and the sale delayed while the investigation is ongoing," he said.
If an investigation uncovers evidence of terrorist activity or involvement, the government should be allowed to immediately go to court, block the sale, and arrest the terrorist.  At the same time, due process protections should be put in place that allow law-abiding Americans who are wrongly put on a watch list to be removed.
It's possible that GOP leaders will simply return to that proposal, which would allow vulnerable Republicans to vote in favor of restricting gun sales to terrorists without being seen as caving to Democrats and President Obama. But a compromise that Democrats could accept might also be in the offing. Senator Bill Nelson, a Florida Democrat, on Wednesday introduced legislation that wouldn't automatically block gun sales to people on the terror watch list but would require the instant background check system to notify the FBI when someone in the database tries to buy a gun. Cornyn said he was working with Feinstein to strike an agreement. And Senator Pat Toomey of Pennsylvania, a Republican who supported expanded background checks in the past, was talking with negotiators for Michael Bloomberg's Everytown gun-control group, the Washington Post reported. Meanwhile, Democratic senators began mounting a filibuster of a Senate appropriations bill on Wednesday to draw attention to the gun issue and force Republicans to allow a vote on legislation to address it.
For Trump, getting the NRA to endorse any kind of deal on guns would be a coup for his (self-inflated) reputation as a negotiator. But given his standing with Republicans, it seems unlikely the powerful lobbying group would consent to anything that Democrats could also get behind.
In the House, Democrats demanded a vote on "no fly, no buy" legislation that would restrict firearm sales to people on the smaller list who are not allowed to fly commercially in the U.S. "Will the 'no fly, no buy' bill be a panacea? Will it solve all the problems? No. But it is a start," Representative Joe Crowley of New York said in a press conference. "And that is what the American people are looking for."
Still, the Democrats held out little hope that Trump's opinion would have much influence, noting that it was just the latest issue on which he had a disagreement with Republicans. "It is irrelevant," Representative Steve Israel of New York said. Crowley added with a chuckle: "If Con Man Don can convince the NRA to move forward on this, God bless him."