Bernie Sanders's Call to Reform the Superdelegate System Gets Traction
Some Senate Democrats agree with his critiques, according to Politico.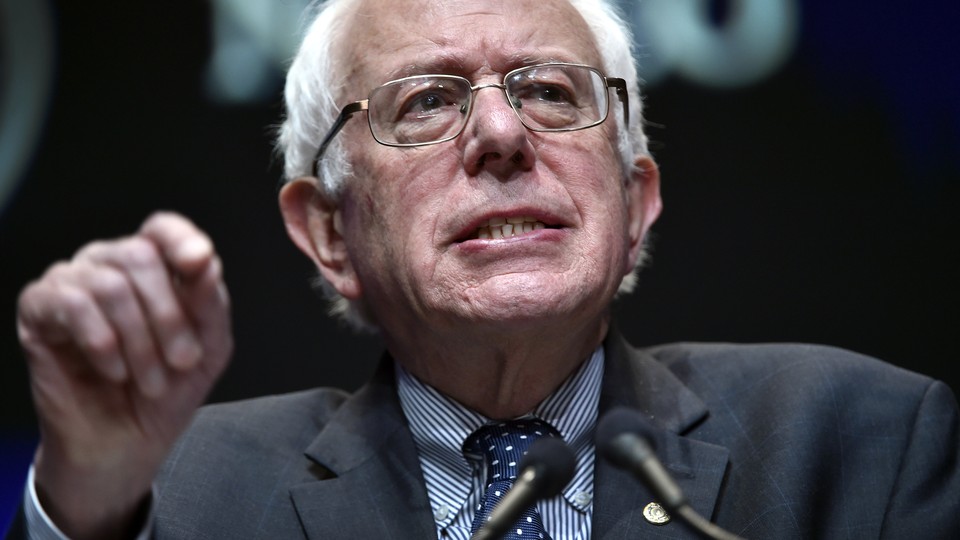 Bernie Sanders's push to reform the Democratic Party's superdelegate system is picking up support among his colleagues in the U.S. Senate, according to Politico. In recent weeks, Sanders has called for the elimination of superdelegates, which has since become a central argument of the campaign, as well as a contentious point of disagreement between the Vermont senator and Hillary Clinton.
A number of Senate Democrats agreed that the system should be changed, including establishment figures like Virginia Senator Tim Kaine, according to the article:
More than half the senators surveyed support at least lowering the number of superdelegates, and all but two said the party should take up the matter at next month's convention in Philadelphia, despite the potential for a high-profile intraparty feud at a critical moment in the campaign.

The findings point to growing momentum among Democrats for changing a system that's been criticized for giving party bigwigs undue sway over the nominee at the expense of the grass roots.
Throughout the primary season, Sanders complained about the existence of superdelegates. He argued that the system gives party elites too much power as it allows them to chose freely who they want to support. His critique was particularly relevant on the eve of the California primary, when the Associated Press announced that Clinton had won the needed number of delegates to secure the Democratic nomination. AP combined her delegate count with a number of superdelegates who said they would support Clinton. This support was longstanding—Politico notes that before the presidential primary, some "Democrats in Congress who serve as superdelegates lined up behind Clinton, giving her a significant delegate lead even before the Iowa caucuses."
Not all legislators want to alter the system. The Congressional Black Caucus sent a letter to the Sanders and Clinton campaigns earlier this month expressing concern about potential reforms. The CBC chairman G.K. Butterfield argued that eliminating superdelegates would negatively impact members of the CBC.
Clinton becoming the party's presumptive nominee cannot be solely attributed to superdelegates. But the growing momentum to reform the system could be fodder for Sanders at the Democratic convention in July.