The Future of the Sanders Revolution
The Vermont senator is staying in the presidential race, but looks forward to working with Hillary Clinton "to transform the Democratic Party."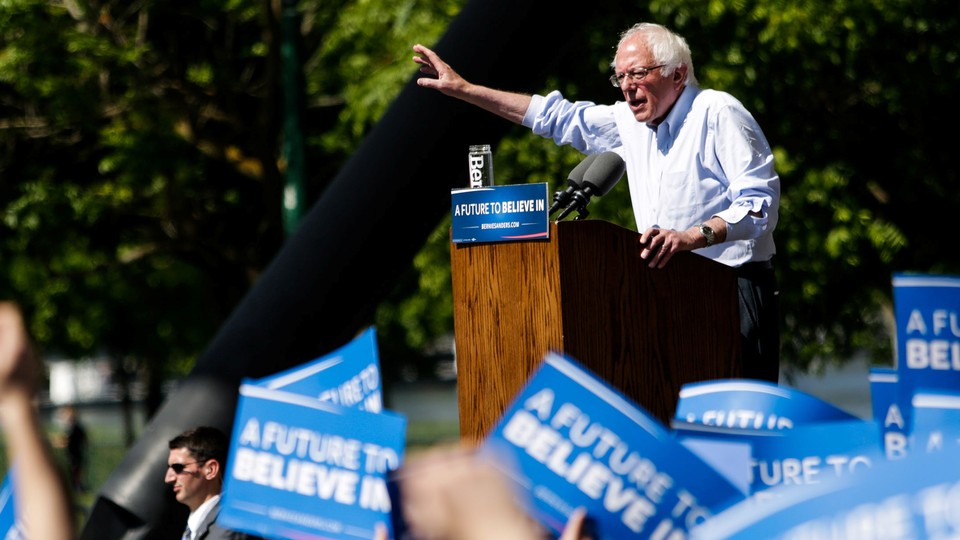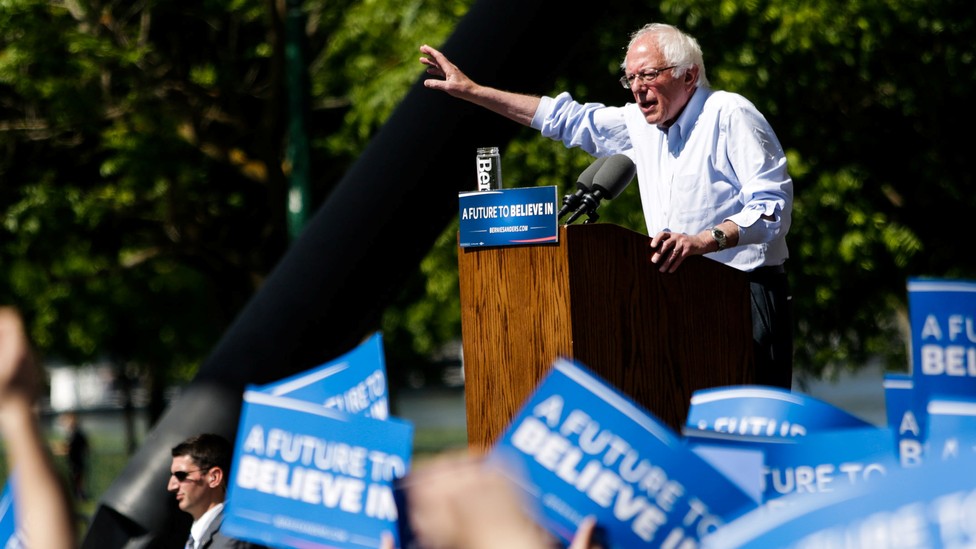 Bernie Sanders is not officially dropping out of the Democratic presidential race, or endorsing Hillary Clinton—at least not yet.
Speaking to supporters in a video address from Burlington, Vermont, Sanders outlined a vision for the future of his revolution on Thursday evening, though it remains to be seen whether the highly-ambitious agenda will translate into political reality. The senator ticked off a litany of items he wants to see the Democratic Party support, including a $15-dollar-an-hour federal minimum wage, a ban on fracking, and comprehensive immigration reform. His speech was a clear attempt at convincing his supporters to stick with him for the long haul, whatever happens next. "Election days come and go," Sanders said. "But political and social revolutions that attempt to transform our society never end."
His refusal to concede opens Sanders up to criticism that he is ignoring reality now that voting has concluded in the Democratic race, and Clinton has claimed the title of the party's presumptive nominee.  It seems clear, however, that Sanders is no longer focused on battling  for the White House. Instead, he is intent on leaving a mark on the Democratic party, and ensuring that Donald Trump does not win the White House. "The major political task that we face in the next five months is to make certain that Donald Trump is defeated and defeated badly," Sanders said in his address. "I personally intend to begin my role in that process in a very short period of time."
Yet the senator emphasized that defeating "Trump cannot be our only goal," pivoting to a discussion of his Democratic rival. "It is no secret that Secretary Clinton and I have strong disagreements on some very important issues," Sanders noted, but quickly added: "It is also true that our views are quite close on others." Overall, he spoke of Clinton more as a partner than as an adversary.  "I look forward, in the coming weeks, to continued discussions between the two campaigns to make certain that your voices are heard and that the Democratic Party passes the most progressive platform in its history," Sanders said. "I also look forward to working with Secretary Clinton to transform the Democratic Party."
Sanders risks losing leverage by remaining in the race. That is particularly true if it seems like the movement he has worked so hard to build is beginning to dissipate. Some of his closest allies are already giving up on his fight for the White House. On Wednesday, MoveOn.org, a progressive organization that endorsed Sanders, offered its congratulations to Clinton. On Thursday, Raul Grijalva, the first member of Congress to endorse Sanders, announced he was ready to support Clinton. The congressman made clear that he wants Clinton to embrace the ideals Sanders has fought for, but the declaration was an unmistakable sign that the end is near.
It was never going to be easy for Sanders to win concessions to the party agenda and the nominating process. It will be far more difficult if even his allies desert him. The question now is: How much, if any, of the agenda he has laid out will Sanders achieve? And how many of his followers will stand by him as he attempts to enact change?
The Clinton campaign must be relieved that Sanders seems to have turned his attention to a fight over the future of the party and away from attacks on the former secretary of state. But the senator's decision to stay in the race is an irritant to supporters of the presumptive nominee. For her part, Clinton is working to act conciliatory, a clear recognition that she needs the support of  his followers to defeat Trump in November.
So far, détente appears to be going well. The rival candidates met privately in Washington, D.C., on Tuesday to discuss what comes next. Each campaign put out a positive assessment of the meeting afterward. A spokesperson for Sanders noted afterward that "the two discussed a variety of issues where they are seeking common ground: substantially raising the minimum wage, real campaign finance reform, making health care universal and accessible, making college affordable and reducing student debt." It remains unclear what the outcome of negotiations between the campaigns will ultimately be, and whether it will stick.
Sanders made clear on Thursday that he wants to focus attention on state-level politics as well.  "The current Democratic Party leadership has turned its back on dozens of states in this country and has allowed right-wing politicians to win elections in some states with virtually no opposition – including some of the poorest states in America," he said. "The Democratic Party needs a 50-state strategy. We may not win in every state tomorrow, but we will never win unless we recruit good candidates and develop organizations that can compete effectively in the future." He directed supporters to his website to "learn more about how you can effectively run for office or get involved in politics at the local or state level," saying he hopes "people will give serious thought to running for statewide offices and the U.S. Congress."
Unfortunately for the campaign, the senator's attempt at taking his political revolution to the state level has suffered setbacks in recent days. Earlier this week, Lucy Flores, one of the candidates Sanders endorsed, lost her congressional primary in Nevada. If candidates who Sanders supports continue to lose, and supporters throw their weight behind the presumptive nominee, Clinton and other Democrats may reach a point where they no longer feel much pressure to placate the long-shot candidate.
On the other hand, it makes a certain sense that Sanders would remain in the race. He may never again have the kind of visibility that comes with a presidential campaign. His standing may diminish the longer he stays in the race, but the alternative is to give up the national platform he currently commands as a presidential candidate altogether.
The changes Sanders is pressing for have the potential to power his political revolution forward. The party platform is ultimately not binding, but if Sanders can extract concessions from Clinton, and especially if he can do it in a highly publicized way, that could lay the groundwork for enacting a more progressive agenda down the line. As Brian Goldsmith recently wrote in The Atlantic, "once in office, presidents almost always try to carry out their pre-election agendas."
Beyond the platform, Sanders stated earlier this week that he wants to see changes to the presidential nominating contest. This might seem not to be the sweeping stuff of political revolutions. But it could help Sanders keep his supporters engaged in the political process. Many of them believe the election has proceeded unfairly. What incentive do they have to support, or volunteer for other progressive candidates, and turn out to vote next time around? If Sanders can reform the process, it could convince disaffected voters there's a reason to continue to fight. That, of course, is precisely what Sanders needs if he wants to build a movement that will outlast this election.