How Not to Achieve Democratic Unity
Calls to rally around Hillary Clinton likely won't convince Sanders supporters to give up on the U.S. presidential primary.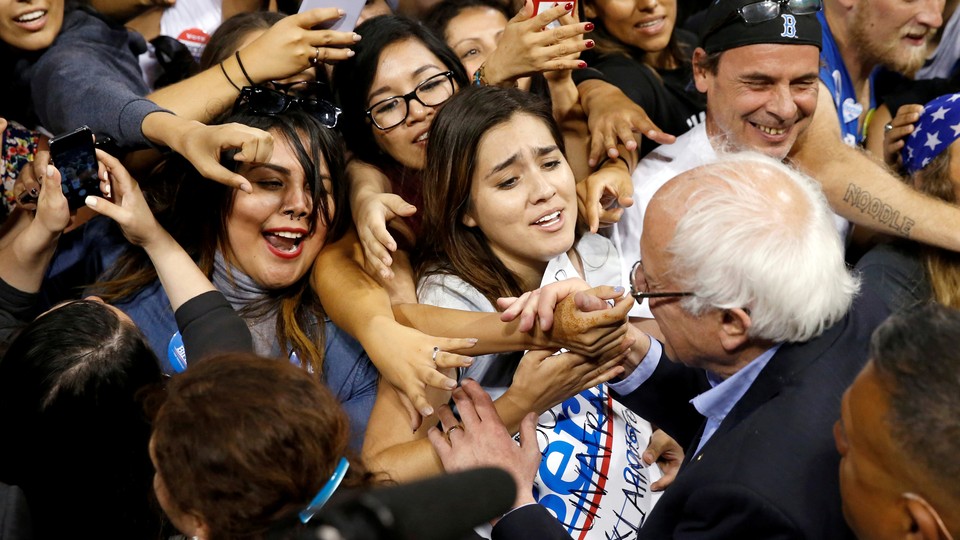 Democrats need to stop fighting—it's time for unity. That's the message some Hillary Clinton supporters appear eager to impress upon voters as the general election gets closer. "This is no time for Democrats to keep fighting each other," California's Democratic governor Jerry Brown declared on Tuesday in an open letter signaling his intention to vote for Clinton. "It's time for all Americans who care about environmental justice, public health, and protecting the planet for future generations to unite—to stand with Hillary Clinton and reject Donald Trump," NRDC Action Fund president Rhea Suh said Tuesday in an announcement that the environmental group had endorsed Clinton. The implication was clear: The end of the primary election is near, and voters should coalesce behind the Democratic presidential frontrunner.
But the primary is not over, and Democrats appear deeply divided as calls for unity intensify. Recent polling suggests the race between Clinton and Bernie Sanders in next week's California primary has grown increasingly competitive, an uncomfortable reminder for Clinton that she has not yet managed to lock up the nomination, despite her lead in the delegate count. Calls for unity have undoubtedly grown louder as a result of these apparent divisions, not in spite of them. But if Clinton and her allies fail to offer Sanders supporters a compelling reason to switch allegiances, unity won't come easily.
It's not hard to see why anxious Democrats want to get the whole thing over with. Trump has stepped up his attacks on Clinton and can devote his attention to the general election as the Republican presumptive nominee. Clinton must now wage a two-front fight, defending her left and right flank. As the primary drags on, her campaign has had to sink time and money into states that are not expected to be general-election battlegrounds. Yet as Clinton supporters call for an end to the Democratic primary, they risk alienating the voters who have so far sided with Sanders—voters Clinton will need in November. Which leaves a question: What's the best way for Democrats to bring together a fractured coalition once the primary election ends?
On Tuesday, Brown noted he is "deeply impressed with how well Bernie Sanders has done," adding that the senator "has driven home the message that the top one percent has unfairly captured way too much of America's wealth, leaving the majority of people far behind." It's easy to offer up praise. It's harder to ensure that the policies Sanders has worked to elevate will be meaningfully incorporated into the Democratic agenda. To be sure, party leaders have already shown a willingness to grant concessions. In May, the Democratic National Convention Committee opted to give Sanders an unusual degree of influence over the party-platform-drafting committee, allowing him to name five of 15 total members. But it is unclear what, if any, concrete policy concessions Sanders will ultimately be able to extract. If Sanders supporters believe Democratic leaders have dismissed their demands, they may feel increasingly mistrustful toward the party by the time the general election arrives.
Many Clinton supporters seem to be relying on the threat of a Trump presidency to unify the party. In his letter, Brown suggested that voting for Clinton is the best chance to "stop the dangerous candidacy of Donald Trump." NRDC Action Fund emphasized that "Hillary Clinton is all that stands between us and Donald Trump's radical proposals." Their argument is likely to be compelling to some Democrats. But while it may hold the Democratic coalition together in the general election, the threat of Trump alone is not likely to foster long-term loyalty to the party. Meanwhile, the primary offers a high-profile chance for Sanders supporters to agitate for policy changes.
The California primary is shaping up to be a stress test for Democratic unity. If Clinton wins the state, Sanders will face enormous pressure to step aside. If Sanders wins, it will be easier for him to argue his agenda still has widespread support. The senator already appears to be readying another claim that the election has proceeded unfairly ahead of primary contests on June 7, when voters in California and other states, including New Jersey, head to the polls. The Washington Post reported Tuesday that Sanders "warned supporters that the media could skew election results by prematurely declaring Clinton the presumptive nominee next week … referring to speculation that the media will give Clinton that moniker on Tuesday after the polls close in New Jersey."
Even Sanders supporters who say they would never vote for Clinton may come around in the end. People tend to not be very good at predicting their future political behavior. And voter preference can quickly change as the country moves from the primary to general election. But Sanders, ultimately, could determine the extent to which the party coalesces. If the senator keeps implying the primary-election system is unfair—as he did in May following the Nevada Democratic Convention—his supporters may have a harder time accepting Clinton as the Democratic candidate. If Sanders encourages his supporters to rally around Clinton, he may contribute more to party unity than the Democratic frontrunner and her supporters could. If he does not, it will be far more difficult for any Clinton ally to make a compelling case for Democrats come together.