A Vote to Save Puerto Rico From Default
A bipartisan coalition in the U.S. Senate advanced legislation just in time to allow the island territory to make a July 1 payment and restructure its $70 billion debt.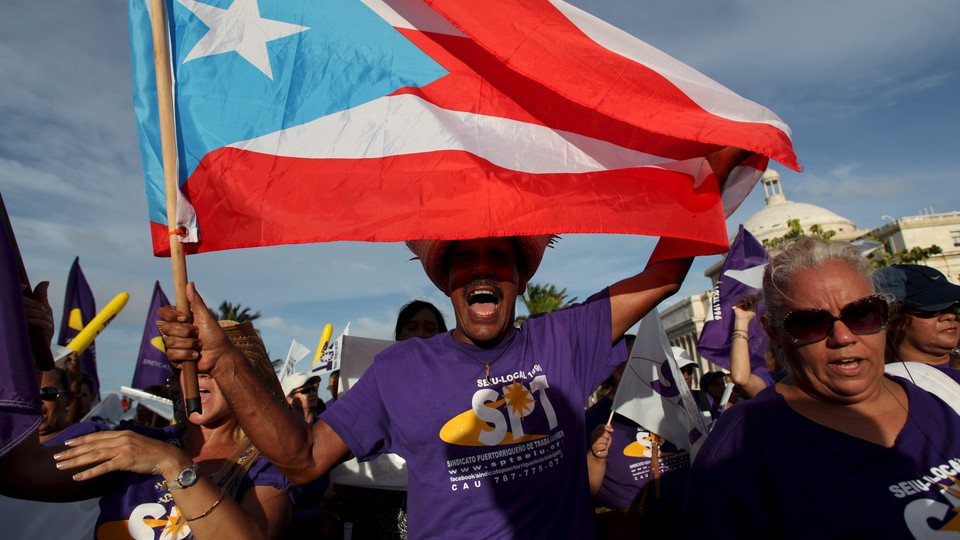 NEWS BRIEF Puerto Rico appears likely to be able to stave off a default on $2 billion in bond payments due Friday after the U.S. Senate advanced legislation allowing the island territory to restructure its debt.
An unusual, bipartisan coalition of senators pushed the PROMESA Act past the needed 60-vote threshold to break a filibuster, allowing for a final vote on the measure in advance of the July 1 deadline. The bill, which has already cleared the House, would go to President Obama for his signature. The tally on Wednesday was 68-32, as support from leaders of both parties overcame opposition from liberals like Senators Bernie Sanders and Elizabeth Warren as well as conservative Senators Ted Cruz and Tom Cotton. The Senate must still hold one more vote on final passage of the Puerto Rico measure, but Wednesday's procedural action all but assures its success.
The bill establishes an independent board to restructure Puerto Rico's $70 billion debt that the island's leaders have said it can no longer pay. It also reduces the minimum wage for younger workers. Critics on the left said the legislation smacked of colonialism, while some conservatives derided it as a bailout. A leading Democratic opponent, Senator Robert Menendez of New Jersey, delivered a four-hour floor speech assailing the bill on Wednesday. "I have called this legislation the ultimate neocolonialism that we as a Congress would be passing. It treats the citizens of Puerto Rico like subjects," Menendez said, according to The Hill. "It's a power play, leaving the people of Puerto Rico unable to make their own government, make their own decisions, do what they believe is right."
Menendez wanted to amend the bill, but Republican leaders—with backing from Treasury Secretary Jack Lew—said there was no time for changes. Any alterations to the legislation would have required sending it back to the House, which is on recess until after the July 4th holiday. In a letter Monday to Senate Majority Leader Mitch McConnell, Lew warned that if Congress failed to act by Friday, a judge could order Puerto Rico "to lay off police officers, shut down public transit, or close a hospital" in order to pay creditors. Retroactive litigation, he said, would not reverse that order.
"This is the best, and possibly the only, action we can take to help Puerto Rico," McConnell said, urging senators to support the legislation on Wednesday morning. He argued that the bill was not a bailout and wouldn't cost U.S. taxpayers "a dime." "What it will do is help Puerto Rico restructure its financial obligations and provide much-needed oversight to put into place reforms," he said. Few lawmakers championed the legislation outright, with most supporters saying it was the best compromise they could wring out of a Republican-controlled Congress.
McConnell won crucial support from Senate Minority Leader Harry Reid one day after the Democrat led fellow legislators in blocking a measure that included funding to combat Zika. But the vote exposed divisions between liberal Democrats and the party leadership. Warren opposed the bill, as did Sanders, who said it would "make a terrible situation even worse."