A Pledge I Can't Keep
In support of women in leadership and media, I've taken a pledge not to appear on all-male panels. Mostly.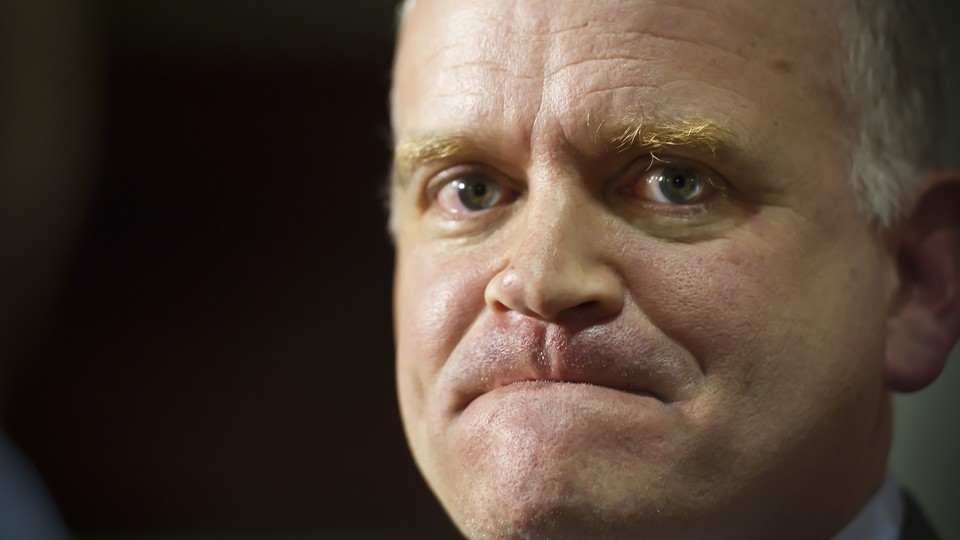 In 2012, Democratic activist Gina Glantz attended a political panel at Harvard, a post-mortem of the just-completed presidential campaign. The moderator and panelists were all men. "It just sent me over the edge," she said.
To Glantz, 73, the lack of diversity was unforgivable. Where was Beth Myers, one of Mitt Romney's closest advisers? Where was Valerie Jarrett, President Obama's friend and top aide? Where was Gwen Ifill, co-anchor and co-managing editor of PBS NewsHour?
For the love of God, she thought, where are the ladies?
That question led her to a cause that she calls "GenderAvenger," an online community of men and women determined to diversify the public square. Glantz writes on the site:
The disconcerting news is how many instances of women being absent from or underrepresented in the public arena were reported. Too many of us have attended a conference with all or mostly male panels, watched legislative hearings featuring men and more men, read magazine roundtables, anthologies, and top ten lists, and found few, if any women.

The really good news is how many people want to do something about it.
GenderAvenger scores the male-female balance of conference and television panels, arming its followers with clickable pie charts that colorfully highlight the scoring. The least diverse organizations get swamped and seared by social-media activists hoping to shame them into including more women. Nobody wants to be on the wrong side of the site's "Fame & Shame" tab.
This is no "girl thing." Glantz is looking for a few good men. I know because she asked me, "Will you sign the pledge?"
I stalled, "Maybe. What pledge?"
"The GenderAvenger pledge," she said.
"Let me think about it." I went to her website and found the pledge.
I will not serve as a panelist at a public conference when there are no women on the panel.
It's not the first such pledge. Three years ago, The Atlantic's Becca Rosen challenged the world of science and technology in a similar way.
Pretty simple, I thought. I would have no qualms insisting that organizers include women on panels they want me to join. Most do so anyhow. If anybody refused, I could decline the invitation. No skin off my nose.
"Does this apply to TV shows?" I asked.
"Hell, yes," Glantz said.
Now that's a problem. Like most journalists and pundits, my employer expects me to appear on TV news shows as much as possible. It's a brand-building exercise both for modern journalists and media companies.
I thought of the times I appeared on TV as part of an all-male panel. I stopped at a half dozen in the last two months, and I'm sure I missed some.
"You sure this applies to TV?" I asked.
Glantz chuckled. "Yes, Ron."
I've known Glantz for years—when she was a senior adviser to Andy Stern at the Service Employees International Union and when she served as Bill Bradley's campaign manager during the 2000 presidential election. I could have an honest conversation with her.
I told her I wanted to sign the pledge. My eldest daughter is a reporter in Detroit. Her sister is a law student. What kind of father is complicit with a system that marginalizes his daughters—that devalues all of America's daughters?
But I don't know how to do my job without violating the pledge occasionally. Some TV shows that are important to my company won't always comply. Even those with the best intentions will fall short at times: plans change, guests drop out, stuff happens. Do I walk out in protest?
"You've got to do what you think is right," Glantz said. "We want people to participate in any way they can."
I asked hopefully, "Are you saying there are loopholes?"
"No," she laughed. "I'm not saying that."
I had a thought. "Gina, what if I signed the pledge with my intentions and actions totally transparent. What if I sign it and write a column, and in that column I promise to use the pledge as leverage to encourage TV bookers to include women on my panels?"
"What if I admit from the start that won't always work—and I promise to publicly announce on Twitter every time I've broken the pledge?"
"Hey!" she said. "That's a great idea."
"I'll be calling myself out," I said. "And I'll be calling out the shows. It's not a perfect solution but …"
"It's a good one," Glantz said, finishing by sentence. "Do it."
It's done. I will not serve as a panelist at a public conference when there are no women on the panel—and I encourage my fellow journalists to take the same pledge. Even if you know you can't always keep it.