A New Battle for the Soul of Harlem
Representative Charlie Rangel is retiring, and nine Democrats are competing in today's primary to replace him—including a ghost from Rangel's past: His predecessor's son, Adam Clayton Powell IV.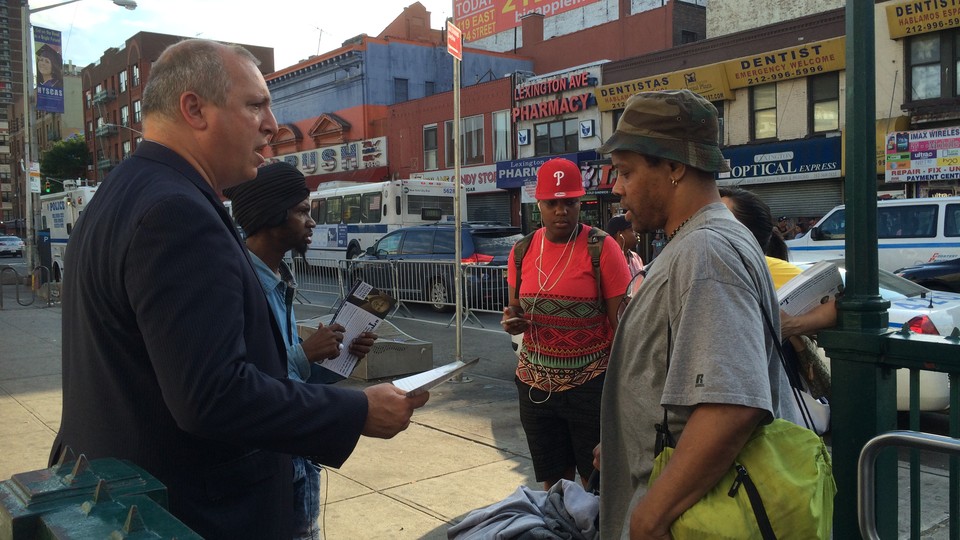 In 1942, the U.S. government carved a congressional seat largely out of the iconic and predominantly black neighborhood of Harlem. Just two people have represented the district in the House of Representatives in its 74 years. The first was Adam Clayton Powell Jr., a Baptist minister and unapologetic civil-rights activist. A statue of his likeness watches over a commercial strip on 125th Street, outside the state office building, near an H&M store, where Powell Jr. once led a "Don't Buy Where You Can't Work" campaign—one of his countless demands for equal rights for blacks in a racist, Jim Crow era. In 1970, a by-then-embattled Powell lost the congressional post to a Harlem-based New York City assemblyman named Charles B. Rangel, who after narrowly beating Powell in a Democratic primary, won the general election. Rangel has held the seat for 45 years.
With Rangel retiring this year at age 86, the seat, and in many ways the soul of Harlem, is up for grabs in a primary election today. In this left-leaning district, it is the Democratic primary winner who is expected to head to Washington in January. A line of nine Democratic candidates are running to see who will succeed Rangel, the powerhouse who was once the Ways and Means Committee chairman, a mighty position he lost in a controversial censure. (He is now a senior member of the committee.) The field includes: Rangel's longtime protégé, State Assemblyman Keith L. Wright, whom the outgoing representative has endorsed; Rangel's former challengers from over the years, New York State Senator Adriano Espaillat and former Democratic National Committee political director Clyde Williams; and, notably, former State Assemblyman Adam Clayton Powell IV—Powell Jr.'s son.
The district has transformed since Powell Jr. told congregants to "Think black" in a 1968 sermon at Abyssinian Baptist Church, where his father was also once the pastor. The number of black residents has fallen sharply in Central Harlem and its surrounding neighborhoods, particularly over the past decade, while the number of white residents has shot up, according to census data. Renowned cultural sanctuaries like the Cotton Club, the Lafayette Theater, and the Harlem Opera House have been partly or wholly demolished, both from neglect and redevelopment. The district, redrawn in 2012, is largely Hispanic now and includes a portion of the Bronx. Within the swath of neighborhoods, covering Upper Manhattan from East 96th Street and West 100th Street into the northwest Bronx, there are also Asian, Irish, Italian, Jewish, African, West Indian, and Bangladeshi communities, making the district one of the most dense and diverse in the country.
"The critical thing is that the seat is no longer 'Harlem,'" said Kenneth Sherrill, a political-science professor at Hunter College. "In many ways, the center of African American and black politics in New York City has moved out of Harlem and into Brooklyn and Queens, which is where the population is."
In many neighborhoods, however, much remains the same. Roughly 30 percent of residents in the district live below the poverty line. There are severe health and educational disparities based on race. There are issues of gang violence and rising housing costs. As the number of low-income housing units has fallen, real-estate prices, both residential and commercial, have climbed.
The district in many ways is a microcosm of U.S. urban cities as seen through the lens of politics: Cities have historically depended on federal money to combat poverty, sustain affordable housing, improve public schools, and strengthen neighborhoods. As a result, there are many ways to be an urban politician, and while Powell Jr., who depended on loyalty from the black community in Harlem, was an agitator in Congress, Rangel, who came into office after landmark Great Society legislation like the 1964 Civil Rights Act and the 1965 Voting Rights Act, was a deft legislator and negotiator, namely around housing policies. The next person to hold the congressional seat—who could win with as little as 10 percent of the vote, according to Sherrill—will have to be a unifier. As the last two congressional campaigns, which divided along black and Latino lines, proved, the next representative will essentially have to start over and build consensus while also building seniority, both in a heterogeneous district and in a bitterly partisan, Republican-controlled Congress.
"There aren't many disagreements on the issues," Sherrill said of the congressional candidates in what he called a telling election. "It's like survival in the first grade: Work well with others. This person is going to have to work well with a lot of others." Sherrill said if the district can bloom during this political shift, "it would be an example for the rest of the country about what can be done. "If you can bring these diverse communities together, if you can make it thrive," Sherrill said, "it can stand for a goal for everywhere else."
Last Wednesday night, June 22, about 60 residents came to hear the candidates stump. They gathered inside the auditorium of Frederick Douglass Academy, a grade six-through-12 school where more than 70 percent of the mostly black and Hispanic students are considered economically disadvantaged enough to qualify for free or reduced-price lunch and where students graduate at a rate of 64 percent.
The empty auditorium seats belied the density of the neighborhood, including a nearby six-building, 26-story co-op housing complex, Esplanade Gardens, a Mitchell-Lama development where most residents have some of their housing costs subsidized. Residents at the meeting expressed fear over continued rent increases and over the new housing sprouting up in the neighborhood. Change was also on people's minds.
"Rangel was in that seat since I was a kid," said Brian Clyde, 54, "so we need a change."
Clyde recalled how his parents—who had migrated from South Carolina; his father had worked at General Motors as an assemblyman—kept him close while he was growing up, kept him away from the neighborhood's crack-infested streets. That has mostly changed now, said Clyde, who lives in Esplanade Gardens with his wife and their two children. "You have more non-black people here now," he added. "They're here now because of the housing." He said he is still undecided about who should represent the district.
Each of the six candidates in attendance were allotted 13 minutes to make his or her case. Dotting the room were black-stenciled murals of historic figures, such as Malcolm X, Frederick Douglass, Barack Obama, Martin Luther King Jr., John F. Kennedy Jr., Chief Joseph of the Nez Perce, Abraham Lincoln, Harriett Tubman, and Rosa Parks. Adam Clayton Powell IV, 54, sat second-row center, is hair thinning at the crown, waiting for his moment to speak.
"At the end of the day, it's not about who your father is," said candidate Williams, the former DNC political director, clearly aiming his words at Powell. "We have a big decision to make June 28: Move forward, or stay with the politics of old." Several residents nodded and clapped in agreement when Williams said it was time to "elect better people."
In addition to Williams, Rangel ally Wright, Assemblyman Guillermo Linares, Ambassador Suzan Johnson Cook, and former Assemblyman Sam Sloan spoke. And then Powell, who by legacy is ingrained in the district's past but who is vying to shape its future, stood to speak.
"I am the last," Powell said before a dwindled audience, his shirtsleeves rolled up. "The last shall be first," he added, paraphrasing a Bible verse. "In a few days, we will have a new congressman," Powell said to cheers and a few "amens." Most of you know my story, he said, adding details, sometimes to applause. He was the son and grandson of Baptist preachers, Powell said, and he has lived in the district, in the community, all his adult life.
Powell then talked about his time as an assistant district attorney in the Bronx, and how during his time in the City Council in 1991 he was able to bring computer labs to "every public-school building" he represented. He talked about his efforts in Albany as an assemblyman, with a coalition of pastors and union workers, to raise the minimum wage. He talked about repealing Rockefeller drug laws, tough-on-crime criminal-justice policies that jailed hundreds of black and brown people on low-level drug offenses. "And we also fought and closed—not many, but some—upstate jails," Powell said. "Because this whole prison-industrial complex is real. It's not just some theory that you can read about or think about or watch on TV; it's real. It's the fact that, in many communities, many small-town communities, prisons are the economic-development engine. They don't want to close it. Even if the prison is empty, they don't want to close it, because those are jobs for them."
"There's something wrong with that system," Powell concluded. "We jail more than 2 million people in this country—more than any other country, more than twice the repressive government of China. So either we are the most evil on Earth, or have some of the most evil people on Earth, or we're doing something wrong. I think we're going something wrong."
Then, for the entire second half of his talk, Powell spoke about his father. "My father wrote some of the pages in our black history books," he said. He told the audience he produced the only movie ever made about his father, Keep the Faith, Baby, named after one of his father's famous quotes.
Whether Powell's historical connection to the district is an asset remains to be seen. In many ways, though, he perfectly embodies the new diversity in the district. While his father served in the U.S. Congress, Powell was born and raised in Santurce, Puerto Rico. His mother, Yvette Diago, is the granddaughter of Gonzalo Diago, who in the 1940s was the mayor of San Juan. After graduating from Howard University in 1984 and Fordham Law School in 1988, Powell entered politics, starting in the city council in the early 1990s and moving to the state assembly in 2000. Powell once protested the Navy's occupation and bombing exercises in Vieques, Puerto Rico, and spent 16 days in jail for demanding human rights for the residents of the island. Powell has also been a radio talk-show host.
"This is the end of a long, long journey," said Powell, who currently works as a business consultant and lives in East Harlem. "There are many candidates out there, of course. But I submit to you: You need to look at … not just the experience but the energy and the commitment—especially the commitment—for all of us. Not just the political-club members. Not just for the politically connected, but for all of us, because experience without commitment is useless." Powell, perhaps the most politically connected person in the room, then said his father had that commitment—the commitment to fight power with power. Just as it seemed Powell was campaigning for his father and for the past, he pivoted to his son and to the future. Powell lamented how it took his son, a 27-year-old Columbia University graduate, years to find an affordable apartment in Harlem.
"Too many of our politicians unfortunately are not fighting the power," said Powell. "They're just too happy to go along and get along. And some of you vote for them because they come by and shake your hand. They come to your fish-fry or block parties, and give you a couple of hundred dollars for the block party, and everything is good and happy. But we've gotten away from those people on the wall," Powell said. (Earlier, in a nod to the room's murals, Powell also mentioned that he had met Rosa Parks years ago.) "We've gotten away from Adam Clayton Powell Jr."
Is Powell a version of that? Or something different? Is he what the district needs? It was not clear that day. After the forum, voters who were undecided going in, remained that way.
"The issues are jobs, housing, and education," said one gray-haired woman. "And I've heard all this b.s. before."
Brenda McDonald, who lives in the nearby housing complex, said she was torn between two candidates. "Unfortunately, I am still not quite sure, so I'm just going to pray on it and try to figure it out by Tuesday," she said. "I do want some new blood. I do, I really do."
Brian Clyde was also torn. He remained unsure about Powell. "He's a decent guy," Clyde said. "But I don't know if he has enough to win. Everyone knows his name, his father's name. But that won't carry him the whole way."
Last Friday, June 24, during the evening rush hour, Powell stood with one of his volunteers by the subway entrance of the 4, 5, and 6 trains in East Harlem. Behind them sat the ghostly Pathmark supermarket building. Some of the letters were missing from the marquee. A handwritten note taped to the window read: "Closed 4 Good."  Powell told me the site had been sold to a developer for $26 million. "I'll be the first one to stand in front of the bulldozer," he added, repeating a promise he has made on the campaign trail. "I will not allow 100 percent luxury housing to stand in this neighborhood."
Powell campaign volunteers manned all four corners of the shopping corridor, as commuters streamed in and out of the mouth of the train station. "Vote Tuesday! Vote Tuesday!" a volunteer called. "Tuesday is Election Day. Don't forget to come out and vote."
"There is a lot of poverty," Powell said of the neighborhood. "Unfortunately, a lot of need."
Volunteer Evette Zayas, a cake designer who lives in nearby Taino Towers—where some residents have rallied against the tell-tale signs of gentrification, like CitiBike programs or upscale residential development—chimed in: "15 years ago, we had all the crackheads and everyone chilling out." But now that crack is gone: "Now they pushing people out. Why?" Zayas said. "They're going to build this up. How dare you? This is sad." Then she called out to passersby: "Thursday is Election Day! Don't forget to vote!"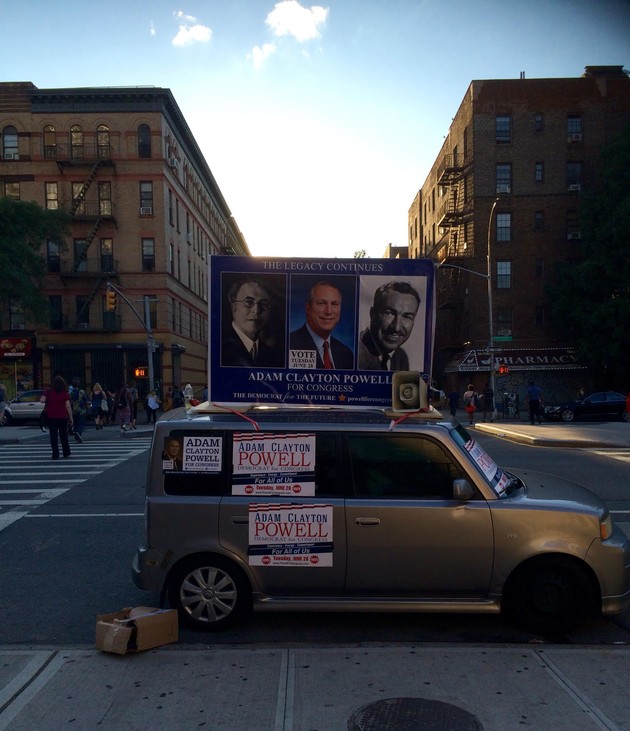 Some recognized Powell as he handed out flyers—emblazoned with his face and his father's name.
One woman pushing a cart told him, "Okay, Congressman, good luck."
Another told him she really liked the statue on 125th Street.
One potential voter told him: "It's great to meet the son."
A woman descending the subway, a flyer in hand, looked back at Powell and said: "Hopefully, he's as good as his father."
"If I'm half as good as him, I'll be in a good shape," Powell said. He grabbed another stack of flyers from Zayas.
One commuter stared him down. "You?" the woman asked, glancing at the flyer.
"I'm trying to," Powell said.
"You're trying to take his spot," she said, referring to Rangel.
"Whether you vote for me or not, someone is [taking his spot]," Powell responded, before encouraging her to vote, even if not for him.
The woman had been unaware that Rangel was retiring—or that an election for who would represent the district was on the horizon.
After Powell's pitch, the woman said, "I'll vote for you," and then she bounded down the steps.
Many took flyers from Powell's outstretched hand. Many shook their heads and circled around him.
About two hours later, Powell crossed the street and made his way to his car, shaking hands along the way. A dented gray van rolled by playing Frank Sinatra's "New York, New York" from a loudspeaker. On the roof was a Powell campaign poster depicting three generations of Powells—the preacher, the politician, and the hopeful.
"Powell, Powell, Powell for Congress," the voice on the loudspeaker urged. "Vote June 28. The legacy, the legacy, the legacy continues."