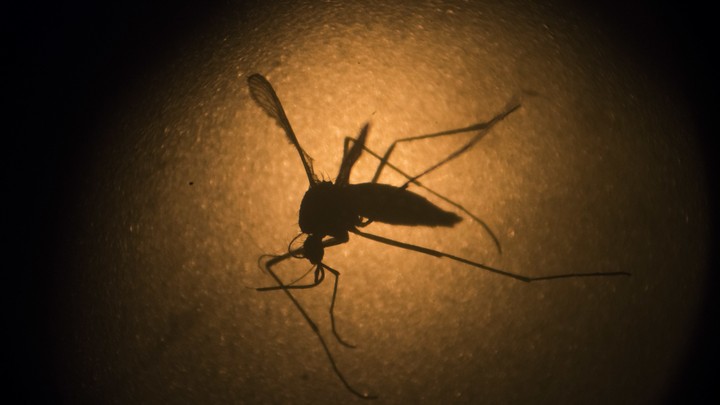 U.S. senators approved a compromise amendment Tuesday to finance anti-Zika efforts, one of a handful of funding proposals introduced in Congress in recent days. The House could vote on a bill of its own later this week. But despite these ostensible signs of progress, the future of Zika funding still looks uncertain. Lawmakers contradict themselves when they discuss their plans: They claim researchers' needs are urgent, but have not yet agreed on a funding proposal that could quickly pass through Congress. So far, not even a virus with distressing effects can compel action in this antagonistic Congress.
While the deal's passage represents a step forward in getting health agencies the money they need, the $1.1 billion allocation of emergency funding is not likely to please many people—certainly not House Republicans, who want to give the administration much less, and probably not health officials who want much more. Anthony Fauci, the director of the National Institute of Allergy and Infectious Diseases, told me Monday that he was "obviously" disappointed in proposals allocating less than the full White House request, $1.9 billion. And like others in the administration, he wishes Congress would not take so long. "I was hoping that given the seriousness of the public health—in this case, global health—implications, that they would have moved quickly," Fauci said. "Unfortunately, we're still here talking about it."
Lawmakers are likely to be talking about Zika funding well into the summer, as mosquito season gets into full swing in the continental United States and as researchers continue to learn more about the virus's effects, which only seem to grow more frightening. The White House has asked Congress to pass funding before Memorial Day, but the Associated Press noted last week that July is more realistic. Earlier this spring, at House Republicans' urging, the White House repurposed more than $600 million in Ebola funds for Zika as it waited for funding from Congress.
Legislators across both chambers have insisted that funding Zika is a priority, but have split on how to follow through. Many Republicans believe the Obama request is far too much, and have insisted on appropriating money through corresponding budget cuts or leftover Ebola funds. They do not want to give the Obama administration much leeway on how to use the money, nor do they want the White House to have any extra cash. Tom Cole, the chairman of the House Appropriations subcommittee that handles health agencies, summed up the question facing lawmakers in an interview last week: "Do you pay for this thing out of existing accounts, out of savings, out of reprogramming—or do you just add $1.9 billion to the national debt with no offset whatsoever?" Republican Senator John Cornyn proposed similar reprogramming when he introduced a $1.1 billion proposal using money from an Affordable Care Act fund.
Democrats supported the Senate compromise, as well as a separate measure to fully fund the White House request. Neither that $1.9 billion proposal nor Coryn's passed Tuesday. The compromise amendment, which does not require any corresponding budget cuts, will be attached to a transportation-funding package.
Now that the chamber has voted for the compromise, which Murray and Blunt announced on Thursday after weeks of talks, attention will shift to the House. If House Republicans' proposal, released Monday, is any sign, conservatives will try to shrink the Senate's allocation closer to its own. Appropriations Committee Chairman Hal Rogers announced a $622 million bill that gives the administration one-third of the money it asked for, funded in part by money left over from Ebola. If both chambers pass divergent Zika bills, lawmakers will have to reconcile them and send just one to the president for his approval.
Marco Rubio, the only Republican who publicly advocated for the administration's request, and who co-sponsored the $1.9 billion Senate bill with fellow Floridian Bill Nelson, suggested Tuesday on the floor that he sympathizes with fellow Republicans who do not want to add to the deficit. But he pressed the importance of legislators moving quickly. "I don't think we should be delaying action while we try to figure out these budgetary moves," he said. Rubio was reportedly one of five Republican senators to vote "yes" on the $1.9 billion bill.
House Republicans, for their part, proudly tout the offsets they have built into their proposal. Cole told me Friday that the $622 million only represents part of the money the administration will see for Zika. He said the White House will also receive Zika-related funds in the Appropriations Committee's fiscal year 2017 budget.
It is not clear how low Democrats will go if pushed by House Republicans. Senate Minority Leader Harry Reid initially gave the Blunt-Murray compromise a "frosty reception" last week, and he and House Minority Leader Nancy Pelosi suggested for days that they would not settle for anything less than the administration's full request. It is natural that these lawmakers would hold strong on the president's proposal, but their rhetoric could also offer a preview of how tough future Zika negotiations might be. The White House represents another crucial variable: Press Secretary Josh Earnest said after the deal was announced that the White House "welcome[d] any sort of forward momentum in Congress" on Zika funding. But in the days since, he has not said whether the president would sign a bill allocating less than $1.9 billion. "The $1.9 billion number was not chosen at random," Earnest told reporters at a briefing Friday. "It actually reflects the sum total of efforts that our public health professionals say they can and should take over the long term to protect the American people from Zika." On Tuesday, the White House issued a veto threat to the House's $622 million bill, calling it "woefully inadequate."
As Congress continues to debate Zika funding, some lawmakers, like Cole, insist that lawmakers' timing has not hampered anti-Zika efforts. Democrats lament that three months have passed since the White House issued its initial request. NIAID's Fauci, it seems, agrees with both groups. His agency has not slowed its efforts as Congress has debated—he has transferred money from other diseases to Zika research, he says. "It's correct to say that we haven't not done anything, but we have done things because I'm spending money that [is] in other accounts."
We want to hear what you think about this article. Submit a letter to the editor or write to letters@theatlantic.com.