What Killed Burlington College?
The small Vermont liberal-arts college will close up shop this month, and a controversial real-estate deal made by Jane Sanders, Bernie Sanders's wife, may be to blame.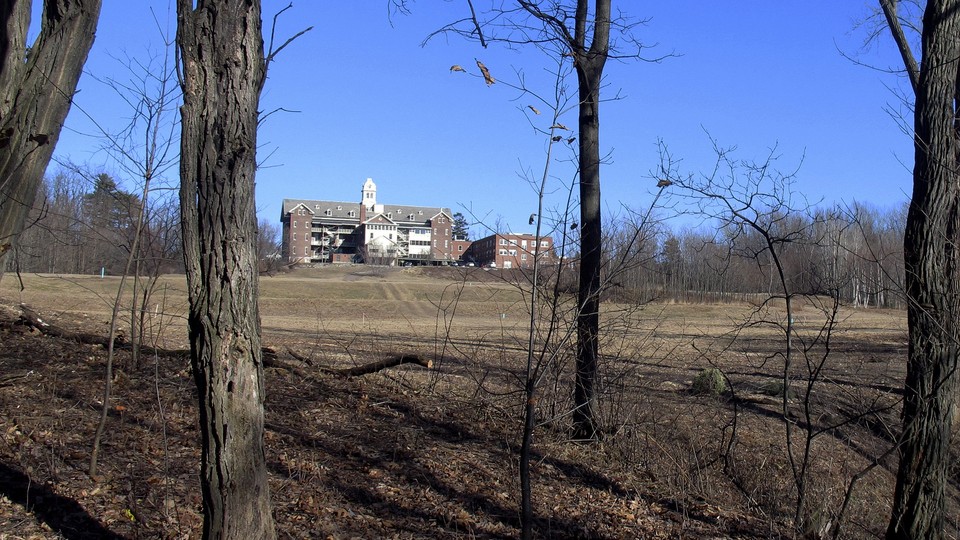 The end of the school year doesn't just mark graduation at Burlington College, the small Vermont institution led by Jane Sanders from 2004 to 2011. The school announced on Monday that it will shut down later this month, facing insurmountable financial difficulties. The closure comes after years of difficulty for Burlington College, a small school founded in 1972 for nontraditional students.
"It is with great sense of loss to the educational community that Burlington College's progressive and unique educational model will no longer be available to students," the school said in a statement.
Many of the school's financial difficulties date to Sanders's tenure as president. She has been a frequent presence alongside her husband, Senator Bernie Sanders, on the presidential campaign trail. In announcing the closure, the school blamed the "crushing weight of the debt" from the purchase of a new campus in 2010, during Sanders's tenure. Burlington said its bank had pulled the school's line of credit. The college was already at risk of losing its accreditation—which is essential for receiving federal funds and conferring legitimacy—if it could not resolve its financial difficulties.
When Jane Sanders became Burlington College's president in 2004, she had previously served as interim president at Goddard College, her alma mater, about an hour east of Burlington. Bernie Sanders served as Burlington's mayor from 1981 to 1989. (Jane Sanders holds a a doctorate in Leadership and Policy Studies from the Union Institute, a nontraditional school that critics sometimes call a diploma mill. Union made national headlines during the 2012 campaign because Marcus Bachmann, husband of then-Representative Michele Bachmann, also received his doctorate there.)
In an in-depth report on the school's struggles earlier this year, Politico's Maggie Severns laid out her approach:
In an interview with the Burlington Free Press at the time, she cited building enrollment and expanding the school's small endowment as priorities. The college adopted a plan to offer more majors and graduate-degree programs, renovate its campus and grow enrollment a couple of years later. And in 2010, Sanders and the board went further: She brokered a deal to buy a new plot of lakefront land with multiple buildings from the Roman Catholic Diocese to replace the college's cramped quarters in a building that used to house a grocery store. The college used $10 million in bonds and loans to pay for the campus, according to reports by the Burlington Free Press.
The land was 33 acres on the shores of Lake Champlain. Ironically, the diocese was selling the land at the time because it was cash-strapped. The purchase was huge—especially for a school whose annual budget didn't crack $4 million. Jane Sanders plan was to bet big. To finance the deal, Burlington issued tax-free bonds, took a $3.5 million loan from the diocese, and received a $500,000 bridge loan from Tony Pomerleau, a wealthy local real-estate developer and close friend of the Sanderses.
But the land deal proved to be a white elephant. The school did increase its enrollment, slightly (on Monday, administrators said they had 70 students after last week's graduation, plus another 30 who had placed deposits to join the incoming class), but not enough to make up the difference. Nor did donations rise enough to remain solvent.
Sanders left her post in 2011, for reasons undisclosed. Her successor Christine Plunkett tried to bring more financial stability but failed, and in 2014, its accreditor placed it on probation. Plunkett resigned. In November 2014, interim President Mike Smith sold 25 of the original 33 acres to a local developer for $7.5 million. Of that, $4 million went to the diocese to pay for the land—Burlington College hadn't paid for all of it yet—and the rest went to the school's bank.
That wasn't enough, leading to today's announcement. Burlington College was always a fragile concern. Its website notes that in the early days, it "had no financial backing, paid its bills when they came due, and paid its President when it could." Jane Sanders's plan to place a big bet on expansion in order to put the school on a more solid long-term footing was similar to decisions made by other college presidents, and sometimes those bets simply don't work out.
But several questions at a press conference held by the school's president and dean elicited surprising replies. Asked whether Jane Sanders was to blame for the closure, President Carol Moore and Dean Coralee Holm declined to answer, even as they acknowledged that that the college's press release, in naming the land purchase as the reason for the closure, implicitly pointed a finger in her direction. Smith and Holm also declined to comment on whether there was a federal investigation into the college, or whether the FBI or other authorities had interviewed faculty, staff, or administrators, or if they'd sent any subpoenas. Those "no comments" may raise eyebrows, since it's generally assumed that if the answer was no, administrators would simply have said so.
A spokesman for Bernie Sanders's campaign said the campaign would not be commenting on Burlington College's closure. Jane Sanders could not immediately be reached for comment.
There is no small irony to the fact that even as Bernie Sanders has made the crushing weight of student debt on many U.S. students a centerpiece of his campaign, the college his wife led has succumbed to its own crushing debt. Bernie Sanders has called for free tuition at public colleges and universities, which he says he would provide by increasing federal funding to cover two-thirds of the cost—in large by through a tax on the financial sector—while asking states to provide the final third. (Many observers have labeled that reliance on states unrealistic.) Sanders would seek to prohibit the federal government from profiting on student loans.
Burlington College, of course, is a private college, rather than a state-supported one. Politico noted that the average annual cost of more than $25,000 is more than $10,000 higher than the average for private colleges in the United States. Even as tuition has risen across the U.S., many smaller schools have struggled to keep up financially, and some have been forced to shutter. Burlington is now the latest member of that roll.