A Trump-Sanders Debate?
The Republican nominee offers vague terms to a Democratic rival before the California primary.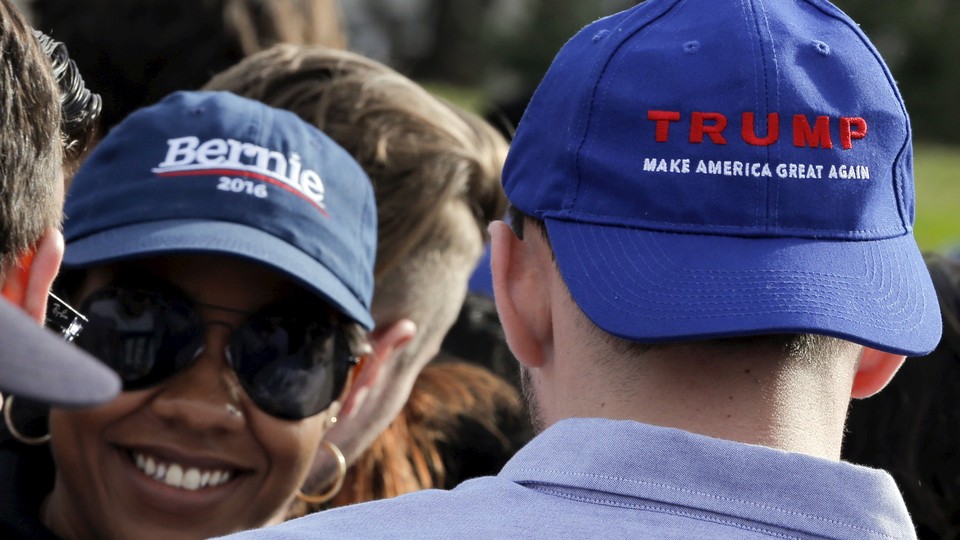 Updated on May 26 at 4:57 p.m. ET
It could be yuge.
Presumptive Republican nominee Donald Trump said Thursday he'd be willing to debate Democratic hopeful Bernie Sanders before the June 7 California primary—but with a few conditions.
Trump only offered vague outlines about his terms, but repeatedly cited a charity component. "I'd love to debate Bernie, but they'd have to pay a lot of money for it," he said during a press conference in North Dakota. He suggested raising between $10 and 15 million "for maybe women's health issues or something."
He added it should take place in a "big arena."
It's not clear where Trump wants the money to come from. In the past, he's criticized the networks for reportedly cashing in on his presidential debate appearances with sky-high ad sales. In September, Trump wrote a letter to CNN president Jeff Zucker urging him to donate the proceeds to veterans' charities.
Sanders first proposed the debate by writing a letter to the real-estate mogul to challenge him. While Trump appeared on ABC's Jimmy Kimmel Live on Wednesday night, Kimmel read Sanders' letter aloud: "Hillary Clinton backed out of an agreement to debate me in California before the June 7th primary. Are you prepared to debate the major issues facing our largest state and the country prior to the California primary?"
Trump's reply: "Yes, I am."
CBS has more:
Trump declared he would—as long as the proceeds go to charity.

As he accepted the hypothetical debate, Trump asked, perhaps jokingly, how much Sanders would be willing to pay him—for charity—then conceded that it would be fine if a network were willing to put up the money. Trump also said he has never met Sanders.
Sanders then tweeted:
Game on. I look forward to debating Donald Trump in California before the June 7 primary.

— Bernie Sanders (@BernieSanders) May 26, 2016
Nothing is guaranteed, of course. Saying you'll debate someone for charity on a late-night talk show is far from a contractual agreement, especially if you have Trump's habit for verbal escapology. The presumptive GOP nominee previously pulled out of a Fox News debate at the last minute in January, so his appearance is far from certain.
Even if both candidates are serious, logistical hurdles could prove fatal. Trump and Sanders would have to agree on a date, venue, moderator, and set of ground rules at minimum for a debate. That arduous process is usually shepherded by the two major parties during the primaries and the nonprofit Commission on Presidential Debates, which the parties control, during the general election. Trump and Sanders, by contrast, would lack a neutral arbiter to hammer out an agreement.
But if the two candidates succeeded, it could be a crucial boost for Sanders, who has staked his fading hopes for the Democratic nomination on the premise that he, not Hillary Clinton, is the party's best bet to defeat Trump in the fall.
For Trump, who frequently trails both Clinton and Sanders in national and swing-state polls, a strong debate performance could help him convince a skeptical Republican establishment and donor base he can actually win in November.