Where Did Donald Trump Send Veterans' Millions?
Unfavorable news reports on fundraiser money dogged the Republican nominee. Trump, it seems, couldn't stand it anymore.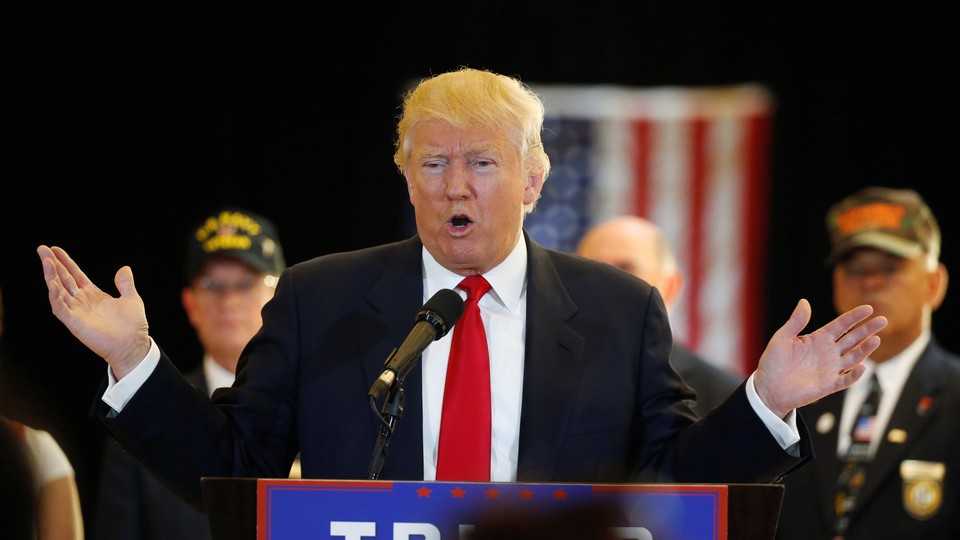 Donald Trump has a problem following through. He advocated for banning Muslims from U.S. soil, before qualifying all his policy proposals as "a suggestion." He campaigned on the premise he would self-fund his race, before deciding to raise money after all. So when news reports suggested Trump hadn't donated all $6 million he said he raised for veterans' groups at an event this past winter, the revelation seemed to follow his pattern.
That is, until Trump went out of his way to defend himself, by holding a news conference Tuesday morning to describe the disbursements. He said the fundraising haul totaled $5.6 million—less than the $6 million he had claimed before, $1 million of which was supposed to come from his own coffers. The very public pushback he received for donation delays was not unlike pushback Trump has received for other controversial moves in his campaign. But it seems the risk of alienating veterans and their advocates was too much for Trump, after months of soliciting their support. He needed to mount a more vigorous defense to combat this particular strain of criticism.
"The money's all been sent. I wanted to keep it private," Trump said, as if to explain the murkiness surrounding the money. "If we could, I wanted to keep it private, because I don't think it's anybody's business if I want to send money to the vets."
Of course, nothing Trump does is ever private—by design. Trump's campaign organized the January fundraiser for veterans' groups to publicly spite Fox News; he refused to attend the network's Iowa debate, and held the fundraiser at the same time. But in the months since the fundraiser, that figure—and where the money went—has been thrown into doubt. Campaign officials have provided conflicting information. By the end of February, at least three of the 22 veterans groups slated to receive fundraiser money had not gotten checks. In early April, the Trump campaign told CNN it had disbursed $2.9 million to 27 groups, though a Wall Street Journal report found less than that was distributed, and to fewer groups. The donations' fate looked even more muddled earlier this month, when Trump and his campaign manager, Corey Lewandowski, gave conflicting accounts on how much money was raised, when Trump himself had donated, and whether big-check donors had backed out.
At the Trump Tower briefing, the presumptive Republican nominee claimed roughly 40 groups had received certified checks from the fundraiser, and that all had been cashed. He said most of the money was "paid out" early, but for others, vetting took time. Trump spent several minutes naming each group and how much they received—$15,000 was the lowest dollar figure—and interjected his listing with commentary. "I didn't have to do this with the money for the vets," he said during one interlude, between naming AMVETS and the Armed Services YMCA as recipients. He himself donated $1 million to the Marine Corps-Law Enforcement Foundation in late May. With Tuesday's accounting, Trump can perhaps calm further criticism about the donations, though his likely general-election opponent, Hillary Clinton, planned attacks around the money Tuesday.
Trump has run into problems with veterans in the past. Last year, he went after Arizona Senator John McCain, a former prisoner of war during Vietnam, for doing "nothing" for veterans, after first alleging McCain was not a war hero. Since then, Trump has tried to regain any support he lost with those comments. He invokes veterans constantly—saying how hard he will fight for them and how mistreated they are. On Sunday, Trump told rally-goers at the annual Rolling Thunder event that he would improve veterans' health care. "Thousands of people are dying waiting in line to see a doctor," Trump said. "That is not going to happen anymore." Still, as Forbes reported late last year, his "rhetoric is much more generous" than his personal contributions over the years to veterans' causes.
Trump repeatedly blamed the "dishonest" and "unfair" political press on Tuesday for misconstruing the donation process. As Trump lauded his own fundraising event, he insisted the press should have thanked him. Instead, they "make me look very bad," Trump said. That, it seems, put Trump over the edge. He could not stand to see his image questioned via dollars and cents, particularly in front of a valuable constituency. "I don't want the credit for it," Trump said, "but I shouldn't be lambasted."