Schools Are Put on Notice to Respect Transgender Rights
In a letter sent Friday, federal officials warn local districts not to discriminate against students using restrooms.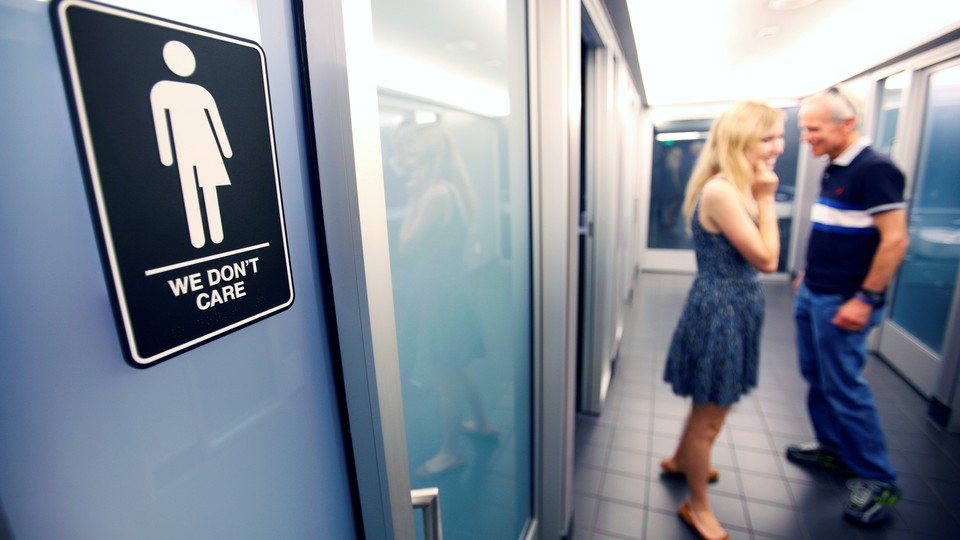 The Education and Justice Departments will send a letter Friday to every public-school district in the country notifying school administrators that discrimination against transgender students violates federal civil-rights law.
In the letter, which offers the most detailed federal guidance yet for educators on transgender students and their rights, the departments interpret anti-discrimination laws to apply when a parent or guardian tells school administrators about their child's gender identity.
Disclosing a transgender student's birth name or his or her sex assigned at birth, the letter warns, could also violate the student's rights guaranteed under FERPA, the federal statute on privacy in educational settings.
From there, the departments outline how Title IX forbids discrimination on the basis of gender identity in a variety of school functions, including housing, athletics, and single-sex classrooms. Other activities, including graduation ceremonies and yearbooks, are also covered.
The letter also strongly sides with transgender students on the issue of restrooms and locker rooms, which have become a flashpoint nationwide in debates about transgender rights. In the guidance letter, schools are told not to discriminate against students who choose to use restrooms that correspond to their gender identity.
While the letter itself does not carry legal force, it notifies teachers and administrators that discrimination against transgender students could bring sanctions, including the painful loss of federal funding.
Also included alongside the letter is a guide on policies and emerging practices for helping transgender students. It offers examples on what school districts have already done when addressing broader topics such as transitioning and bullying, as well as more practical issues such as field trips, dress codes, and preferred pronouns.
Under the Obama administration, federal agencies have increasingly considered transgender discrimination to be a form of sex discrimination. The Education and Justice Departments first explicitly stated that Title IX covers transgender discrimination in 2013, although Friday's letter is the strongest effort yet to apply that interpretation nationwide.
The letter caps a historic week for federal protection of transgender rights. On Monday, the Justice Department filed a lawsuit against North Carolina targeting HB2, the state's controversial bill requiring—among other things—transgender individuals to use bathrooms that don't correspond to their gender identity. In an impassioned press conference, Attorney General Loretta Lynch described the statute as "state-sponsored discrimination" and implicitly compared it to Jim Crow laws.
"You have been told that this law protects vulnerable populations from harm. That is just not the case," Lynch said. "What this law does is inflict further indignity for a population that has already suffered far more than its far share. This law provides no benefit to society, and all it does is harm innocent Americans."