The Wallpaper Wife
Heidi Cruz got an elbow to the face—will Melania Trump get much more?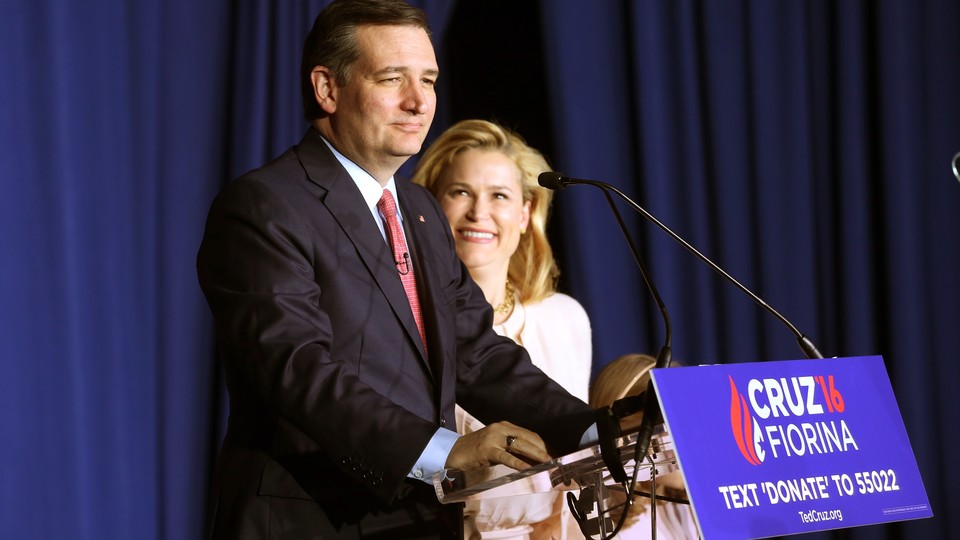 Ted Cruz stood on stage Tuesday evening and announced to the world that he would be suspending his campaign for the presidency of the United States. Just weeks earlier, the soon-to-be-former candidate had nearly convinced the Republican establishment that, contrary to both inclination and history, he might be its savior. His exit would effectively hand the nomination to a man the senator himself had called a "sniveling coward," a "pathological liar," "an arrogant buffoon," and "Biff Tannen" (a Back to the Future reference that no doubt took some serious consideration).
In this particular moment of crisis and reconciliation, Heidi Cruz stood at her husband's side, ready to meet his embrace as he turned from the lectern and (symbolically, at least) away from a party that had very nearly been his to lead. They embraced for eight seconds—Cruz's face obscured from the cameras, an intimate moment between two partners.
And then, the senator elbowed his wife in the face.
To be clear, the violence was inadvertent: a traffic jam of hands and elbows and noses as Cruz turned to hug it out with his father, Rafael, who was standing immediately behind him. But the GIF-tasticness of this husbandly mortification tore across the Internet, prompting comedy and derision.
"This cringe-inducing moment of oblivion is the perfect coda to Ted Cruz's campaign—deeply uncomfortable, borderline sociopathic, and embarrassing for everyone involved," Gawker's Ashely Feinberg wrote.
Alyssa Milano tweeted, simply, "Oh Dear."
Underlying that response was the implication of carelessness, even callousness, in one husband's treatment of his wife. Heidi Cruz had given up her formidable career at Goldman Sachs and withstood lewd comparisons to Melania Trump, and this was how she was thanked? With an elbow to the face?
Meanwhile, an hour later and 730 miles across the country, in the marbled halls of Trump Tower, the presumptive nominee offered a Trumpish version of magnanimity while surrounded by a trio of plasticine beauties, all flowing locks and plumped lips and well-contoured cheeks. The women—his wife, his daughter, his daughter-in-law—said nothing and reacted imperceptibly to the dizzying news of the evening, but the significance of the staging was clear: a mogul surrounded by his riches. Never mind that the assets, in this case, were not beachfront hotels or golf courses, but human beings. This, more than anything, has been Melania's contribution to her husband's campaign.
Women, in this chaotic Republican race, have occupied strange and often conflicting roles. On the one hand, both Trump and Cruz have aligned themselves with strong—even brazen—female figures. Cruz announced Carly Fiorina as his running mate last week, and she, too, was on stage last night, (escaping un-socked). Trump, though he is unlikely to choose her for his ticket, has bravely entertained the whirling dervishry of Sarah Palin. While he was undoubtedly circumspect in his enthusiasm at the time, Trump dutifully stood by as Palin delivered her distinct and incoherent endorsement of him this past January. Clearly, these men can share the stage with complicated, fearless, even ostentatious women.
But what of their wives?
Heidi Cruz has a formidable résumé: Armed with an MBA from Harvard, she is a former director of the Western Hemisphere at the National Security Council (where she reported to Condoleezza Rice), a former director of the Latin American office of the Treasury Department, and presently, a director at Goldman Sachs (where she is on leave). She was even an economic adviser to a leading Republican presidential campaign—it just happened to be Bush 2000, and not Cruz 2016.
And yet most of Heidi Cruz's time on the trail was spent performing genial if largely forgettable duties: the wife as helpmeet. Her most memorable campaign performances included recounting a story about her husband's purchase of 100 cans of Campbell's soup when they were newlyweds, and assuring the American public that he is not, in fact, the Zodiac Killer.
Melania Trump, meanwhile, emerges from two separate if equally critical profiles, mostly a stunning cipher.
According to a recent GQ profile:
She's alluringly opaque. She makes meaningful eye contact and emphatically repeats affirmative, folksy banalities—she "has a thick skin," she takes things "day by day," she follows the news "from A to Z"—until the interviewer either is transported into a supra-verbal understanding or decides it's pointless to press for specifics.
Her campaign speech about her husband is so extraordinarily generic, it verges on the banal:
He's a hard worker. He's kind. He has a great heart. He's tough. He's smart. He's a great communicator. He's a great negotiator. He's telling the truth. He's a great leader. He's fair.
Like Heidi Cruz, Melania Trump most certainly has a story to tell. As this week's New Yorker profile details, she is "the exception to her husband's nativist policies," a foreign-born American citizen whose personal history might mitigate her husband's hard-line profile— especially on the subject of immigration—during the general election, when he will need it most.
But Cruz never really gave his wife a megaphone, and it remains to be seen whether Trump will encourage his wife (or whether she can even be encouraged) to offer more to the public than vacuous platitudes. The fact that Trump will be running against someone who just so happens to also be a wife will no doubt increase the pressure on the Republican candidate (and his wife) to develop a strategy to combat his thus far abysmal approval rating among women, lately at 70 percent unfavorable. Or not. Nothing about Trump's candidacy—or indeed, about the Republican race on whole—has been particularly beholden to rule or reason. Perhaps, when it comes to life partners, the wives are intended to remain in the background, where they are safest—assuming they can stay out of the way of their husband's sharp elbows.