The Travails of Dannel Malloy
Once a progressive success story, the Connecticut governor has angered liberals locally and nationally with a budget that slashes spending and cuts state jobs.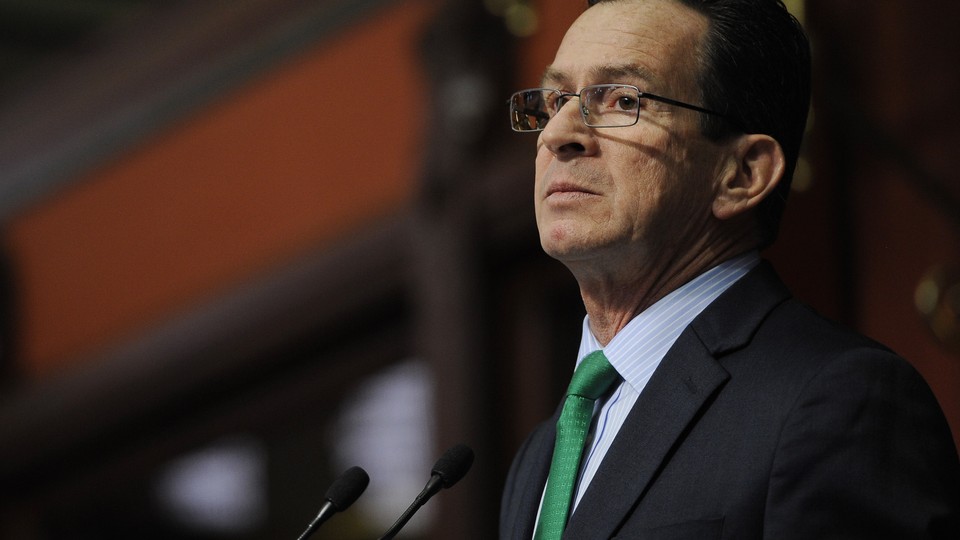 How long does it take to ruin a perfectly good progressive reputation? If you're Dannel Malloy, the answer seems to be one rancorous budget session.
It wasn't too long ago that Malloy was a rare beacon for liberal Democrats.
In short order, the twice-elected governor of Connecticut had racked up a string of progressive policy achievements—budgets that forced the wealthy to pay more in taxes, a first-in-the-nation minimum wage of $10.10 an hour, paid sick leave, criminal-justice reform, and strict new laws enacted rapidly in the wake of the Sandy Hook massacre. In 2014, Malloy ran on that record and won a second straight close race in a Republican wave year. Bucking the trend of Democrats nationally, he had hitched his political sails to President Obama and captured another term in a state that, despite its blue tilt, hadn't elected a Democrat to lead it in 24 years.
By December 2015, Malloy's star had risen even further. He won election as head of the Democratic Governors Association in December. The next month, he sat in the first lady's box at Obama's State of the Union address, a symbol of his status as a progressive success story. The party soon announced that Malloy would be a co-chairman of the platform committee at the nominating convention in Philadelphia.
Then came the 2016 budget session in Hartford, and what goodwill Malloy had accrued with liberal leaders in Connecticut disappeared like sand in a punctured hourglass. Facing a $1 billion deficit, the governor rejected calls for a third tax increase in six years and instead chose a path of fiscal austerity. He prodded Democratic majorities in the state Legislature to slash discretionary spending by 4.4 percent and cut at least 2,500 public-sector jobs.
Leaders in the labor and progressive movements decried the cuts and accused Malloy of betraying the most vulnerable and the very people who had helped him win two terms as governor in the first place. "We are disgusted with the budget," said Lindsay Farrell, the executive director of Connecticut's Working Families Party. As for the governor himself, she told me: "We feel very differently now about Governor Malloy than we did a few years ago." Jan Hochadel, president of the state chapter of the American Federation of Teachers, compared Malloy to "Dr. Jekyll and Mr. Hyde" and said he "turned his back on the 99 percent."
* * *
Oddly, the governor to which Malloy might be most similar is Sam Brownback, the conservative leader of Kansas. They are, in some ways, two sides of a coin. Both were elected in 2010 and used friendly legislative majorities to enact policies that the base of their respective parties had championed for years. Brownback twice won deep tax cuts for individuals and businesses in Kansas, while Malloy was able to increase taxes for high earners in 2011 and 2015. Both men oversaw state economies that recovered slower than the nation as a whole, and each won close reelection races in 2014.
And if Malloy has pursued the progressive version of Brownback's "real live experiment" in conservative economic policy, neither governing philosophy appears to have passed the test. In both states, the revenue that had been projected to come into the government has repeatedly and dramatically missed the target. And at least partly as a result, Brownback and Malloy are now the two least popular governors in the nation.
Where Malloy and Brownback have diverged is in their responses to the fiscal crisis in their states. Brownback has held firm to his anti-tax philosophy, refusing demands from Democrats and some moderate Republicans that he reconsider his earlier reductions while demanding deeper spending cuts from the legislation. Malloy, however, has angered the progressive base by rebuffing calls to ask more of the wealthy and corporations. He says he's simply recognizing "a new economic reality."
"What's changed is that the money's not coming in the door," Malloy told me in a phone interview on Tuesday. "We live in a new dynamic in the United States where most states' revenue is not growing at a rate to which we became accustomed." He said he stood by the tax increases that were enacted earlier in his tenure as part of broader budget deals that also fully funded the state pension system for the first time in years. As for the left's demand that taxes go up even further, he said, "At some point, you simply can't raise taxes to an extent that you price yourself out of the market."
Connecticut's competitiveness in the regional "market" is at the center of the debate over tax policy. And to Malloy's critics on the left, everything changed on January 13. That was the day that General Electric stunned the state by announcing that it would move its headquarters from Fairfield to Boston, carrying out a threat over the state's embrace of higher taxes. While the net job loss to Connecticut might amount to only 100 to 200, the psychological impact of losing such a corporate titan was far greater, and liberal leaders point to the announcement as a turning point in Malloy's economic approach. Three weeks later, the governor laid out his new fiscal vision in his annual State of the State speech, telling legislators that Connecticut "must reset our expectations of what we can afford, how we provide services, and how we save for our priorities."
There was no talk of further tax increases, only of the need to overhaul the budget, "prioritize funding for core services," and reflect that "new economic reality."
In addition to G.E.'s announcement, Aetna and Stanley Black & Decker had also threatened to move jobs out of Connecticut. And to leaders like Hochadel and Sal Luciano of the state's AFSCME local, Malloy had simply caved. By April, the state had begun laying off hundreds of public employees, often without notice. "It's also a routine that's played out in many states, where corporations threaten to leave and scare the hell out of elected officials," Luciano said. "It's not like General Electric went to Mississippi or Texas or South Carolina. They went to a higher-tax state."
The state's business community argued that the risk of an exodus was real, both by companies and affluent residents who contribute a disproportionate share of the state's tax revenue. "We do have a great quality of life, but the reality is that other states have been catching up," said Joe Brennan, president of the Connecticut Business and Industry Association. "Our competitive advantages aren't as strongly an advantage as they used to be. So I think if you get too progressive from an economic standpoint, you're going to pay the price. And I think that's what started to happen the last couple of years in Connecticut." Brennan said the combination of the economic policies Malloy had pursued—a higher minimum wage, paid sick leave, and the tax increases—was already hurting the state's business climate. "This was not just some ruse to go to Boston," Brennan said. "This was serious stuff."
Media outlets in Connecticut last week jumped on news that Malloy's Republican predecessor, Jodi Rell, was switching her residency to Florida fanned the exodus fears even further. But to people like Farrell of the Working Families Party, the idea that financiers living in Stamford or Greenwich and whose jobs are tied to Wall Street would suddenly flee isn't much different than liberals who threaten to move to Canada if Donald Trump becomes president. Even after the tax increases under Malloy, high-earners still pay a higher rate in New York and Massachusetts. And there are other reasons a 69-year-old retiree might move to Florida besides the lack of a state income tax. "They also don't have winter," Farrell observed.
* * *
The backlash against Malloy is playing out amid the broader battle within the Democratic Party, and it can be hard to separate what is unique to his situation in Connecticut and what is a proxy war in the fight between Hillary Clinton and Bernie Sanders. Malloy is a staunch Clinton ally, and just in the last two weeks, the Sanders campaign has protested the appointment—made in January—of an "aggressive attack surrogate," Malloy, to lead the platform committee at the Democratic National Convention. Now the Working Families Party, which has endorsed Sanders, is taking things a step further by suggesting that it is not only Malloy's support for Clinton but his blasphemy on the budget that makes him unfit to shape the Democratic agenda in Philadelphia. "This is part of the fundamental fight over what the Democratic Party is going to stand for the next several years," Farrell told me. "Right now, he's not good on a lot of the issues that leaders in the [party] are talking about and campaigning on. So that's an inconsistency that I think they're going to have to resolve."
Malloy's travails have put his allies in a difficult spot, as they try to defend his record without endorsing budget choices that, while perhaps necessary, are decidedly unpopular. "It's a very, very difficult balance," said Representative John Larson, a progressive Democrat and an 18-year veteran of Congress from Connecticut. "It is not as though this is some kind of ogre. But he is faced with some daunting fiscal challenges that were left unattended for a good 12 years." Larson said Sanders's supporters were "way out of line" in calling for Malloy to be removed as chairman of the DNC platform committee, and he reminded them of the governor's leadership in enacting gun-control measures after Sandy Hook, passing paid sick leave, and more recently by taking in Syrian refugees who had been rejected by the Republican governor of Indiana. That stance earned him the John F. Kennedy "Profile in Courage" award, which Malloy accepted in the midst of the state's budget battle last week.
The governor's liberal critics haven't forgotten those victories. "The governor that thought it was unfair that people had to make a choice between going to work or taking care of a sick child was a governor we were proud to stand behind," Luciano said. "The way he handled Sandy Hook initially and his bravery and his courage at the time was a governor we were proud to stand behind." But that was then. "I almost don't recognize where he wants to take this state now," Luciano added.
Malloy told me there's been no shift in his approach and that he's proud of his entire record—not only the progressive tax policies but labor-friendly moves that encouraged collective bargaining and fully funded the state pension system. And what of the hackles he is raising now, which have sunk his approval rating to just 29 percent—the lowest of any Democratic governor—and dented his national reputation? Isn't it all a bit unfair? "Listen," the governor replied, "I stopped baying at the moon a long time ago."