The Humbling of Paul Ryan
A gay-rights amendment takes down a House appropriations bill, and with it might go the speaker's grand plan to revive the congressional spending process.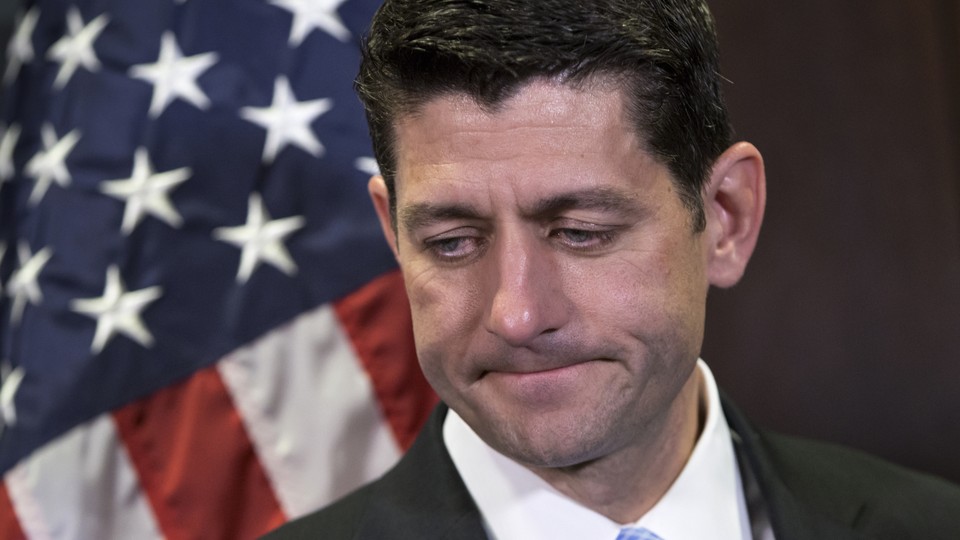 The state-by-state fight for gay and transgender rights has reached the floor of the House of Representatives, and it is ruining Speaker Paul Ryan's carefully-laid plans for reviving the congressional spending process.
Republicans and Democrats voted down an annual bill appropriating funds for energy and water programs on Thursday morning after Democrats succeeded in attaching an amendment to bar federal contractors from discriminating on the basis of sexual orientation or gender identity. The provision drew bipartisan support only days after GOP leaders scrambled to defeat a similar amendment that Democrats tried to add to another appropriations bill—an embarrassing moment in which rank-and-file Republicans were cajoled into flipping their votes so the measure would fail. The attempt succeeded this time, but it became moot hours later when the underlying $37.4 billion measure went down in a landslide vote of 305-112, with majorities of both parties voting against it. The meltdown happened so quickly that it appeared to catch the House Appropriations Committee, which wrote the bill, off guard. The committee sent out a statement from Chairman Hal Rogers with a headline heralding its passage just minutes before it was voted down; it was quickly rescinded.
The defeat is less significant for this particular bill, or even the LBGT rights movement, than for what it says about Ryan's push to return "regular order" to the appropriations process and reassert the congressional prerogative over federal spending. "Regular order" is insider lingo on Capitol Hill, but it refers to a bottom-up, committee-driven legislative process that gives more power to individual members and less to party leaders.
For more than a decade, Congress has tended to fund the federal government either through repeated stopgap measures or in one giant omnibus appropriations bill at the end of the year. Senior members usually negotiate both types of legislation in secret and then present it right before a deadline to rank-and-file members, telling them they have no choice but to pass it or shut down the government. Needless to say, this process rankles the rank-and-file, who chafe at how little say they actually have in perhaps Congress's most important responsibility—the power of the purse.
The problem with regular order is that it generally doesn't work as well in practice as it sounds in theory. For one, it's messy. Ryan has promised to bring spending bills to the floor under what's known as an "open rule," which really means almost no rules at all. Members can demand votes on any amendment that relates to how the department in question spends money. And in an election year (or really any year), the minority party will always try to use this freedom to advance their causes and create political headaches for the majority it is trying to oust in the fall. Enter gay and transgender rights. What was once a wedge issue for conservatives has now become a weapon for Democrats, who are trying to exploit what they see as overreach by Republicans in states like North Carolina, where they have passed so-called bathroom bills to restrict transgender rights. The amendment from Representative Sean Patrick Maloney of New York, who is gay, passed late Wednesday with support from all 180 Democrats and 43 Republicans. After winning on the anti-discrimination measure, Maloney and all but six of his Democratic colleagues voted against the full energy bill, along with 130 Republicans. Conservatives opposed it either because the LGBT language was in there, or because the bill spent too much, or both.
"What we just learned today is that Democrats were not looking to advance an issue. They were looking to sabotage the appropriations process," Ryan told reporters a few minutes after the bill failed. Still, he staunchly defended his commitment to "regular order," reminding both the press and his own GOP members that this is exactly what it looked like: a more open process, "with fewer predetermined outcomes, and yes, more unpredictability."
That was what Ryan had promised when he became speaker last fall. It is also what his predecessor, John Boehner, had promised when he took control of the House five years ago. But over time, the imperative to actually pass bills and demonstrate some semblance of governing ability overtook the desire to let 435 members have their say and allow the House "to work its will." Boehner couldn't strike that balance, and as even more time elapsed, the frustration of conservatives who felt that the leadership was constantly jamming them with unpleasant compromises bubbled up, and they sent the affable Ohioan back home to the golf course.
Not yet seven months on the job, Ryan already finds himself in a similar quandary. He's got more political capital and more conservative support than Boehner did, but also arguably more problems. Ryan has so far failed to pass a budget for the first time in the GOP's current six-year majority, and he was going to have difficulty passing spending bills even before Democrats started forcing debates on gay rights and the Confederate flag. (That's not to mention the headline-grabbing tussle he's been having with his party's presumptive presidential nominee.) There was already little chance that the House, the Senate, and the Obama administration could agree on all 12 individual appropriations bill before lawmakers head off to campaign this summer. But Ryan and Senate Majority Leader Mitch McConnell were hoping they could at least pass a few of the less controversial ones, like the energy and water bill, and make some progress.
Still, conservatives have opposed both the House budget resolution and the energy appropriations bill for spending too much money. "Republicans were right to oppose the bill," Dan Holler, a spokesman for Heritage Action, said after the vote. "Americans expect their Republican leaders to govern as they campaigned—advancing opportunity and liberty while reining in government spending. Yet, so far this year the GOP leadership appears either unwilling or unable to stand up to a lame duck president on important issues facing the American people."
That's a slightly more polite version of the message Heritage and its conservative allies were sending Boehner in the years before they helped topple him. Ryan on Thursday pledged to continue the appropriations process, although he didn't say whether Republican leaders would take steps to prevent Democrats from torpedoing another bill. "This work is just far too important for these dilatory tactics," Ryan said. It seems like he now faces the same choice Boehner once did: He can have "regular order," or he can succeed in passing at least a few more appropriations bills. But he may not be able to do both.