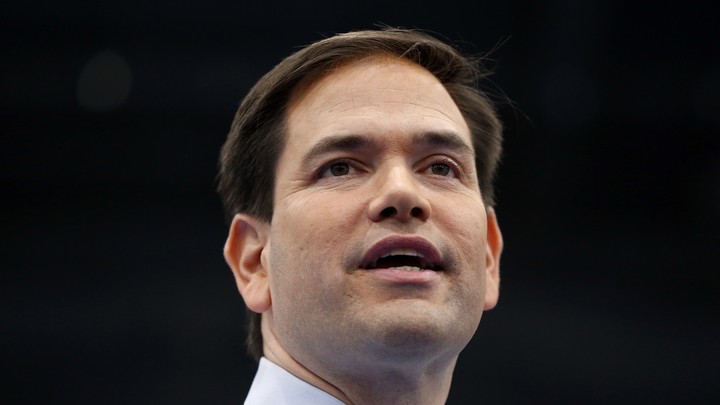 Marco Rubio finally got his wish. The Republican Party is, at long last, coalescing around his candidacy, begging him to save it from a demoralizing defeat in November.
There's just one little twist: The unified GOP is backing Rubio for Senate, not president. And that's a job the 45-year-old Floridian may no longer want.
Rubio is now finishing his first term in the Senate, having decided more than two years ago that if he ran president in 2016, he wouldn't seek reelection at the same time. That campaign came and went, and Rubio hasn't changed his mind. But Florida has one of the country's latest filing deadlines, and the national leadership of the GOP, including just about every Republican in the Senate, has launched an unusual effort to publicly pressure Rubio to enter the race before that deadline finally passes on June 24. Mitch McConnell, the Senate majority leader, became the latest to jump on the Rubio train on Tuesday morning. Toward the end of his appearance on MSNBC's Morning Joe, McConnell brought up a potential Rubio bid unprompted. "We're doing everything we can to encourage him to run," he said.
The Senate seat isn't even a consolation prize for Rubio after his failed presidential run. That would be the vice presidency, but he's already taken himself out of the veepstakes, a decision that seemed obvious given how bitter his rhetorical war with Trump had become. How could a politician run alongside a candidate he repeatedly called "dangerous" and "a con artist"? "He will be best served by a running mate and by surrogates who fully embrace his campaign," Rubio wrote of Trump earlier this month. "As such, I have never sought, will not seek and do not want to be considered for vice president." Over the last week, Rubio has made a show of endorsing Trump in the most tepid way possible, barely mentioning the presumptive nominee's name while explaining that he was always more Never Hillary than Never Trump.
For Republicans, the Rubio-for-Senate push is indicative of a broader effort to save their majority at a time when many in the party doubt they can win the White House. Florida is one of a handful of states that will be crucial in November, and none of the Republicans currently running have the household-name status of Rubio. If Representative Patrick Murphy ends up as the Democratic nominee—which party leaders are desperately hoping for—the seat would be at best a toss-up for Republicans without Rubio in the race.
In the days after he dropped his presidential bid, Rubio reiterated his plans to become exit public life in January, saying he would run neither for reelection to the Senate this year nor governor in 2018. He has held the line on the governor's race, but his position on the Senate campaign seems to have opened ever so slightly. Rubio told CNN's Jake Tapper in an interview broadcast Sunday that if Lieutenant Governor Carlos Lopez-Cantera were not running, he would "maybe" change his mind about the race. Lopez-Cantera is facing four other Republicans in a primary, and polls have shown him trailing Murphy in a hypothetical general-election matchup. Rubio held a fund-raiser for Lopez-Cantera as recently as last week, and he told donors on Friday that he was behind the campaign, the Miami Herald reported. "He's a good friend, he's a good candidate, he'll be a great senator," Rubio told reporters on Friday. "And so my answer today is no different than it was 24, 48, 72 hours ago."
Yet if Rubio is sincere about not wanting to keep his Senate seat, the timing of his public reemergence is a bit curious. He laid low for two months after ending his White House bid, but in the last two weeks he has been granting interviews and taken back control of his Twitter handle, responding to reporters, fans, and critics alike. Rubio the Robot is gone, having been replaced by a nimbler, feistier, and even snarkier politician. He's used the platform to mock speculation about his political future, explain his reluctant embrace of Trump's candidacy, and stand up to Trump when he has criticized fellow Republicans.
There is little doubt Rubio wants to run for president again, perhaps as soon as 2020 if Trump loses this fall. He told Tapper it was a "safe assumption" that he would run for office again some day. While Trump and Hillary Clinton have shown that candidates don't need to have a current post to mount a strong campaign for president, staying in the Senate would be an easy way for Rubio to remain in the spotlight and win over voters who might have thought he was too green for the White House this time around. With the vocal support of McConnell, GOP senators, and even Trump, he now has the political cover to change his mind.
So is this all a slyly coordinated campaign by Rubio to gently push Lopez-Cantera out of the race and retain his Senate seat? We'll know the answer by June 24.
We want to hear what you think about this article. Submit a letter to the editor or write to letters@theatlantic.com.
Russell Berman
is a staff writer at
The Atlantic
, where he covers politics.