The End of the Road for John Kasich
The Ohio governor is expected to suspend his presidential campaign Wednesday in Columbus.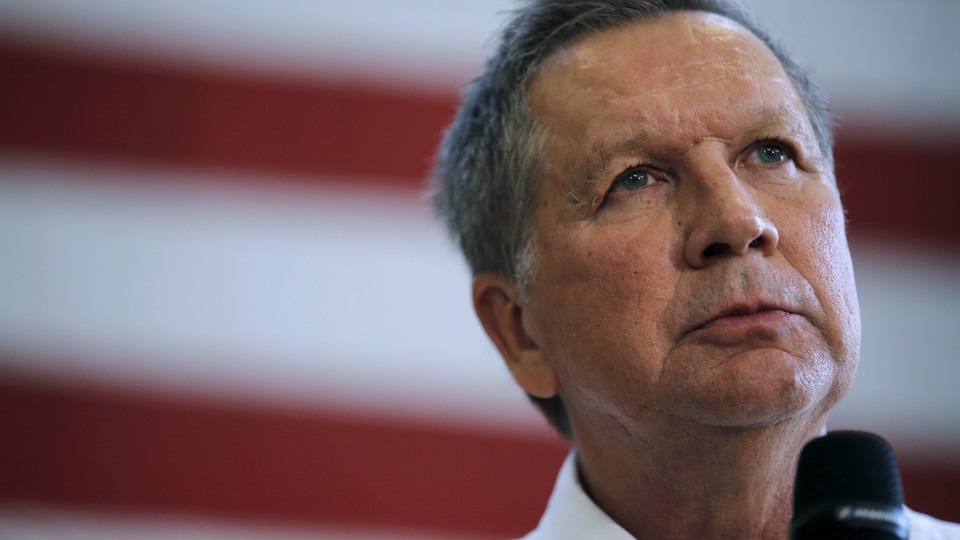 John Kasich will end his bid for the presidency Wednesday afternoon in Columbus, according to multiple reports. Kasich had planned to hold a press conference at Dulles Aiport near Washington Wednesday morning, but he never took off—perhaps an apt metaphor—staying home and scheduling a press conference for 5 p.m., where he is expected to make his announcement.
The Ohio governor's exit leaves Donald Trump as the last man standing in the Republican field. Though he'd already assumed the mantle of presumptive nominee with Senator Ted Cruz's exit Tuesday night—after Trump trounced both of them in the Indiana primary—Kasich's exit seals the deal. Kasich has been mentioned for weeks as a potential vice-presidential candidate for Trump, who will need to shore up his policy and political credentials ahead of the general election.
While hardly anyone predicted Trump's success in the Republican campaign, few expected Kasich would get this far either. In a crowd of young, charismatic GOP figures, Kasich was the odd man out, a somewhat more grizzled figure who had run abortively for president in 2000, and a comparatively moderate figure in a party trending increasingly to the right. Somehow, Kasich managed to hold on to the bitter end, the final challenger to Trump.
That's not to say that his campaign was especially successful. Many observers felt Kasich was pursuing a replay of former Utah Governor Jon Huntsman's failed 2012 bid for the Republican nomination. Huntsman and Kasich even shared a campaign architect, the heterodox GOP strategist John Weaver. The playbook may have gotten Kasich farther than it did Huntsman, but that still wasn't enough to win the nomination, or even to come close. (As for Huntsman, he now backs Trump.)
For a time, before Trump's ascendancy became inevitable, Kasich's plan seemed plausible. In New Hampshire, the nation's first primary and second nominating contest, he placed (a distant) second to Trump, and hoped to portray himself as the reasonable alternative to the entertainer. But having placed a huge bet on the Granite State, Kasich had little infrastructure in place for the rest of the campaign, and was a non-entity in the South Carolina primary. By the time the campaign reached his home state, Kasich was effectively out of the running. Ohio turned out to be the only state that he won. He closes out the campaign with fewer delegates than Senator Marco Rubio, who dropped out on March 15.
Kasich's sell to voters was that amid a sea of volatile, unpredictable characters like Trump and wild-eyed radicals like Cruz, he was an old-style true conservative who could also win swing states like Ohio. To the extent that his campaign had a policy theme, it was his advocacy for a balanced-budget amendment—a vague promise, tethered to his work on balancing the national budget while in the U.S. House in the 1990s. (Opinions about just how central Kasich had been in that work differed widely.)
But some of his other policy stances were at odds with much of the Republican Party. As governor, he had circumvented the GOP-led Ohio legislature to accept Medicaid expansion under the Affordable Care Act. As though that were not bad enough, he compounded his offense in the eyes of conservatives by justifying his choice by faith. "Now, when you die and get to the meeting with St. Peter, he's probably not going to ask you much about what you did about keeping government small," he said. "But he is going to ask you what you did for the poor. You better have a good answer.'"
Many of Kasich's former colleagues viewed his image as a soft, cuddly, friendly politician with skepticism—they remembered a more irritable, angry Kasich—it seemed to take with many voters. The problem was that Republican primary voters didn't want a sane, rational nominee in 2016. They wanted a Trump.