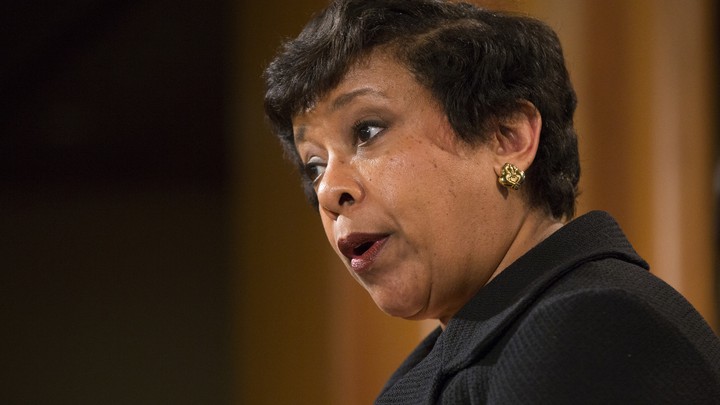 Today in One Paragraph
The Justice Department filed a lawsuit challenging North Carolina's "bathroom bill" shortly after the state announced plans to sue the federal government. The ACLU sued the state of Mississippi over a controversial religious freedom law. Donald Trump announced that Chris Christie will lead his White House transition team. And the U.S. Treasury Secretary took a one-day visit to Puerto Rico to highlight the commonwealth's debt crisis.
---
Top News
North Carolina vs. DOJ Cont'd. Governor Pat McCrory said he filed a lawsuit against the U.S. Department of Justice in response to the agency's letter last week that the state's recent law requiring transgender people to use bathrooms corresponding with the gender on their birth certificates violated the Civil Rights Act. McCrory's suit asks federal courts to declare that the law does not constitute gender discrimination. Hours later, Attorney General Loretta Lynch announced the government will be counter-suing the state. (The Atlantic; The Charlotte Observer)
...And Another Lawsuit. The American Civil Liberties Union is suing Mississippi on behalf of a gay couple over the state's recently signed religious freedom law, which allows organizations and individuals to deny certain services to LGBT people on the basis of religion. The ACLU says the law discriminates against gay and transgender people, but a spokesman for the state's governor dismissed the claims, saying the ACLU is "trying to use the federal court system to push its liberal agenda." (Michael Pearson, CNN)
In Trump News. The presumptive GOP nominee announced that Chris Christie will lead Trump's "transition team"—a team in charge of helping transition to the general election and fill cabinet positions in the potential Trump administration. House Speaker Paul Ryan said he'd be willing to step down as co-chairman of the GOP convention if Trump asked him to, because "he's the nominee." And Arizona Senator John McCain said Republicans who choose not to back the GOP nominee are "foolish." (NBC News; The Journal Sentinel; CNN)
Putting the Focus on Puerto Rico. U.S. Treasury Secretary Jacob Lew traveled to the commonwealth in an effort to light a fire under congressional efforts to help Puerto Rico out of its $70 billion debt crisis. The visit comes one week after Puerto Rico defaulted on a $370 million bond payment. House Republicans are expected to introduce a revised draft of a bill to help manage and restructure the debt later this week. (Mary Clare Jalonick, Associated Press)
Tomorrow in One Paragraph. Voters head to the polls in West Virginia, and Nebraska holds its Republican primary. Hillary Clinton will be fundraising in Kentucky, and Bernie Sanders will hold a rally in Oregon.
Follow stories throughout the day with our new Politics & Policy page. And keep on top of the campaign with our 2016 Distilled election dashboard.
---
Top Read
"Even as legalization spreads, young black men will continue to be arrested at disproportionate rates for selling the drug. In turn, this leaves intact a version of the same specter that helped spur legalization in the first place: An arrest record's scarlet letter will continue to blight the collective futures of urban communities of color, the natural effect of an economic incentive the state did not remove." The Atlantic's Tom James on the unfulfilled expectations of legalizing marijuana.
---
Top Lines
Exxon and the Climate Crusaders. In being held responsible by climate activists for contributing to the warming of the planet, Exxon—and oil companies worldwide—is now facing perhaps its biggest existential threat yet. (Andrew Restuccia and Elana Schor, Politico)
How Clinton Could Lose to Trump. Polls show the Democratic presidential candidate walloping Donald Trump in the general election, but Clinton's attempts to campaign as a serious politician could blow up in her face—like it did for Trump's Republican rivals. (Michael Brendan Dougherty, The Week)
Can Paul Ryan Warm Up to Trump? The House speaker has said he hopes to get to know Trump better and eventually see him as a party unifier. But the billionaire-turned-Republican-nominee isn't making it easy. (Amy Davidson, The New Yorker)
---
Top Views
America's Anti-Clinton Counties. See where Bernie Sanders holds an advantage over Hillary Clinton in these graphics. Hint: It's not just Vermont. (Nate Cohn)
We want to hear from you! We're reimagining what The Edge can be, and would love to receive your complaints, compliments, and suggestions. Tell us what you'd like to find in your inbox by sending a message to newsletters@theatlantic.com.
-Written by Elaine Godfrey (@elainejgodfrey)
We want to hear what you think about this article. Submit a letter to the editor or write to letters@theatlantic.com.