The Edge: Virginia Is for Voters?
Republicans lawmakers plan to sue Governor Terry McAuliffe over his executive order restoring voting rights to former felons.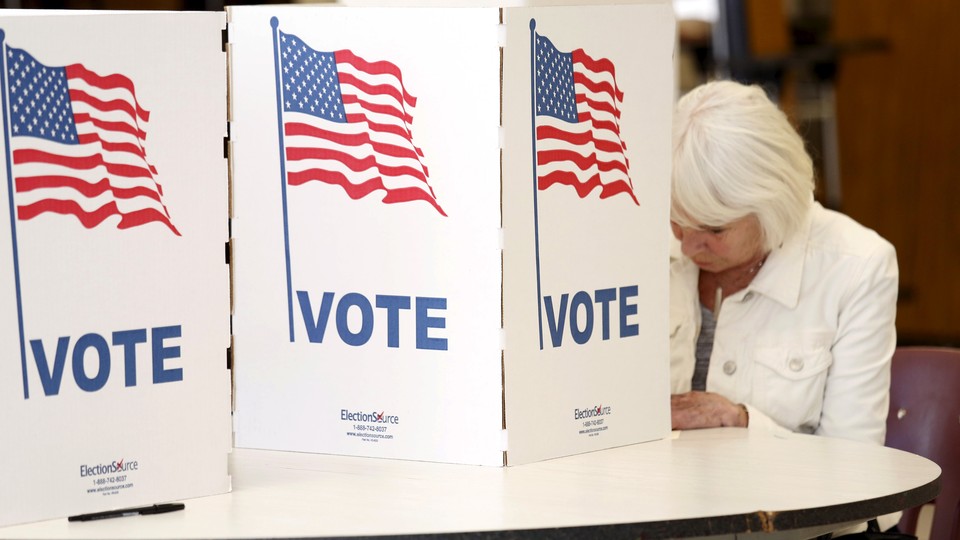 Today in One Paragraph
Puerto Rico defaulted on a $422 million bond payment. Republicans in Virginia plan to file a lawsuit against Governor Terry McAuliffe over his executive order restoring voting rights to former felons. Hillary Clinton's campaign raised more than Bernie Sanders's during the month of April. The U.S. Supreme Court declined to hear a slate of cases. And a teacher sickout in Detroit closed 94 public schools.
---
Top News
Puerto Rico Defaults on Its Payments. Governor Alejandro Garcia Padilla said he ordered the island's Government Development Bank not to make certain payments due today. Garcia Padilla said on Sunday that the choice between paying creditors and meeting  was "painful" but said that the needs of Puerto Ricans "came first." Congress has not yet offered a solution to the commonwealth's growing debt crisis. (Nathan Bomey, USA Today)
Virginia Republicans Sue Governor. Republican lawmakers will be file a lawsuit against the state's Democratic governor Terry McAuliffe over his recent order restoring voting rights to more than 200,000 convicted felons, GOP leaders said. They argue that McAuliffe's executive order was unconstitutional and have hired a former Justice Department official to challenge it. A spokesman for McAuliffe said the "The Governor is disappointed that Republicans would go to such lengths to continue locking people who have served their time out of their democracy." (Alanna Durkin Richer, Associated Press)
Clinton Out-Raises Sanders. After being outpaced by the Vermont Senator in fundraising in February and March, Hillary Clinton raised $26.4 million for her campaign in April, bringing her total primary funds to $213.5 million compared to Sanders's $210 million. Sanders's fundraising has slowed as his path to the nomination becomes more bleak. (Amy Chozick, The New York Times)
Rejected. The U.S. Supreme Court rejected a challenge to Seattle's minimum wage law, declined a request from BP shareholders to revive their class action lawsuit, and announced it would not allow phone records from the late "D.C. madam" Deborah Jeane Palfrey to be released. The justices also declined to hear an appeal from Native American inmates arguing that prison rules violate their religious liberty. (Reuters; U.S. News and World Report; The Atlantic)
Detroit Sickout. Ninety-four out of 97 public schools were shut down today as teachers protested the news that the district won't be able to pay them after June 30. The Detroit Federation of Teachers called for some 2,600 teachers to stage a sickout after the district's emergency manager said they wouldn't be paid unless the state Legislature approves more funds. Governor Rick Snyder said the protests are "not a constructive act with respect to getting legislation through." (Lori Higgins and Keith Matheny, Detroit Free Press)
Tomorrow in One Paragraph. Voters will head to the polls in Indiana for the state's primary. We're covering it live here. Hillary Clinton will campaign in West Virginia and Ohio. Bernie Sanders will hold a rally in Kentucky.
Follow stories throughout the day with our new Politics & Policy page. And keep on top of the campaign with our 2016 Distilled election dashboard.
---
Top Read
"Lynch's Justice Department is one of the key agencies advancing that Obama administration position—first adopted by the Equal Employment Opportunity Commission—that sex discrimination bans for the workplace and schools should be read to include a ban on anti-transgender discrimination, including allowing people to use restrooms that correspond with their gender identity." BuzzFeed's Chris Geidner on U.S. Attorney General Loretta Lynch's mission for the remainder of her term in office.
---
Top Lines
No Budget, No Pay. Iowa Representative Dave Young is attempting to dock his own pay—and the pay of every other lawmaker—until Congress can pass a budget. But it's actually quite complicated for a member of Congress to not get paid. (Michelle Cottle, The Atlantic)
Cruz's Donor Dependence. While Ted Cruz fights tooth and nail for the Republican nomination, he's learning about the downsides to relying on a handful of wealthy campaign donors, donors who want to dictate just how their money is spent. (Joseph Tanfani and Noah Bierman, Los Angeles Times)
---
Top Views
The Forgotten Neighborhoods. Predominantly African American neighborhoods across the country have been slow to recover from the housing crisis. But across metropolitan Atlanta, home values are lower now than they were in 2004. (Emily Badger, The Washington Post)
We want to hear from you! We're reimagining what The Edge can be, and would love to receive your complaints, compliments, and suggestions. Tell us what you'd like to find in your inbox by sending a message to newsletters@theatlantic.com.
-Written by Elaine Godfrey (@elainejgodfrey)