The Edge: Trump on Taxes: No Can Do
The presumptive Republican nominee said "there's nothing to learn from them."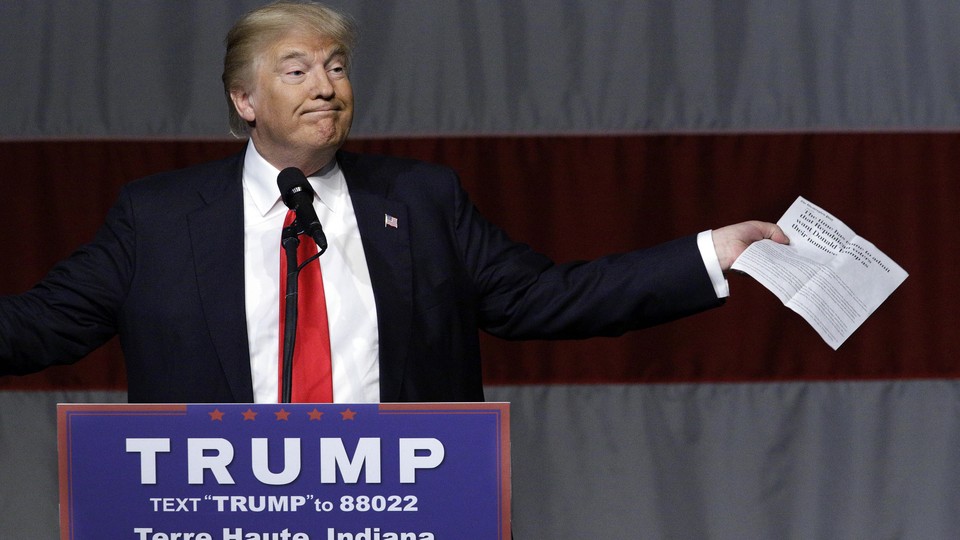 Today in One Paragraph
Donald Trump said he won't release his tax returns before the November election. A judge ruled that the gunman accused of killing three people at a Planned Parenthood clinic is not mentally capable of standing trial. The U.S. House of Representatives moved to pass a series of bills addressing opioid addiction. The Justice Department said the South Carolina officer who shot and killed Walter Scott last year could face up to life in prison. And ISIS claimed responsibility for a series of deadly bombings in Iraq.
---
Top News
Trump's Tax Returns. The presumptive GOP nominee told the Associated Press that he doesn't expect to release his tax returns before November because he's being audited. It's become standard practice for presidential candidates to disclose their tax documents, but Trump is going against the grain: "There's nothing to learn from them," he said. (Julie Pace and Jill Colvin, Associated Press)
Planned Parenthood Shooter Won't Be Tried. A judge ruled that Robert Lewis Dear Jr., who allegedly killed three people at a facility in Colorado Springs in November, is not capable of participating in a trial. Two state psychologists diagnosed Dear with a delusional disorder that prevents him from understanding the case against him, and Dear will instead undergo treatment at the Colorado Mental Health Institute. (Jordan Steffen, The Denver Post)
Confronting the Opioid Epidemic. The U.S. House of Representatives moved to pass two bills to tackle abuse of painkillers and heroin in the United States. The House is expected to pass 18 bills focused on combating opioid addiction, treatment, and prevention this week. (Erin Kelly, USA Today)
The Indictment of Michael Slager. A federal grand jury indicted Michael Slager, the South Carolina police officer who shot and killed an unarmed black man five times in the back last spring this week. The Justice Department said in a statement that Slager could face up to life in prison for violating a civil rights law and a possible $250,000 fine. Slager has pleaded not guilty and is free on bond. (Mark Berman and Wesley Lowery, The Washington Post)
Deadly Attacks in Iraq. Sixty-four people were killed and 87 wounded after a car bomb went off at a market in Baghdad. Separately, an additional 29 people were killed in two other attacks across the city, Iraqi police said. ISIS claimed responsibility for the attacks. (Jomana Karadsheh, Joshua Berlinger, and Ashley Fantz, CNN)
Tomorrow in One Paragraph. Bernie Sanders will be campaigning in South Dakota. Paul Ryan is expected to meet with Donald Trump.
Follow stories throughout the day with our new Politics & Policy page. And keep on top of the campaign with our 2016 Distilled election dashboard.
---
Top Read
"In the midst of such unprecedented turmoil and dissonance, the appearance of Senator Tom Cotton of Arkansas at the Palmetto State's most prestigious GOP event signaled two important things: that there will be a post-Trump party, however battered and beaten, with new faces ready to take the helm–and that there is already one ambitious politician putting the wheels in motion to do so." U.S. News and World Report's David Catanese on the suspected presidential ambitions of Arkansas's youngest senator.  
---
Top Lines
Senate Republicans at a Crossroads. Donald Trump's ascension to the GOP nomination has the once relatively harmonious Senate Republicans in a frenzy of indecision. Can the party survive if the views of its members are so fragmented? (Lauren Fox, Talking Points Memo)
The Problem with Majority Voting. When voters aren't able to express the nuance of their opinion, elected officials aren't representative of what the American public actually wants. A possible solution to this? Majority judgment. (Rida Laraki and Michel Balinski, The New Republic)
Can Trump Change? If the presumptive GOP nominee wants #NeverTrump Republicans to support his candidacy, The National Review's Ben Shapiro argues, he needs to make some serious changes in temperament and policy stances.
---
Top View
The Invisible Refugees. More than 27 million people were forced to flee their homes due to armed conflict and natural disasters in 2015, but they aren't officially categorized as "refugees." These maps show where millions were internally displaced last year. (Jason Beaubien, NPR)
We want to hear from you! We're reimagining what The Edge can be, and would love to receive your complaints, compliments, and suggestions. Tell us what you'd like to find in your inbox by sending a message to newsletters@theatlantic.com.
-Written by Elaine Godfrey (@elainejgodfrey)