The Edge: Trump Names Names
The presumptive GOP nominee released a list of 11 potential Supreme Court justices.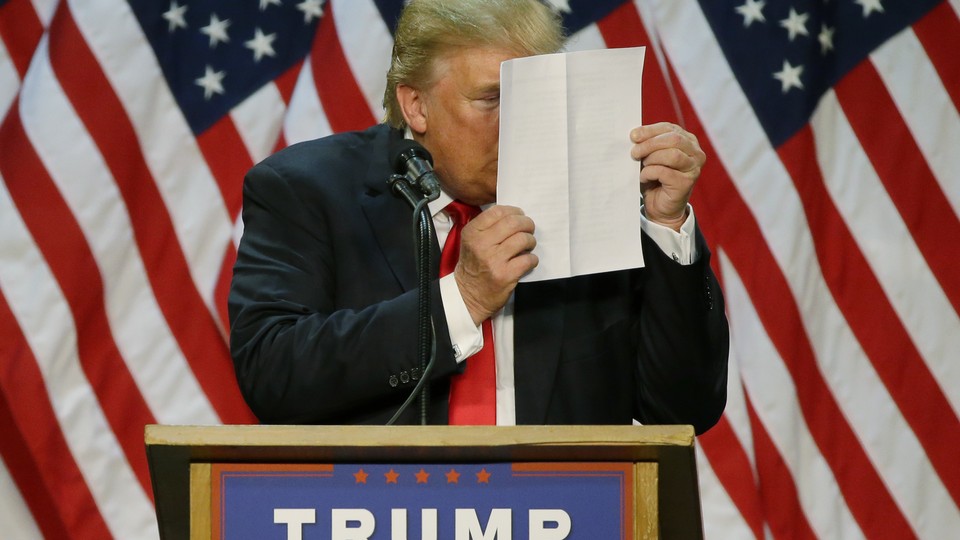 Today in One Paragraph
Donald Trump released the names of 11 people he'd consider appointing to the U.S. Supreme Court if he's elected president. An estimated 4.2 million Americans will be eligible for overtime pay under a new rule finalized by the U.S. Department of Labor. Fighting between Bernie Sanders's campaign and the head of the Democratic National Committee has intensified. And the first missing Chibok girl was found after two years as a Boko haram prisoner.
---
Top News
Trump's List. The presumptive GOP nominee released a list of 11 Supreme Court nominees he would consider to fill the vacant seat if he's elected president. The list included federal and state judges such as Steven Colloton from Iowa, Allison Eid of Colorado, and Raymond Gruender of Missouri, among others. In a statement, the Trump campaign said the list was created "based on constitutional principles, with input from highly respected conservatives and Republican Party leadership." (Jill Colvin, Associated Press)
Working Overtime. The U.S. Labor Department finalized a new rule to make an additional 4.2 million American workers eligible for overtime pay. The rule, announced Tuesday by the Obama administration, raises the salary threshold at which workers are entitled to overtime from $23,660 to $47,476 and will take effect on December 1. (Paul Davidson, USA Today)
Infighting in the Democratic Party. Bernie Sanders's campaign manager, Jeff Weaver, accused Democratic National Committee Chairwoman Debbie Wasserman Schultz of "throwing shade" at Sanders—and favoring Hillary Clinton—during the race for the nomination. The statement comes after Sanders supporters complained of unfair treatment at last weekend's Democratic convention in Nevada and allegedly threatened party leaders. Wasserman Schultz called the Sanders campaign's response to the threats"anything but acceptable." Weaver shot back: "From the get-go …  she has been working against Bernie Sanders—I mean, there's no doubt about it—for personal reasons." (Nolan D. McCaskill, Politico)
Kidnapped Chibok Girl Found. One of the girls abducted from a Nigerian school in 2014 by the militant group Boko Haram was rescued, according to the Nigerian army. Witnesses said the girl, identified as Amina Ali Nkeki, was found asking for help outside of the Sambisa Forest, accompanied by a man and a baby. The military said the girl was taken in for medical attention and screening. At least 200 girls remain missing. (Stephanie Busari and Tim Hume, CNN)
Tomorrow in One Paragraph. Hillary Clinton will fundraise in Illinois, and Donald Trump will hold a rally in New Jersey to help Chris Christie pay off his campaign debts.
Follow stories throughout the day with our new Politics & Policy page. And keep on top of the campaign with our 2016 Distilled election dashboard.
---
Top Read
Now it was clear that there would be no technicalities, as some had long suspected, to keep the victory from him; no self-administered fatal error, as so many had assumed. No, this was it: the final stage of a process by which Americans accepted that this man, wholly unlike any politician they had ever seen, was going to definitely, not maybe, become the standard-bearer of one of the two political parties of the most powerful nation on earth. The New York Times Magazine's Robert Draper on Donald Trump's path to the GOP nomination.
---
Top Lines
America's Health-Care Segregation. Sixty years after Brown v. Board of Education kick-started a wave of desegregation in the United States, health-care systems in the country haven't made much progress. (Vann Newkirk, The Atlantic)
Screwing Up Trump. From inadequate models to small sample size, Nate Silver explains where he and other data journalists went wrong in predicting the success of the presumptive GOP nominee. (FiveThirtyEight)
'The Ferguson Effect.' The phrase is used to attribute the growing homicide rate in the United States to a nationwide movement against police officers, which, Vox's Dara Lind argues, is partly an attempt to blame black protestors for violence in black communities.
---
Top View
Riding the Birther Wave. Heading into the 2012 election, a poll showed the businessman with a significant lead compared to GOP presidential contenders. This graph and timeline show what happened. (Toni Monkovic, The New York Times)
We want to hear from you! We're reimagining what The Edge can be, and would love to receive your complaints, compliments, and suggestions. Tell us what you'd like to find in your inbox by sending a message to newsletters@theatlantic.com.
-Written by Elaine Godfrey (@elainejgodfrey)