The Edge: Trump Campaign Wishes It Had the 'Undo Send' Button
One of Trump's staffers accidentally emailed a reporter while looking for information on Clinton's involvement in the Whitewater scandal.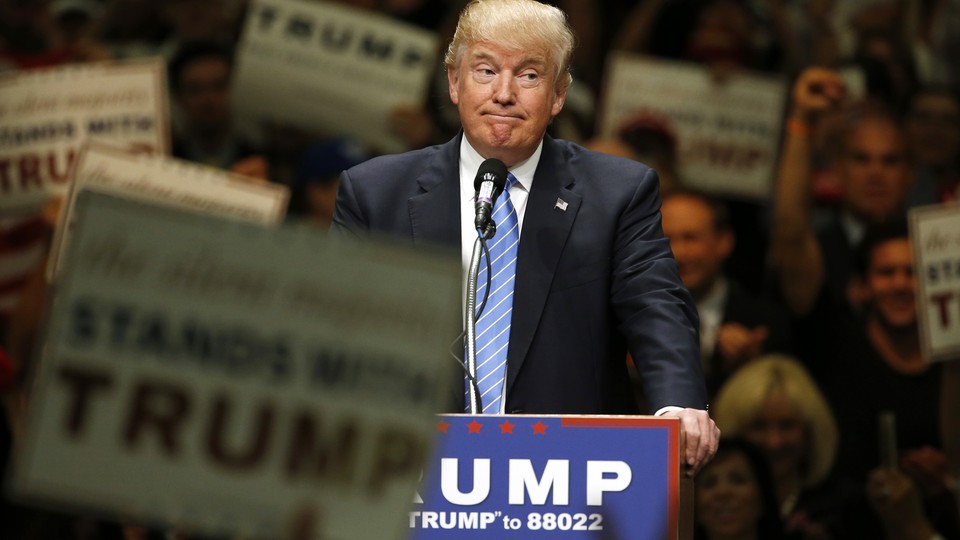 Today in One Paragraph
Eleven states are suing the federal government in response to the Obama administration's guidelines on transgender-bathroom accommodations. Paul Ryan denied the reports that he was preparing to endorse Donald Trump. One of Trump's staffers accidentally emailed a Politico reporter while looking for information on Clinton's involvement in the Whitewater scandal. And a State Department report criticized Hillary Clinton's use of a private email server.
---
Top News
A Challenge on Bathroom Policy. Officials in 11 states sued the federal government over the Obama administration's recent directive to public schools requiring that they allow students to use restrooms corresponding with their gender identity. Filed in Texas, the lawsuit said the White House had "conspired" to turn classrooms into "laboratories for a massive social experiment" and had no authority to issue such guidance. (Alan Blinder, The New York Times)
Republicans on Trump. Paul Ryan said he was still not ready to support the presumptive GOP nominee after Trump campaign aides told ABC News that the House Speaker was preparing to make an endorsement. "I have no timeline in mind," Ryan said at a press briefing. This comes two weeks after the two men issued a joint statement calling on Republicans to "unite around our shared principles." Meanwhile, the former Pennsylvania Senator Rick Santorum endorsed Trump after having a "long heart-to-heart" with the presumptive nominee. "I'm 100 percent," Santorum said during an interview on "Fox and Friends." (ABC News, The Hill)
Watch Those Names. Donald Trump's campaign press secretary Hope Hicks accidentally replied to the Politico reporter Marc Caputo instead of the staffer Michael Caputo on a conversation with an RNC researcher looking for information about the 1990s Whitewater scandal. Commenters on Twitter and elsewhere were quick to align with Team Trump on the need for opposition research against Hillary. (Kenneth P. Vogel and Mark Caputo, Politico)
More Email Woes for Hillary. The State Department's internal watchdog released a report faulting Clinton's policies about her emails during her tenure as secretary of the agency. The report concluded that Clinton failed to receive approval for her use of a private email server, which the inspector general said was "not an appropriate method" to preserve documents. (Rosalind S. Helderman and Tom Hamburger, The Washington Post)
Tomorrow in One Paragraph. Bernie Sanders and Hillary Clinton will campaign in California. Donald Trump will attend the Williston Basin Petroleum Conference in North Dakota. President Obama will attend meetings at the G-7 summit in Japan.
Follow stories throughout the day with our new Politics & Policy page. And keep on top of the campaign with our 2016 Distilled election dashboard.
---
Top Read
Harris's appeal is partly demographic. Obama's presidency was supposed to herald the dawn of a Democratic Party whose politicians looked more like its racially diverse voters. Yet beyond Obama and Hillary Clinton, the party's highest officeholders—in the Senate and in governors' mansions—remain conspicuously white and mostly male. As attorney general, Harris is already one of only two black female Democrats in the country elected to a statewide post. Emily Bazelon for The New York Times Magazine on Kamala Harris, California's attorney general.
---
Top Lines
Trump's Racism. Donald Trump's supporters don't fill stadiums and gymnasiums because they love his outsider status or honesty, writes The New Republic's Elspeth Reeve.They support him because he wants to kick Mexicans out and keep Muslims from coming in.
A Long Summer for Clinton. Polls show the gap between Trump and the Democratic front-runner is getting tighter. Although Clinton seems to have the upper hand, she still has to address her unpopularity—and unite the entire Democratic party behind her. (John Cassidy, The New Yorker)
Why Do You Like Trump? One psychologist suggests the presumptive GOP nominee is popular not just because his supporters are uninformed, but because they don't understand how uninformed they are. (David Dunning, Politico)
---
Top View
Primary Deja Vu? Just as Bernie Sanders refuses to exit the race for the Democratic nomination, Clinton refused to concede to Barack Obama in 2008. But these charts show that the two races have a lot less in common than Sanders might think. (Andrew McGill, The Atlantic)
We want to hear from you! We're reimagining what The Edge can be, and would love to receive your complaints, compliments, and suggestions. Tell us what you'd like to find in your inbox by sending a message to newsletters@theatlantic.com.
-Written by Elaine Godfrey (@elainejgodfrey)
* Tuesday's edition of the The Edge incorrectly referred to Harry Reid as the Senate majority leader. We regret the error.