The Edge: To Trump or Not to Trump?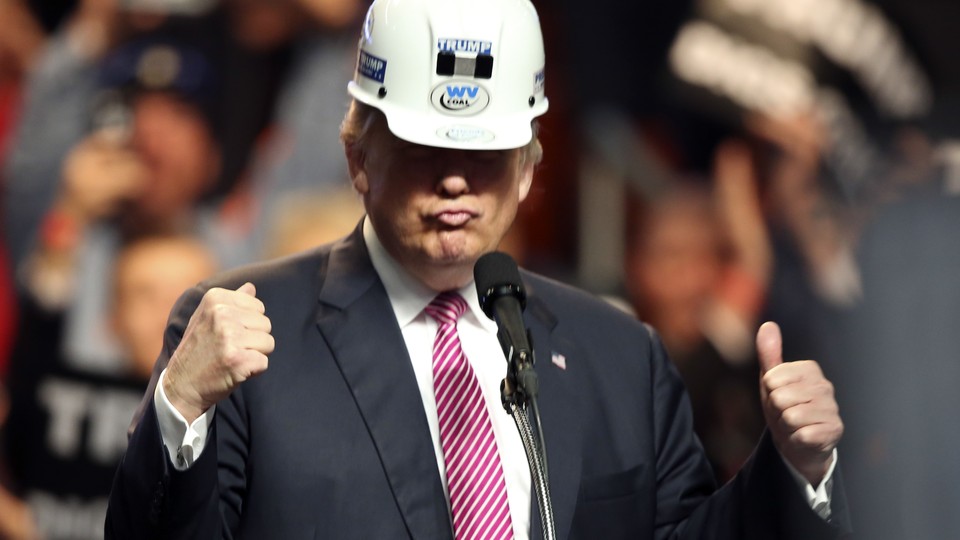 Today in One Paragraph
Republican National Committee Chairman Reince Priebus said that Donald Trump is "trying" to unite the Republican Party, even as the party continues divided in its support. Former Vice President Dick Cheney said he'd back Trump, while Lindsey Graham and Jeb Bush said they would not. President Obama also weighed in on the presumptive GOP nominee, saying Trump's record "needs to be examined." The Labor Department reported that 160,000 jobs were added to the U.S. economy in April. Overseas, London elected its first Muslim mayor. And North Korea held its largest political conference in decades.
---
Top News
Reince Priebus Defends Trump. The Republican National Committee chairman tried to relay confidence in the party's presumptive GOP nominee at an event hosted by Politico's Mike Allen, saying Trump "understands that building and unifying and growing the party is the only way we're going to win." (Nick Gass, Politico)
But Not Everyone Is Convinced. Former Vice President Dick Cheney said he supports Trump. And both Lindsey Graham and Jeb Bush said they will not be voting for Trump or Clinton in November—a day after House Speaker Paul Ryan said he was "not ready" to endorse Trump. And President Obama said the White House "is not a reality show" in his first public comments on the presumptive GOP nominee, adding that the press needs to focus more on the candidates' policies and less on the "circus." (CNN; The Hill; NBC News)
April Jobs Report. Only 160,000 jobs were added to the U.S. economy last month, and the unemployment rate remained at 5 percent, according to a report from the Labor Department. Economists originally predicted the country would add as many as 240,000 jobs. (Heather Long, CNN)
London Elects Its First Muslim Mayor. Sadiq Khan, the Labour Party candidate, was elected. Khan replaces Conservative Boris Johnson who has governed the city for eight years. (William James and Elizabeth Piper, Reuters)
Historic Conference in North Korea. Kim Jong-un hosted the country's largest political conference, the Korean Worker's Party Congress, for the first time in 36 years. Analysts believe the purpose meeting is to announce changes in personnel structure. (Bill Birtles, Australian Broadcasting Corporation)
The Weekend in One Paragraph. Donald Trump will campaign in Oregon and Washington, and Bernie Sanders will be in New Jersey on Sunday.
Follow stories throughout the day with our new Politics & Policy page. And keep on top of the campaign with our 2016 Distilled election dashboard.
---
Top Read
"A President Trump would be a legitimate president, having been freely and fairly elected by enough Americans. He would be, as much as it pains me to say it, our president. Still, there will no doubt be a temptation to defy or otherwise undermine a democratically elected Trump. For those of us who study the Middle East, the idea of not respecting democratic outcomes is business as usual, but I never thought it would be up for debate in the United States." The Atlantic's Shadi Hamid on the current tension between democracy and liberal values in America.
---
Top Lines
Clinton's New Targets. The Democratic front-runner is seizing the moment: She's working to persuade Republicans disillusioned by the rise of Donald Trump to join her movement. (Amy Chozick, The New York Times)
The Limits of Data Journalism. Prominent journalists like Nate Silver and Nate Cohn used data to—incorrectly—predict that Donald Trump wouldn't be successful in his bid for the GOP nomination. But, The New Yorker's John Cassidy argues, data journalism is more useful in reporting than it is in predicting the future.
---
Top Views
Economy Update. Check out these graphs to see how the U.S. unemployment numbers vary by race, education level, and gender. (The Washington Post)
We want to hear from you! We're reimagining what The Edge can be, and would love to receive your complaints, compliments, and suggestions. Tell us what you'd like to find in your inbox by sending a message to newsletters@theatlantic.com.
-Written by Elaine Godfrey (@elainejgodfrey)