The Edge: Ryan and Trump's Relationship Status: It's Complicated
The House speaker said he's not yet ready to back the presumptive Republican nominee.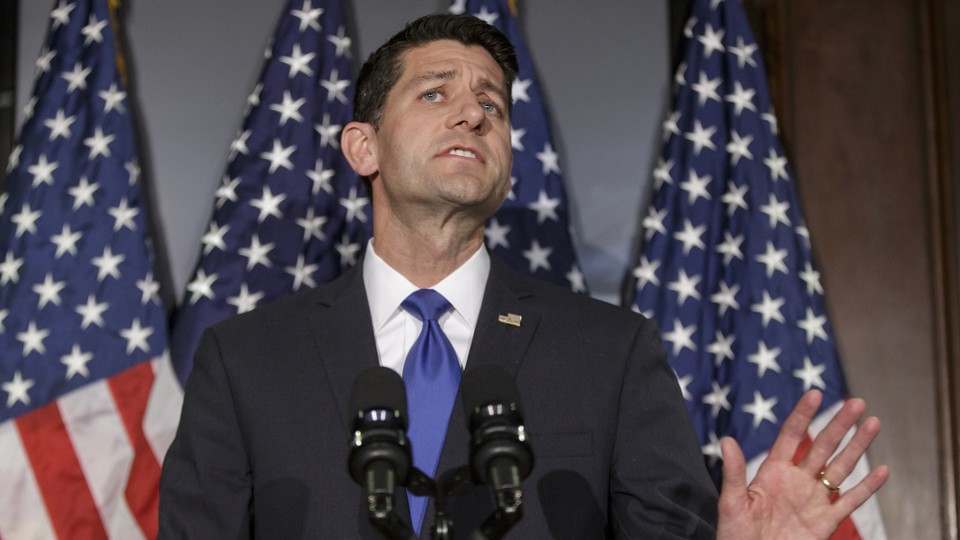 Today in One Paragraph
House Speaker Paul Ryan said he's "not ready" to back Donald Trump. President Obama commuted the sentences of 58 non-violent drug offenders. The U.S. Food and Drug Administration tightened rules on e-cigarettes and other tobacco products. And Trump named Steven Mnuchin as his finance chair.
---
Top News
Ryan Not Onboard the Trump Train. The House speaker told CNN that he can't support the presumptive Republican nominee: "I'm just not ready to do that at this point. I'm not there right now," Ryan said. Ryan, who is also the chairman of the Republican National Convention, said he might support Trump at some point in the future but that the "burden of unifying the party" would fall on Trump himself. (Eric Bradner, CNN)
Obama's Clemency Mission Cont'd. The White House approved the early release of 58 federal prisoners. The move is part of the administration's broad push to relieve inmates serving time for nonviolent drug offenses; so far in his presidency, Obama has commuted the sentences of 306 people, more than one-third of whom were serving life sentences. (Sari Horowitz, The Washington Post)
FDA to Regulate E-Cigarettes. After more than two years of consideration, the Food and Drug Administration finalized new regulations that will broaden the definition of tobacco products to include e-cigarettes, hookahs, pipe tobacco, and cigars—and banned the sale of these products to anyone under the age of 18. (Alison Kodjak, NPR)
Trump's Finance Chair. The presumptive Republican nominee announced that Steven Mnuchin, the former chairman and CEO of a private investment firm and a partner at Goldman Sachs, would be his national finance chairman. In the past, Mnuchin donated three times as much money to Democratic politicians than Republicans—including Hillary Clinton. (Meghan Keneally, ABC News)
Tomorrow in One Paragraph. Hillary Clinton will be fundraising in California. Donald Trump will campaign in Nebraska and Oregon.
Follow stories throughout the day with our new Politics & Policy page. And keep on top of the campaign with our 2016 Distilled election dashboard.
---
Top Read
"It's not clear if Kushner supports Trump's more outlandish ideas, such as banning Muslim immigrants from entering the country to prevent terrorism. He's said virtually nothing publicly about his father-in-law's presidential aspirations other than telling the New York Times last year that he thinks Trump would 'be great.' But Kushner has been laboring behind the scenes to get him elected." Bloomberg's Devin Leonard on the role Jared Kushner, Donald Trump's son-in-law, plays in the campaign.
---
Top Lines
America's Futile Drug War. The United States has spent $1 trillion and almost half a century waging a war on drugs. Here's why it still hasn't succeeded. (Tim Dickinson, Rolling Stone)
'Is the U.S. War Against ISIS Illegal?' An army officer filed a lawsuit against the Obama administration, claiming that the U.S. fight against ISIS violates the War Powers Resolution by continuing without the support of Congress within a given timeframe. (Matt Ford, The Atlantic)
---
Top Views
Trump's Trajectory in GIFs. The Atlantic's David Graham illustrates the evolution of Donald Trump's presidential bid in a series of GIFs—from a frightened octopus to LeBron James.
We want to hear from you! We're reimagining what The Edge can be, and would love to receive your complaints, compliments, and suggestions. Tell us what you'd like to find in your inbox by sending a message to newsletters@theatlantic.com.
-Written by Elaine Godfrey (@elainejgodfrey)