The Edge: Ryan and Trump Try to Play Nice
The House speaker said Thursday's meeting with the presumptive nominee was "a positive step," but refrained from offering an endorsement.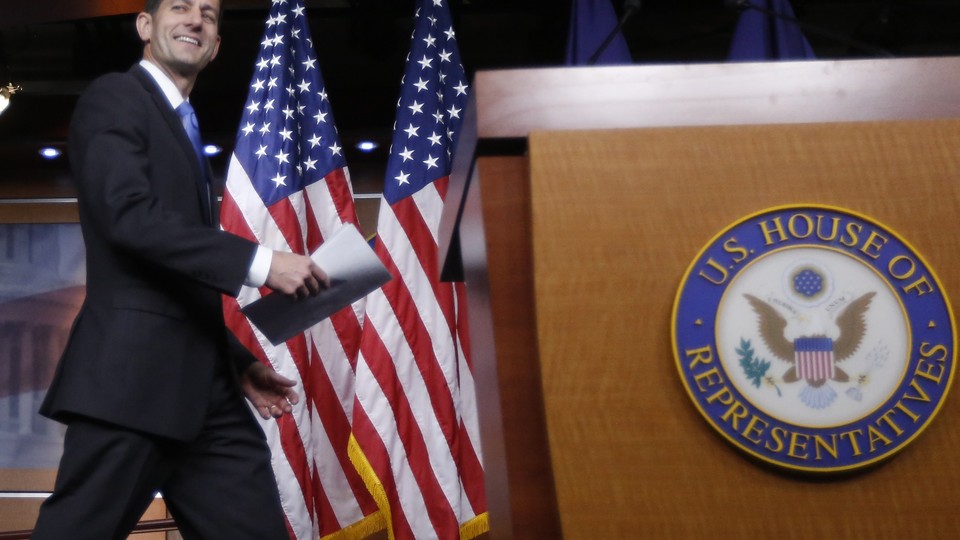 Today in One Paragraph
House Speaker Paul Ryan met with Donald Trump at the Republican National Committee headquarters in Washington, D.C., calling it a "positive step" toward unifying the Republican Party. A federal judge ruled that the Obama administration improperly funded an Affordable Care Act subsidy. The gun George Zimmerman used to kill Trayvon Martin was listed in an online auction. Lawyers for Baltimore Police Officer Edward Nero looked to minimize Nero's role in Freddie Gray's arrest. And Brazil's senators voted to suspend President Dilma Rousseff.
---
Top News
Ryan Still Lukewarm for Trump. The House speaker didn't offer an endorsement after meeting with Donald Trump, but he noted that the meeting was a productive first step. "While we were honest about our few differences, we recognize that there are also many important areas of common ground," Trump and Ryan said in a joint statement. (Arlette Saenz, ABC News)
A Blow to Obamacare. A federal judge ruled against the Obama administration, saying that the government had mis-funded a major Affordable Care Act subsidy. The case, House of Representatives v. Burwell, was originally filed by John Boehner in 2014 to challenge the White House's employer mandate decision, as well as the subsidies' funding. The administration is expected to appeal the decision. (Matt Ford, The Atlantic)
Zimmerman Auctions Gun. The gun George Zimmerman used to kill Trayvon Martin in 2012 was posted on the firearm-auction website GunBroker—although it has since been removed. Zimmerman was acquitted in the shooting death of Martin, an unarmed black teenager, after claiming self-defense. (Faith Karimi, CNN)
Second Trial in Freddie Gray Case Begins. The bench trial began for Edward Nero, one of the Baltimore police officers involved in the arrest of Freddie Gray. Nero's lawyers said he was following his supervisor's instructions in pursuing Gray and only touched Gray to help him find his inhaler. But prosecutors claim the arrest wasn't legally justified, and was therefore an assault. (Justin Fenton and Kevin Rector, The Baltimore Sun)
Brazil's President Suspended. Brazil's Senate voted to begin the impeachment process of the country's president, who was charged with borrowing from state banks to hide a growing deficit in order to gain re-election. She will be replaced by Vice President Michel Temer during her impeachment trial. (Andrew Jacobs and Simon Romero, The New York Times)
Tomorrow in One Paragraph. Bernie Sanders will campaign in North Dakota.
Follow stories throughout the day with our new Politics & Policy page. And keep on top of the campaign with our 2016 Distilled election dashboard.
---
Top Read
"The knee-jerk reactions of the other Republican candidates to Trump's attacks added to his advantage in earned media, just like Stern's opponents did 25 years earlier. Trump's political foes foolishly complained about Trump in their own television interviews when they should have been making compelling cases for their own campaigns. Trump was news when he was on TV, and Trump was news when the other candidates were on TV." The Atlantic's Jerry Cave on what Donald Trump learned from Howard Stern and Pat Buchanan.
---
Top Lines
Son and Sportsman. Donald Trump Jr., the outdoorsy, 38-year-old son of the presumptive GOP nominee, talked with The New Yorker's J.R. Sullivan about gun control, hunting, and Communist Czechoslovakia.
The 'Zombie Candidate.' Bernie Sanders says he's in the race for the long haul, but his determination will end up damaging Hillary Clinton and the Democratic Party down the road—just like John Edwards, Howard Dean, and Wesley Clark distracted John Kerry from the general election in 2004. (David Wade, Politico)
---
Top View
Elect-oracle. Professor Allan Lichtman has correctly predicted every presidential election winner since 1984. Watch him explain his strategy in this short video. (The Washington Post)
Blast From the Past. Curious about Donald Trump's life ambitions and Hillary Clinton's accent in the 1980s? Take a look at this clip. (Adam Banicki, New York Magazine)
We want to hear from you! We're reimagining what The Edge can be, and would love to receive your complaints, compliments, and suggestions. Tell us what you'd like to find in your inbox by sending a message to newsletters@theatlantic.com.
-Written by Elaine Godfrey (@elainejgodfrey)