The Edge: Reid to Clinton—Don't Mess This Up for Me
The Senate minority leader said he would "yell and scream" to prevent Hillary Clinton from choosing certain Democratic senators as her vice president.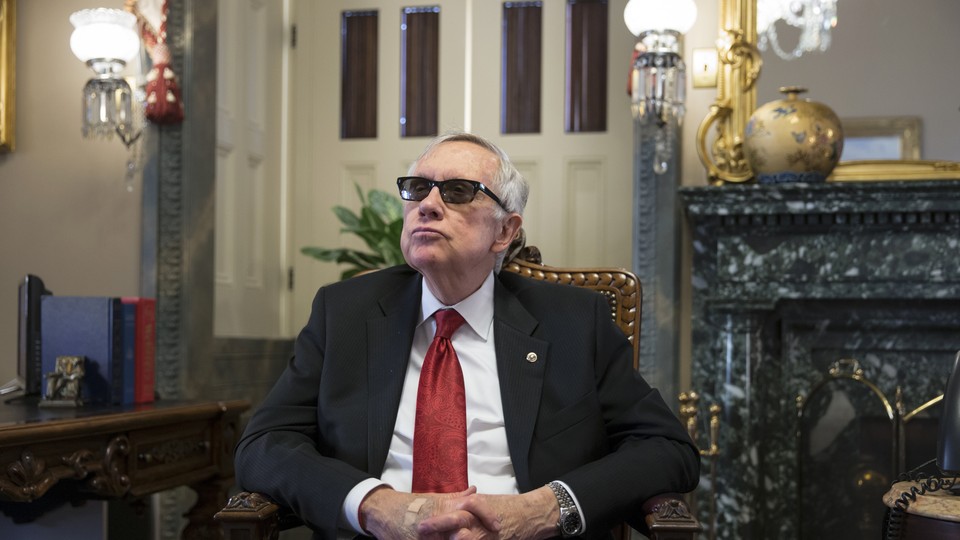 Today in One Paragraph
Senate Minority Leader Harry Reid warned Hillary Clinton against choosing a Democratic senator from a Republican-led state as her vice-presidential nominee.* An Ohio judge ruled to reinstate a week designated for early voting in the state. Bernie Sanders's campaign requested a recanvassing of primary votes in Kentucky after Clinton declared victory in a tight race. And Virginia Governor Terry McAuliffe said there were "no allegations of wrongdoing" against him related to the federal investigation into his campaign contributions.
---
Top News
Harry Reid's Warning. The Senate minority leader said he would do everything he could to prevent Hillary Clinton from choosing a Democratic senator in a Republican-led state as her vice-presidential nominee. If Clinton's running mate fit that criteria, he or she would have to step down and be replaced by the state's Republican governor. "I would yell and scream to stop that," Reid said. This  would preclude Clinton from choosing oft-floated options such as Massachusetts Senator Elizabeth Warren or New Jersey Senator Cory Booker. (Fox News)
A Win for Voting Rights. A Columbus judge ruled against the removal of "Golden Week" in Ohio, a period when citizens can register and vote early. The majority-GOP legislature recently voted to eliminate the week, but Judge Michael Watson said that would violate the Constitution and negatively affect minority voters. (Darrel Rowland, The Columbus Dispatch)
Bernie Wants a Recanvass. The Vermont Senator requested a full check of every voting machine and absentee ballot from May's close Democratic primary in Kentucky. Clinton declared victory on a margin of just 1,924 votes. "He's in this until every last vote is counted, and he's fighting for every last delegate," said Sanders's spokesman, Michael Briggs. The recanvass will begin on Thursday, with one delegate at stake for Clinton. (Ken Thomas, Associated Press)
McAuliffe on the Defensive. The Virginia governor said he was in "shock" after realizing he was under federal investigation over campaign contributions, but said the donor in question was "fully vetted." CNN reported Monday that McAuliffe is under FBI investigation over a donation from a Chinese businessman and links to donations from the Clinton Foundation. "There's no allegations of wrongdoing," McAuliffe said. "They're entitled to do an investigation." (Tal Kopan, CNN)
Tomorrow in One Paragraph. Donald Trump and Bernie Sanders will campaign in California.
Follow stories throughout the day with our new Politics & Policy page. And keep on top of the campaign with our 2016 Distilled election dashboard.
---
Top Read
Trump's candidacy and the proliferation of white nationalist media online have put the old guard of white advocacy in touch with the new. At the conference, anti-immigrant, pro-Confederate old-timers rubbed shoulders with the young men of the "alt-right"—a loosely defined amalgam of isolationist white nationalists who crusade against political correctness and thrive on the Internet. Talking Points Memo's Allegra Kirkland on the enthusiasm for Trump at a white nationalist conference.
---
Top Lines
Letting Bygones Be Bygones? Kenneth Starr, the White House independent counsel during the Clinton administration, led the investigation and eventual impeachment of Bill Clinton. But now he may be changing his tune. (Amy Chozick, The New York Times)
Trump's Cabinet Surprise. The presumptive GOP nominee has promised to reveal his cabinet appointees at this summer's Republican National Convention, but there's some speculation that announcing his appointees so early could violate the Constitution. (Tim Alberta, National Review)
'Why Don't People Like Debbie?' The chairwoman of the Democratic National Committee has faced an onslaught of criticism from some Republicans and many of her fellow Democrats during her term, including claims that she's treating Bernie Sanders unfairly. Is it all part of the job? (Taylor Wofford, Newsweek)
---
Top View
Find the Clinton Speech. The Democratic front-runner's speech to Goldman Sachs has become a major campaign issue. This tool lets you search every speech she and her husband have given to companies through May 2016. (Philip Bump, The Washington Post)
We want to hear from you! We're reimagining what The Edge can be, and would love to receive your complaints, compliments, and suggestions. Tell us what you'd like to find in your inbox by sending a message to newsletters@theatlantic.com.
-Written by Elaine Godfrey (@elainejgodfrey)
---
* This post originally stated that Harry Reid is the Senate majority leader. We regret the error.