The Edge: Hillary Clinton Is So Over This Primary
The Democratic front-runner said "there is no way" she won't be the party's nominee.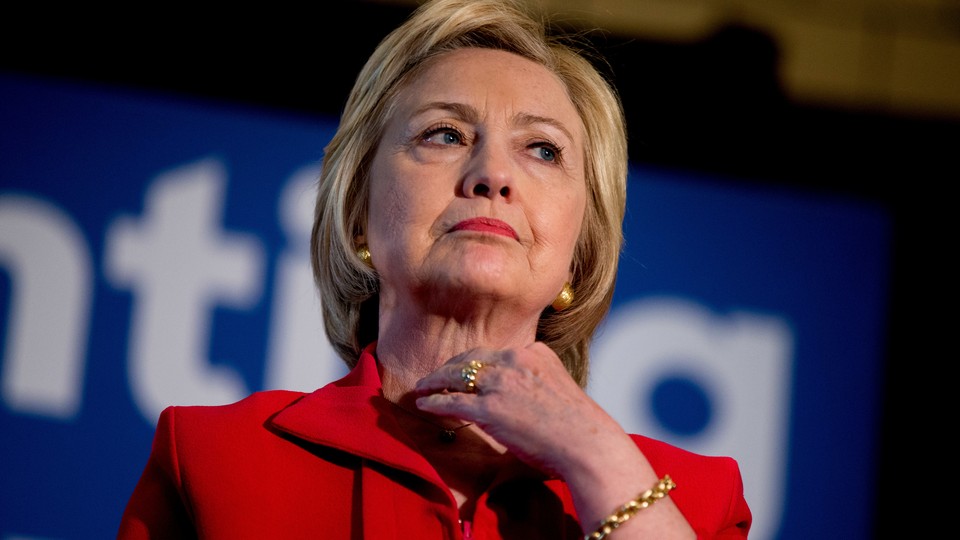 Today in One Paragraph
Hillary Clinton had choice words for her political rivals, telling CNN that she will certainly be the Democratic Party's nominee and that Trump "is not qualified" to be president. Trump elevated his adviser Paul Manafort to chair his campaign, as he moves into the general election. The Oklahoma legislature passed a bill effectively banning abortion in the state. And an EgyptAir flight carrying 66 passengers disappeared on its way from Paris to Cairo.
---
Top News
Clinton Puts Her Foot Down. The Democratic front-runner told CNN's Chris Cuomo in an interview "there is no way" she won't be the nominee for president. "I will be the nominee for my party, Chris," she said. "That is already done, in effect." Clinton also had words for Donald Trump, saying his plan to ban Muslims from entering the U.S. has left him "essentially being used as a recruiter for more people to join the cause of terrorism." (Eric Bradner, CNN)
Trump Gives Manafort the Reins. The presumptive Republican nominee will promote adviser Paul Manafort to campaign chairman and chief strategist, Trump aides announced. Corey Lewandowski will remain the campaign's manager, but Manafort will effectively be running the campaign. The 67-year-old was hired last month to help Trump secure the delegates necessary to win the nomination, but his new role is to transition the campaign into the general election. (John Santucci, ABC News)
Oklahoma Passes Anti-Abortion Bill. Lawmakers voted to make it a felony for doctors to perform abortions in the state, an effort to overturn the U.S. Supreme Court's decision in Roe v. Wade. The bill's sponsor, Senator Nathan Dahm said, "I believe life begins at conception, it should be protected, and I believe it's a core function of state government to defend that life from the beginning of conception." It's unclear whether Governor Mary Fallin will sign the bill. (Sean Murphy, Associated Press)
EgyptAir Flight Disappears. A plane carrying 66 passengers en route from Paris to Cairo has gone missing. EgyptAir initially reported that Greek searchers had found the plane's wreckage off the coast of the Greek island of Karpathos, but Greece said the debris is not from an aircraft. While the cause of the plane's disappearance has not been determined, Egypt's Civil Aviation Minister Sherif Fathi said the possibility that it was part of a terror attack is "higher than that of a technical error." And Donald Trump  weighed in on Twitter, speculating that the crash was "another terrorist attack." (Doug Stanglin, USA Today)
Tomorrow in One Paragraph. Hillary Clinton will be fundraising in Florida and Texas, and Bernie Sanders will campaign in New Mexico.
Follow stories throughout the day with our new Politics & Policy page. And keep on top of the campaign with our 2016 Distilled election dashboard.
---
Top Read
What these people do not or will not see is that, once in power, Trump will owe them and their party nothing. He will have ridden to power despite the party, catapulted into the White House by a mass following devoted only to him. By then that following will have grown dramatically. Today, less than 5 percent of eligible voters have voted for Trump. But if he wins the election, his legions will comprise a majority of the nation. The Washington Post's Robert Kagan on how Donald Trump is bringing fascism to America.
---
Top Lines
None of the Above. Critics who can't stomach Trump or Clinton are suggesting an alternative route: Put a "none of the above" option on the ballot in the general election, and deny both front-runners a chance to win the presidency. (John Fund, National Review)
A Clinton-Warren Alliance? Elizabeth Warren might be one of the few politicians able to bridge the gap between Hillary Clinton's supporters and Bernie Sanders's. But would she help or hinder a potential Clinton administration? (Noah Bierman, Los Angeles Times)
On Donald Trump's Wall. The presumptive Republican nominee has promised to deport 11 million undocumented immigrants and build a wall between the United States and Mexico. Here's what it would take for him to follow through on those promises. (Julia Preston, Alan Rappeport, and Matt Richtel, The New York Times)
---
Top View
What's Up With Superdelegates? This short video explains the role of superdelegates in the Democratic party—and how this group might end up choosing the party's nominee at this summer's Democratic convention. (Joyce Lee, Mathew Katz, and Justin Weiss, Time)
We want to hear from you! We're reimagining what The Edge can be, and would love to receive your complaints, compliments, and suggestions. Tell us what you'd like to find in your inbox by sending a message to newsletters@theatlantic.com.
-Written by Elaine Godfrey (@elainejgodfrey)