The Edge: Can Cruz Swish the Primary Through the Basketball Ring?
Voters head to the polls in the Hoosier state.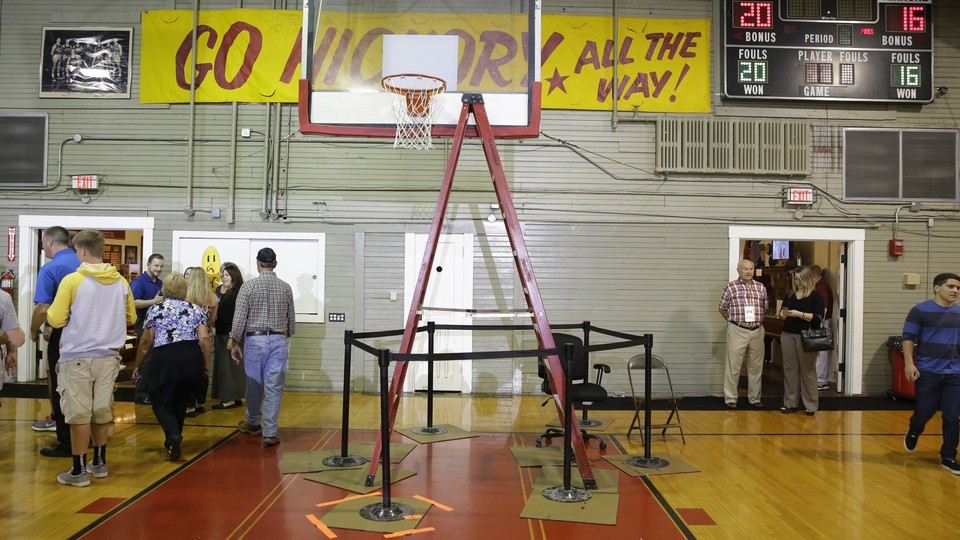 Today in One Paragraph
Voters in Indiana head to the polls for the state's primary. Donald Trump suggested that Ted Cruz's father was linked to John F. Kennedy's assassin. U.S. Defense Secretary Ash Carter announced that a U.S. Navy SEAL was killed in Iraq in combat. And a majority of public schools in Detroit remain closed amid the city-wide teacher sickout.
---
Top News
Primary in the Hoosier State. All eyes are on Indiana as Bernie Sanders and Ted Cruz attempt to convince voters their campaigns have staying power. Cruz is trailing behind Republican front-runner Donald Trump in the polls. A Sanders victory is also looking unlikely, but the candidate has vowed to stay in the race until the Democratic convention. Polls close between 6 and 7 p.m. ET across the state. Follow it live here. (The Atlantic)
Trump Brings Cruz's Dad Into the Fray. The Republican front-runner insinuated in an interview on Fox and Friends that Rafael Cruz, Ted Cruz's father, played a role in the assassination of John F. Kennedy, citing a National Enquirer report linking the two men in a photograph. "What was he doing with Lee Harvey shortly before the death, before the shooting?" Trump said. Cruz fired back in a press conference calling Trump a "pathological liar" and saying that "morality does not exist for him." (Donovan Slack, USA Today)
American Killed in Combat. A U.S. Navy SEAL was killed under fire from Islamic State militants outside the Iraqi city of Mosul, Defense Secretary Ash Carter announced. The unidentified SEAL is the third U.S. serviceman to die in combat since the beginning of the campaign against the terrorist group in 2014. (Susannah George and Robert Burns, Associated Press)
Detroit Sickout Cont'd. Public schools in the city remained closed as teachers continued Monday's sickout, protesting over concerns that the the district will stop paying them their salaries at the end of June. Michigan lawmakers are working to find a solution, while 94 of Detroit's 97 public schools are closed. (Michael Pearson and Joshua Berlinger, CNN)
Tomorrow In One Paragraph. President Obama visits the city of Flint, Michigan. Bernie Sanders will campaign in Kentucky. And Hillary Clinton will be fundraising in Washington, D.C.
Follow stories throughout the day with our new Politics & Policy page. And keep on top of the campaign with our 2016 Distilled election dashboard.
---
Top Read
"Around the globe, governments are confronting the reality that as human-caused climate change warms the planet, rising sea levels, stronger storms, increased flooding, harsher droughts and dwindling freshwater supplies could drive the world's most vulnerable people from their homes." The New York Times' Coral Davenport and Campbell Robertson on the first American climate refugees.
---
Top Lines
What Did Cruz Get Wrong? The Texas senator has devoted a lot of time to Indiana, but his socially conservative message doesn't seem to be helping him in the same way it did in Wisconsin. (Adam Wren, Politico)
Evolution of an Epithet. Comedian Larry Wilmore's use of the "n-word" when referring to President Obama at the White House Correspondents' dinner broke a generations-old taboo, The Atlantic's Vann Newkirk argues, and highlighted an important shift in black culture.
---
Top Views
What Matters Most in Your State? From water quality to funding for Planned Parenthood, statehouse reporters have compiled a list of what they perceive as the top five policy concerns in all 50 states. (Ann Dermody, CQ Roll Call)
'The Blurred Lines of Gerrymandering.' The Atlantic's David Graham explains what qualifies as gerrymandering—and how the practice might shape the 2016 presidential election. (Caty Green and Greyson Korhonen)
We want to hear from you! We're reimagining what The Edge can be, and would love to receive your complaints, compliments, and suggestions. Tell us what you'd like to find in your inbox by sending a message to newsletters@theatlantic.com.
-Written by Elaine Godfrey (@elainejgodfrey)