The Edge: And Then There Was One
John Kasich and Ted Cruz are out. And Donald Trump is now the presumptive GOP nominee.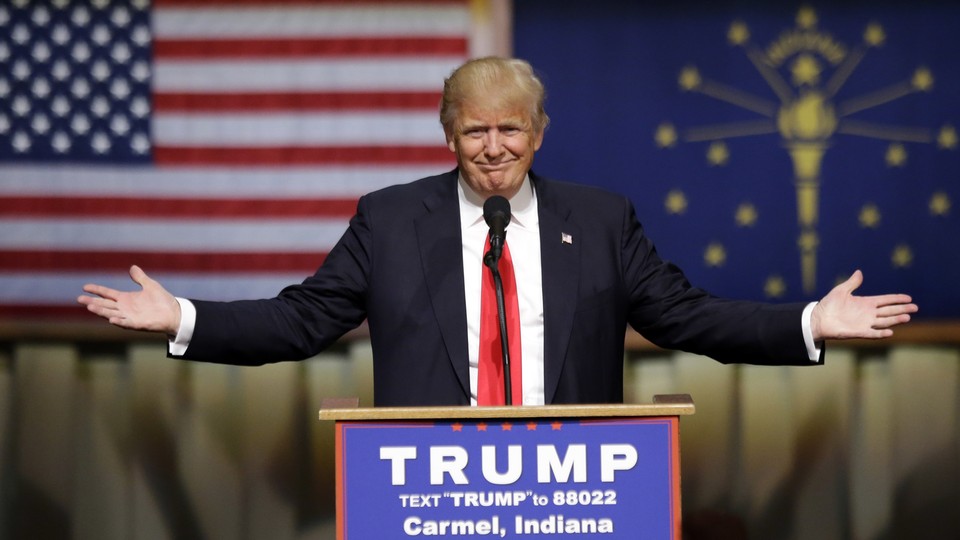 Today in One Paragraph
John Kasich ended his presidential campaign. The U.S. Justice Department said North Carolina's controversial "bathroom bill" violates the Civil Rights Act. President Obama said the water crisis in Flint, Michigan, "was avoidable" during a visit to the city. And Takata, the Japanese auto supplier, will recall up to 40 million air-bags due to a dangerous defect.
---
Top News
Kasich Drops Out. The Ohio governor announced he would exit the 2016 race in a press conference, just hours after rival Ted Cruz suspended his campaign and after canceling a news conference earlier in the day. "And as I suspend my campaign today, I have renewed faith, deeper faith, that the Lord will show me the way forward, and fulfill the purpose of my life," Kasich said. Donald Trump is now the presumptive Republican nominee. (CNN)
DOJ: NC Law Violates Civil Rights Act. U.S. Justice Department officials warned North Carolina Governor Pat McCrory in a letter that HB2, the state's controversial "bathroom bill," violates the Civil Rights Act. State officials have until Monday to confirm that it "will not comply with or implement HB2." (Jim Morrill, The Charlotte Observer)
Obama Visits Flint. The president drank filtered water in Flint, Michigan, after being briefed by Governor Rick Snyder and other federal officials on the city's water crisis. "If you're using a filter, then Flint water at this point is drinkable," Obama said during remarks. He also encouraged residents to have their children checked for lead poisoning and warned that infrastructure repair could take several years. (Chad Livengood, The Detroit News)
A Historic Air-Bag Recall. The Japanese auto supplier is recalling an additional 35 to 40 million air bags in a deal with U.S. auto-safety regulators. The air-bags have a defect causing them to explode in a collision and have been linked to 11 deaths in the United States. "This is the largest recall in American history," said National Highway Traffic Safety Administration Administrator Mark Rosekind. (Nathan Bomey, USA Today)
Tomorrow in One Paragraph. Hillary Clinton will fundraise in Los Angeles. Donald Trump and Bernie Sanders will campaign in West Virginia.
Follow stories throughout the day with our new Politics & Policy page. And keep on top of the campaign with our 2016 Distilled election dashboard.
---
Top Read
"Where were you the night Donald Trump killed the Republican Party as we knew it? Trump was right where he belonged: in the gilt-draped skyscraper with his name on it, Trump Tower in Manhattan, basking in the glory of his final, definitive victory." The Atlantic's Molly Ball on how the Republican Party will never be the same.
---
Top Lines
Inside the Cruz Campaign. The Texas senator was supposed to be the one to overcome Donald Trump in a contested convention—the true conservative who could woo party delegates and clinch the nomination. Here's how Cruz's campaign crumbled. (Shane Goldmacher and Katie Glueck, Politico)
(Disrupting) Politics As Usual. Bernie Sanders insists that he can still pull off a major political upset in the presidential election, but instead of winning the Democratic nomination, Sanders is looking to change major party rules. Will it work? (Liz Goodwin, Yahoo News)
---
Top Views
What's Trump's Secret? In this short video, The Atlantic's David Frum explains how Donald Trump, a businessman with no political experience, managed to transform the Republican Party.
We want to hear from you! We're reimagining what The Edge can be, and would love to receive your complaints, compliments, and suggestions. Tell us what you'd like to find in your inbox by sending a message to newsletters@theatlantic.com.
-Written by Elaine Godfrey (@elainejgodfrey)