How the Supreme Court Fight Followed Senators Home
Democrats are looking to hit Republican lawmakers where they're most vulnerable.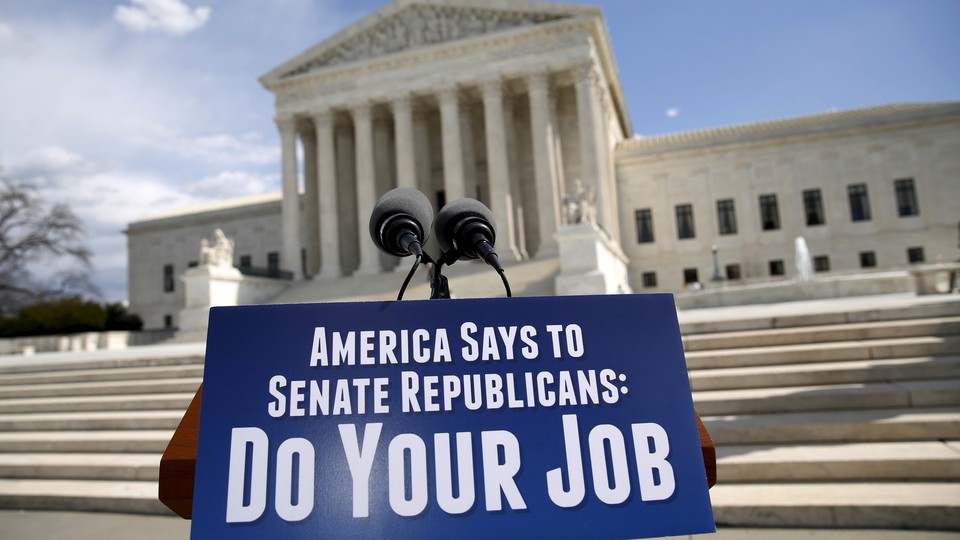 As battleground-state Republican senators glad-hand their way through recess this week, Democrats and conservative groups alike are working to make sure constituents bug members about Merrick Garland, the Obama administration Supreme Court pick whose nomination has stalled in the upper chamber.
The fight began in February, after Justice Antonin Scalia died, and ever since Democratic lawmakers and liberal special-interest groups have kept the pressure on senators up for reelection in November, like Kelly Ayotte in New Hampshire and Ron Johnson in Wisconsin. Their mission has seemingly had two public fronts, with competing interests: to get senators in tough reelection campaigns to align with Democrats and move forward with Garland, and to get Democratic challengers in those same states elected if Republican senators continue to oppose him. Using the ongoing Supreme Court debate and Donald Trump's polarizing candidacy as ammo, Democrats hope to flip the Senate in November.
In recent days, the Washington-centric battle has moved firmly to senators' home turf. On Monday, President Obama held six interviews at the White House with local news stations from incumbent senators' states, on the condition that reporters ask about Garland. Journalists from Ayotte's and Johnson's states were there, as were those from John McCain's Arizona, Roy Blunt's Missouri, Rob Portman's Ohio, and Chuck Grassley's Iowa. The White House has more than one reason to pressure Grassley: Not only is he up for reelection, but he's also the chairman of the Judiciary Committee and has so far refused to hold hearings on Garland.
Obama's remarks to the reporters seemed to vary, according to snippets compiled by USA Today. To press from Johnson's home state, Obama expressed gratitude that the senator said he'd meet with Garland, as many Republicans, including Blunt and McCain, have refused to do. Senate Republicans believe the next president should be the one to fill the seat. In discussing Grassley's reticence, the president predicted Garland would nevertheless get a hearing and a confirmation. Thus far, just Republican Susan Collins of Maine, who's not up for reelection, and Mark Kirk, who's in a competitive race with Democratic congresswoman Tammy Duckworth, have said Garland should get a vote.
Obama had some competition on the airwaves. On Friday, the conservative Judicial Crisis Network began running an anti-Garland ad in five states, including Iowa and New Hampshire. The ad cites National Rifle Association opposition to Garland, as well as opposition from the National Federal of Independent Business. "Even The New York Times says Garland would create the most liberal Supreme Court in 50 years," the announcer says. "Merrick Garland, a liberal judge from a liberal president."
Judicial Crisis Network has already spent upwards of $4 million and launched an email campaign combating Garland's nomination, Politico reports, noting that conservative pressure could help Democrats in tricky states, too. The new ad is also airing in North Dakota, Colorado, and West Virginia.
Joining the rest of the Senate Democratic Caucus, Sens. Joe Manchin of West Virginia, Michael Bennet of Colorado and Heidi Heitkamp of North Dakota have called for prompt confirmation hearings and a vote for Garland. But none of the three, who hail from more moderate and conservative states, has publicly vowed to vote to confirm him.

That's a decision they don't have to make as long as Senate Republicans keep up their blockade of Garland's nomination.
Other conservative organizations are involved as well. According to a report in The Washington Times, the anti-abortion Susan B. Anthony List, along with the Heritage Foundation's lobbying group Heritage Action, is "marshaling grassroots supporters" to call senators' offices and show up at their town-hall meetings. Activists have targeted town halls before: Democratic activists showed up at a Grassley event in early April.
Bolstering Obama's effort are liberal special-interest groups, which have been helping the White House since February, when it became clear any nominee would be blocked in the Senate. In what Roll Call called the "latest gambit in a Democratic campaign" to confirm Garland, the Constitutional Responsibility Project—which was formed to push Garland's March nomination—and the League of Conservation Voters commissioned a poll released Monday that showed Grassley's favorability rating has fallen. CRP also produced an ad targeting Portman in Ohio, which will be airing this week in Cincinnati and Columbus. The Columbus Dispatch reports the group is hosting dozens of events in 10 states about Garland.
With so many groups willing to invest so much money months ahead of the general election, senators should buckle down for multiple barrages still to come, especially as Senate Democrats strategically work to keep the nomination in the public eye. Republican senators unwilling to consider Garland will need all the help they can get, whether they're campaigning during recess at home, or facing their opponents on the Hill.