State-Mandated Mourning for Aborted Fetuses
A new Indiana law is part of a wave of legislation that requires burial or cremation following abortions. What's behind it?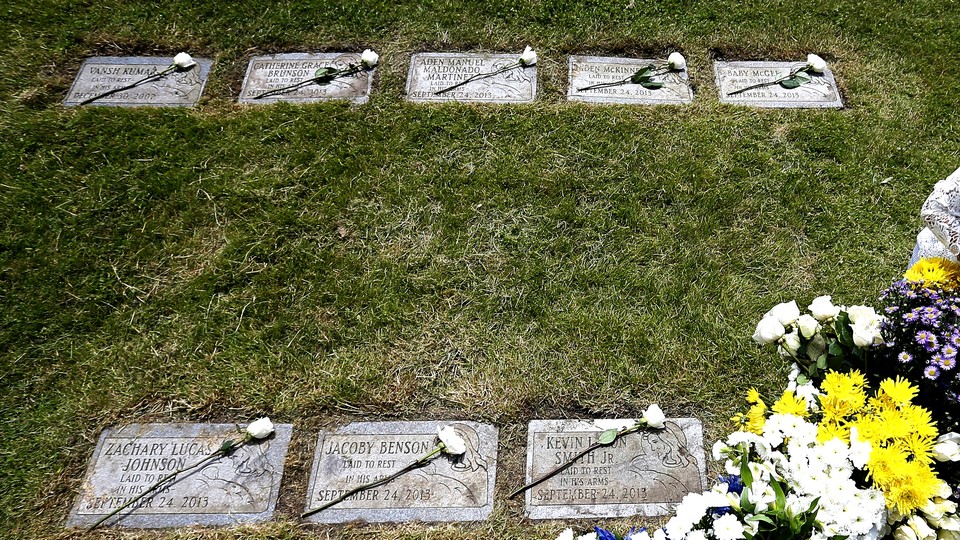 Here's what will happen after a woman gets an abortion in the state of Indiana, starting this July. She will be told, verbally and in writing, that she has the right to choose what she does with her aborted fetus. She will be given a list of her options for disposal, and offered counseling. The fetus does not have to be named, but it will receive its own burial-transit form, just like any dead body. This form will travel with it to a funeral home, where it will be buried or cremated. There won't necessarily be a ceremony; the fetus may not get its own headstone or urn. But it will be laid to rest in the way of a human. Aborted fetuses in Indiana, nearly all smaller than a peapod, will no longer be treated as medical waste.
This is what the state's legislature decided back in March. It passed a wide-ranging bill, making it a criminal offense to dispose of fetal remains in any other way besides burial or cremation, including in cases of abortions, miscarriages, and stillbirths.
Which raises a question: Why would a state create a mourning ritual for no one?
For women who choose to have an abortion, the process can still end once the pills are swallowed or the stirrups are down. If families choose not to handle the disposal process, hospitals and clinics are responsible for taking care of the remains, along with the funeral and cemetery businesses with which they work. Absent state-mandated funerals or car rides to the crematorium, women don't have to help their fetuses come to a dignified end; abortion providers and funeral directors will be the only witnesses to the interment or cremation. And even though fetuses are now afforded the disposition rights of humans, they still don't have other rights of personhood—including, for example, the right to life. According to United States law, fetuses are not people.
Indiana is not alone in its concern for the final resting place of fetuses. In March, South Dakota made it illegal to use aborted fetal tissue in research, and in April, Idaho and Alabama made it illegal to buy, sell, donate, or experiment on these remains. Tennessee made it illegal for sale. The legislatures of Ohio, South Carolina, and Mississippi have all recently considered burial and cremation requirements, and Arkansas and Georgia already have similar statutes in place. Like many of these other states, Indiana's law effectively prohibits women or health-care facilities from donating fetal tissue for medical research.
For women who miscarry or go through emergency medical abortions, this law creates a mechanism for grieving. Hospitals will provide not only medical advice, but tools for memorializing loss. For others—who may be happy, sad, or indifferent about terminating their pregnancy—the purpose of the ritual is less clear. Perhaps legislators want to peel women's eyelids open, Clockwork Orange-style, and make them confront the meaning of abortion. Perhaps they wanted fetuses to be seen in the way they seem to them: as human.
* * *
Up until now, clinics and hospitals in Indiana have disposed of fetuses the same way they might get rid of excess blood or fat from a surgery: They contract with medical-waste companies, which come to pick up and carry away remains on a regular schedule. Occasionally, this has been cause for controversy: Earlier this year, at least one company, MedAssure, was fined for improperly handling of aborted fetal tissue. If this law goes into effect as planned—which it may or may not, depending on the outcome of a mid-June hearing on a lawsuit jointly filed by the ACLU and Planned Parenthood—clinics and hospitals across the state will have to put a new process in place for getting rid of their aborted fetuses.
"We're all figuring it out," said Patti Stauffer, the vice president of policy at Planned Parenthood of Indiana and Kentucky. So far, she hasn't had much luck finding potential funeral homes and cemeteries—a lot of the businesses she's called have told her no. "It's not like we have hundreds of people that are interested in working with us," she said.
Of the 8,118 abortions that took place in Indiana in 2014—the latest year for which figures are available from the state health department—more than 99 percent happened within the first 13 weeks of pregnancy. This law applies to all of these fetuses, even those aborted in the earliest stages of pregnancy. As of 2014, only nine abortion clinics were open in the state, including four Planned Parenthood locations. The organization performed 4,930 abortions that year, or 61 percent of the state's total. Stauffer said Planned Parenthood of Indiana and Kentucky has never donated or sold fetal tissue for medical research, unlike other Planned Parenthood affiliates in the United States.
"I think a lot of funeral homes are going to be doing a lot of man hours to do this, for not a lot of income."
That doesn't mean implementing the law won't be logistically challenging, though. "There's going to be a lot of man hours involved," said Curtis Rostad, the executive director of the Indiana Funeral Directors Association. "I think a lot of funeral homes are going to be doing a lot of man hours to do this, for not a lot of income."
No matter the disposal method, there's significant labor involved. Facilities can cremate more than one fetus at a time, which isn't typically allowed for human bodies, but "a crematory that is designed to cremate adult remains is a lot of equipment and a lot of size to put into operation for something that could be as small as an aborted or premature fetus," Rostad said. In the case of a burial, "they would dig one grave that would [accommodate] whatever containers or fetuses that they're going to be burying," he said. Then workers have to resod and maintain the burial area.
Not that funeral directors are complaining about the law. "We strongly believe that mankind needs to remember and memorialize our dead," Rostad said. "If the state comes along and makes it imperative that fetal remains of under 20 weeks receive that same treatment, that's a decision that society makes. We're simply there to carry that out."
Rostad, who estimated that his organization represents 80 percent of funeral homes in the state, said legislators on both sides of the bill contacted him for information as debate was getting underway. Casey Miller, Rostad's counterpart in the state's cemetery business, said his association supported the law. He didn't anticipate any big changes or challenges: "We do this everyday," he said.
Although Planned Parenthood claimed it's having a hard time finding funeral facilities to work with, even Miller said he supports the new process for fetal burials and cremations—and he's a staunchly pro-life Catholic. "We don't ask what the decision of the family was when we accept the remains. It's not our position to question how the baby died," he said. "Our role and responsibility is handling those remains in a respectful manner."
Miller is based in Fort Wayne, a city of nearly 260,000 people. But for smaller towns and municipalities, the law might be more difficult to implement. "Being a municipal cemetery in southwest Indiana, it can be a challenge," said Christopher Cooke, the superintendent of cemeteries in Evansville, Indiana, which is less than half the size of Fort Wayne. "The financial burden is going to fall on somebody."
"All this law does is declare that any fetal remains under 20 weeks is human remains."
Cooke anticipates an uptick in the number of fetus and infant burials that will come to his cemetery as a result of this law. Long-term, he's hoping to construct an ossuary for this purpose—a resting place for remains that might be marked with some sort of memorial. Evansville already has plenty of land for cemetery development, and "everybody has what you'd call a babyland area—a part of the cemetery that's just for babies." But they don't necessarily have the infrastructure for an annual memorial service that families can attend, for example, in the way some facilities in Indianapolis do.
It may seem counter-intuitive for municipalities to plan memorial services and tasteful monuments in honor of abandoned fetuses. But that's what people in the funeral business do. They deal with dead bodies, yes, but most of their job is about plotting and facilitating the rituals of death. "Everyone deserves to go through the grief and loss process with dignity, from the individual we're putting in the ground … to the family and friends who are paying their respects," said Cooke. "This is a chance to give those individuals who don't have anyone to fight for them the dignity and respect to go through a burial."
That sense of dignity and respect is what makes this measure significant. "All this law does is declare that any fetal remains under 20 weeks is human remains," Rostad said. All it does. Indiana may not legally be able to declare fetuses human in life. But in death, apparently, it can.
* * *
Burial and cremation laws in the United States vary widely. States create their own rules, and though national lawmaking bodies have created some standard guidelines for organ and tissue donation, many legislatures have devised their own versions of these laws. In general, this is a somewhat murky area, said Tanya Marsh, a law professor at Wake Forest University. "The question of what we own of ourselves—what is the legal status of biological material that's been removed from us—there's very little law about that, except to say that it's not ours," she said. When someone's arm is amputated or her kidney is removed, those body parts enter a sort of gray zone of legal ownership: The body parts don't exactly belong to the person they came from, and are effectively considered abandoned.
For fetuses, the question of ownership becomes even more complicated. "That's an area in between people born alive and a part of a person that had no capability of independent existence," Marsh said. "These are deep philosophical, religious, and legal questions that we've punted."
For a long time, many states didn't give women and families the option to bury or cremate their fetuses or miscarried or stillborn infants. Roughly 10 years ago, Marsh said, parents started pushing to change those laws. Over time, she said, pro-life organizations also signed on to this movement, which is why this recent wave of legislation has concerned not just choices for would-be parents, but the status of all fetuses. Americans United for Life offers model legislation for states on this topic, which covers both fetal-tissue donation and burial and cremation.
"These are deep philosophical, religious, and legal questions that we've punted."
Legislators' interest in scripting the process of death is relatively novel. "The law has traditionally taken a very hands-off approach to the disposition of human remains in the United States, and that's out of recognition of the fact that it's such a personal, religious, spiritual, and emotional decision," Marsh said. Guidelines have been written for public-health reasons—"we don't want dead bodies stacking up on the street," as Marsh put it—and for vaguely superstitious, human-community reasons. Dead bodies are just tissue, but they still carry the shape of a person; our forms are sacrosanct, even when we no longer exist. That's why bodies aren't tossed in a pit and incinerated en masse—and why it can feel so instinctively wrong when bodies are mistreated. "We don't discard human remains casually," Marsh said.
In their joint lawsuit, Planned Parenthood and the ACLU argue that Indiana's abortion law violates the principles of due process and equal protection. They say the law places an undue burden on both women and the health-care providers that perform abortions. But the burial-and-cremation measure of the law, at least, is as much about symbols as it is about changing the process of getting an abortion.
"The most important impact of this law is taking another step toward recognizing fetuses as humans," Marsh said. "That's a philosophical goal of the law. It doesn't have to do anything else except sit on the books and start to impact the way people think about it."