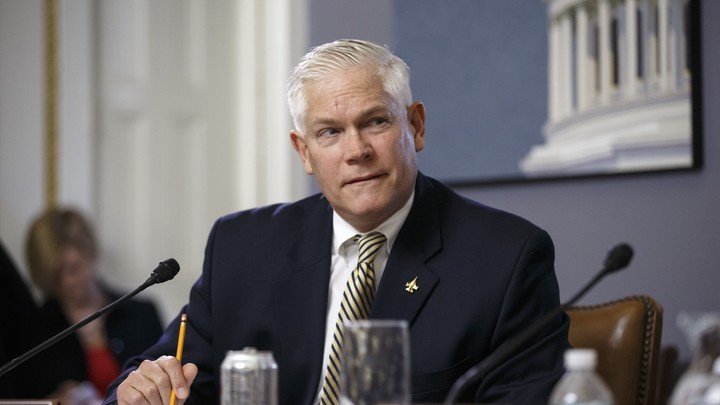 Last week, a pair of Republican lawmakers unveiled the world's greatest health-care plan.
That's not an endorsement, or even an opinion. It's the title of the bill: H.R. 5284—The World's Greatest Healthcare Plan Act of 2016.
Yet the proposal's Trumpian moniker is not the most significant thing about it. This is an expansive bill, sponsored by a member of the House Republican leadership and a member of the health committee in the Senate, that seeks to enact conservative, market-oriented reforms to the insurance industry but does not—repeat, does not—repeal the Affordable Care Act. Instead, Representative Pete Sessions of Texas and Senator Bill Cassidy of Louisiana are proposing to allow people to leave the Obamacare exchanges and instead receive a $2,500 tax credit (plus $1,500 for each child) to purchase health insurance on the private market or put in a health-savings account.
Obamacare, in other words, would be optional.
"If you want to stay there, you can," Sessions told me, referring to the millions of Americans who now have insurance through the state or federal exchanges established under the ACA. Or, to borrow a now-discredited line from Democrats: If you like your Obamacare, you can keep it.
What happened to "repeal and replace?" What happened to ripping Obamacare out of the law "root and branch"? Is this surrender?
"I cut a compromise," Sessions said. "It is a compromise bill that I believe is fair."
The 61-year-old Texan, now serving his seventh term in the House, is no back-bencher. As chairman of the Rules Committee, he's a member of the leadership team under Speaker Paul Ryan. And neither he nor Cassidy, who won a Senate seat in 2014 after three terms in the House, are mushy moderates tacking to the center to save their jobs. Sessions ran the House GOP's campaign arm in 2010, the year Republicans won back the majority on a message of repealing and replacing the just-enacted health care law. When Majority Leader Eric Cantor lost his primary in an upset two years ago, Sessions briefly waged a failed bid to succeed him by positioning himself as the more conservative candidate. (Kevin McCarthy, the heavy favorite, won easily.) In his race for the Senate that same year, Cassidy harped on Senator Mary Landrieu's support for the health-care law.
So no, Sessions and Cassidy have not had a change of heart on Obamacare. And to a large extent, their bill is merely the latest example of the GOP's try-anything approach to countering the law, which I wrote about last week. But at least for Sessions, the proposal is a recognition that for both political and policy reasons, scrapping the law and starting from scratch is a virtual impossibility. As Republicans have learned many times over, they need not only Congress but the White House to repeal Obamacare (and they probably need more than a slim majority in the Senate at that). Even if they had the votes to do so, fully repealing the law would still be a Herculean task because, as Sessions explained, Democrats "literally wiped out all law" relating to health care when then enacted the ACA in 2010. "I view that those two options are both very difficult to do," Sessions said.
The Sessions/Cassidy bill does not leave Obamacare untouched by any means. It eliminates both the individual and employer mandates, although businesses that choose to remain in the current system would be subject to the existing penalties and requirements under the law. Individuals who choose to opt out would not have to buy insurance, but they would not be eligible for the tax credit if they choose to remain uninsured. Many previous Republican proposals have taken a hatchet to Obamacare without repealing it entirely, and the party has succeeded in working with Democrats to make modest changes in the last couple of years. But this latest bill is notable for its vision of adding an entirely new system on top of the Affordable Care Act's underlying infrastructure. It's not merely tinkering with Obamacare, but nor is it entirely scrapping it.
Using health-care tax credits as a centerpiece is a hallmark of Republican plans, and this one is similar to what John McCain proposed as a presidential candidate in 2008, said John Goodman, a veteran health-policy analyst who advised Sessions and Cassidy on their plan over the last 18 months. "This is the reform they should have adopted in the first place," he said. As Goodman sees it, the Sessions/Cassidy bill will ultimately be a replacement for Obamacare because while the exchanges are "grandfathered in" people will ultimately choose to opt out as more insurance companies leave and premiums and deductibles increase. (The lawmakers' decision to keep the exchanges at all, Goodman said, was for "political" reasons.)
Don't count on much bipartisan support for the bill, despite the fact that it keeps the Obamacare exchanges intact. Democrats won't go for anything that guts the individual and employer mandates, which, they note, originated as Republican ideas in the 1990s. But they are cheering the Sessions/Cassidy bill as a small vindication of their long-standing position that Republicans would eventually come around to, or at least get used to, Obamacare. "After more than six years, we are glad that at least two Republicans have given up on repealing the Affordable Care Act," said Drew Hammill, the spokesman for House Minority Leader Nancy Pelosi.
The question for Sessions and Cassidy is whether splitting the difference will win them many votes at all. Under Ryan's direction, House Republicans are intent on coalescing around a health-care plan—if not an actual bill—in the coming weeks, but the task force of committee chairmen leading the effort is expected to embrace a proposal that fully repeals and replaces Obamacare, consistent with the party message. And when the speaker was asked about the Sessions/Cassidy bill earlier this week, he offered something far short of a ringing endorsement. "I don't even know what his bill does," he said initially, before adding: "The point is, everybody should feel free to offer their ideas. That's Congress."
Sessions is pitching his bill as one that is aimed not so much at the 12.7 million people who are getting their insurance directly through the Obamacare exchanges but for the millions more who are not. "You've got to recognize that health care, for at least another 150 million Americans, is getting not only more expensive but is in doubt," he said. "The Affordable Care Act did not cure the problems of the uninsured." Republicans, Sessions said, need to have "a fair, well thought-out bill" to bring to voters this fall. The challenge is persuading a conservative base, and a conservative Republican conference in the House, on a truce with Obamacare that many still aren't ready to stomach. Sessions and Cassidy are stepping out ahead, unsure if anyone will follow. "I've spoken to every member, and they find it intriguing and interesting," Sessions told me, "and they by and large have said to me, 'Great, go sell it.' And that's what I'll do."
We want to hear what you think about this article. Submit a letter to the editor or write to letters@theatlantic.com.
Russell Berman
is a staff writer at
The Atlantic
, where he covers politics.