Reports of a Federal Investigation of Virginia Governor Terry McAuliffe
The Democrat is allegedly being scrutinized for accepting illegal campaign contributions.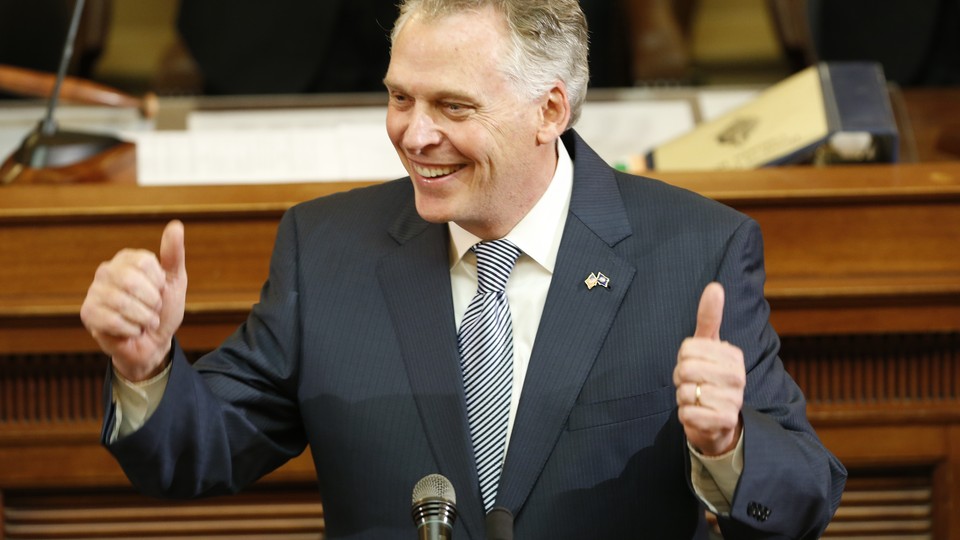 The FBI and the U.S. Justice Department's public-integrity unit are investigating Virginia's Democratic governor, Terry McAuliffe, over whether campaign contributions he received were illegal, CNN and WTVR, the CBS affiliate in Richmond, reported Monday.
CNN, which quoted unnamed U.S. officials briefed on the investigation, reports:
As part of the probe, the officials said, investigators have scrutinized McAuliffe's time as a board member of the Clinton Global Initiative, a vehicle of the charitable foundation set up by former President Bill Clinton.

There's no allegation that the foundation did anything improper; the probe has focused on McAuliffe and the electoral campaign donations, the officials said.
WTVR, which identified its sources with identical language, reported:
Among the McAuliffe donations that drew the interest of the investigators was $120,000 from a Chinese businessman, Wang Wenliang, through his U.S. businesses. Wang was previously delegate to China's National People's Congress, the country's ceremonial legislature.

Wang also has been a donor to the Clinton foundation, pledging $2 million. He also has been a prolific donor to other causes, including to New York University, Harvard and environmental issues in Florida.
Wang holds a green card, and as such is eligible to contribute to McAuliffe's campaign, his spokeswoman told WTVR. Federal law generally prohibits foreign nationals from donating to elections, but makes an exception for green-card holders.
McAuliffe has not been contacted about the reported investigation, but a spokesman for the governor told both CNN and WTVR that he would cooperate if contacted. And, the spokesman said, all donations to the governor were legal. The FBI and the Justice Department declined comment.
McAuliffe is the second consecutive Virginia governor to be investigated by federal authorities. His predecessor, Bob McDonnell, a Republican, was convicted of corruption and sentenced to two years in prison and two years of supervised release. His appeal is being considered by the U.S. Supreme Court.
Reports of the investigation into McAuliffe could have consequences on the U.S. presidential campaign trail. Hillary Clinton, a close friend of McAuliffe, is the Democratic front-runner. The Clinton Foundation and its Global Initiative, set up by former President Bill Clinton, have faced scrutiny for donations they received while Hillary Clinton served as U.S. secretary of state. McAuliffe served as the head of the Democratic National Committee from 2001 to 2005.