Hoop Dreams in the Hoosier State
What's the difference between politics and basketball in Indiana?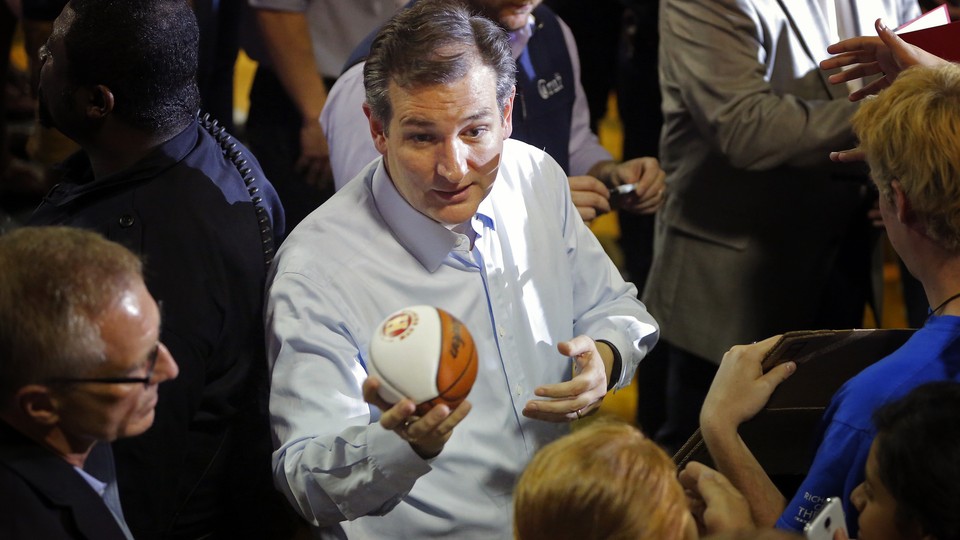 In Indiana, ball is life. Basketball came to the state early, just a few years after it was invented on legendary peach baskets by James Naismith, and ever since the Hoosier State has been known as the cradle of basketball, even acknowledged as such by Naismith himself. Indiana is famed for its success in amateur and collegiate basketball, was the setting of perhaps the most famous basketball film of all time, and it has produced more professional basketball players––including Larry "Legend" Bird––than any other state.
The state's deep history with basketball has had more than a passing influence on its politics. The 2015 NCAA basketball tournament was a major arena for LGBT-rights protests and boycotts over Indiana's Religious Freedom Act signed in March of that year. Former Governor Frank O'Bannon played for the first integrated Indiana Hoosiers team. His successor, former Governor Joe Kernan, played for two seasons at Notre Dame, another of the state's powerhouse basketball programs. Representative Baron Hill, who represents Indiana's Ninth congressional district, is in the state's basketball hall of fame, and former hoopers often wind up in state and local politics. But beyond just a roll call of names, with Indiana's primary elections today, Indiana's love of basketball figures to play a real part in who wins and loses.
Basketball has played a role in each candidate's campaign in Indiana. Most notable has been Senator Ted Cruz's embarrassing pandering attempt, a turnover in which he referred to a basketball hoop as a "basketball ring" in an attempt to invoke a famous Hoosiers scene. That mistake won't endear him much with Republican voters, especially given that his opponent Donald Trump is employing a full-court press, campaigning with the legendary former Indiana Hoosiers coach Bobby Knight and the former Purdue coach Gene Keady. These are important endorsements, and Knight's especially has given Trump momentum. Not that Trump needs it much––he has a commanding lead in the polls––but momentum matters given his current goal of crushing both Cruz and Ohio Governor John Kasich to reach the magic number and secure a nomination before the convention. While he is a long-shot to play a significant role in Indiana, it is worth noting that Kasich himself gets buckets.
Things are much closer on the Democratic side, where polls predict a close race between Senator Bernie Sanders and Hillary Clinton. Basketball has played a role in some statewide criticism of Clinton, who once referred to state capital Indianapolis as a "basketball-crazed Indianoplace" in a 2010 email to an aide. Sanders, whose clock is running out after stinging losses in the Northeast, is by far the most accomplished basketball player in the race, with an excellent midrange game that he has shown off on the campaign trail, even at the vaunted courts in Purdue. As his campaign has pivoted to Indiana, the state's strong demographic favorability––bluntly, its whiteness––and its similarities to Wisconsin, which Sanders won, are probably stronger indicators of hope than any edge from basketball, but at this phase any advantage he can claim is critical.
Clinton has been hurt by the allure of a basketball barnstorming candidate in Indiana before. Then-Senator Barack Obama suited up on the trail before primary day in 2008, and although he lost to Clinton in the primary election, he'd closed a significant margin and essentially put a turnaround victory for Clinton out of reach. Images and video of Obama's hoops skills in the state were no small part of his campaigning in the final stretch there, and Sanders has emulated his game plan. In this case, Sanders hopes not only to close margins in Indiana, but to run up the score.
Basketball might not be the single deciding factor in any state race, but in Indiana, it puts points on the scoreboard. It wouldn't be a surprise at the end of the day to see victories from candidates who have made the strongest efforts at capitalizing on the statewide love for the sport. For voters and observers, hoops politics in Indiana provide some respite from the horse-race coverage so far. But the respite is brief. Next up for both parties is Nebraska, where football is almost a religion. Don't expect any candidate to put on pads soon.