Pfizer v. Lethal Injections
The pharmaceutical giant imposes new controls to prevent its drugs from being used in executions.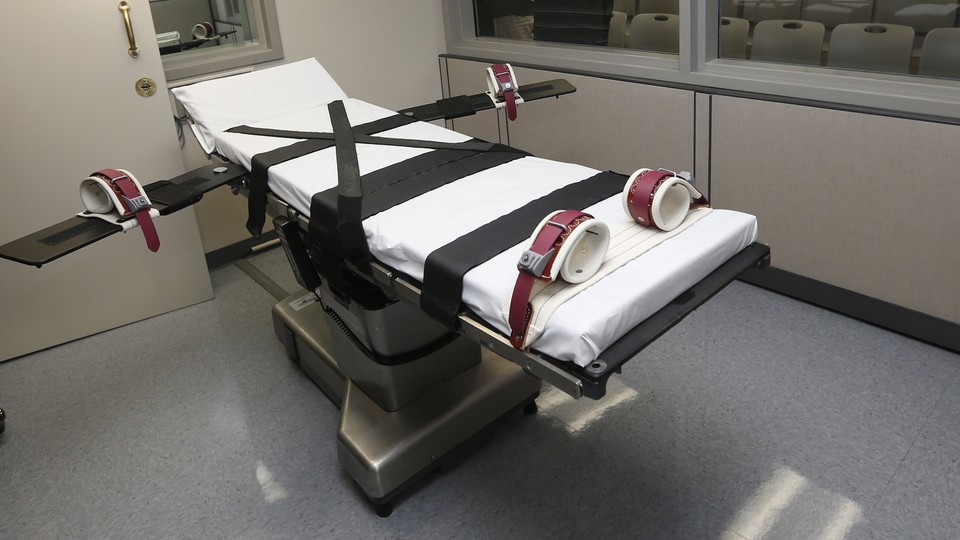 Pfizer said Friday it would impose stringent controls on distributors to block its drugs from use in lethal injections, underscoring the pharmaceutical industry's consensus against participation in the death penalty amid a nationwide shortage in execution drugs.
"Pfizer makes its products to enhance and save the lives of the patients we serve," the pharmaceutical giant's updated policy said. "Consistent with these values, Pfizer strongly objects to the use of its products as lethal injections for capital punishment."
The new policy's impact on future executions will be difficult to measure. Many states with capital punishment have also enacted laws that shield the identities of execution-drug providers, making those drugs' origins hard to trace. It is also unclear when or how often Pfizer-manufactured drugs have been used in U.S. executions.
But Pfizer's move adds new barriers as states struggle to find reliable suppliers of execution drugs. Maya Foa, executive director of Reprieve, a U.K.-based human-rights organization, said in a statement that Pfizer's move means "all FDA-approved manufacturers of all execution drugs have spoken out against the misuse of medicines in lethal injections and taken steps to prevent it."
A Pfizer spokesperson said the company opposed the use of its drugs in lethal injections before today's update. An earlier version of its policy on capital punishment took a less forceful stance on the issue than Friday's update, insisting that "efforts to influence policy" were better directed towards legislators and public officials.
"Our distribution plan, which restricts the sale of these seven products for unintended uses, implements our publicly stated position against improper use of our products and, most importantly, doesn't stand in the way of patient access to these critical medications," an October 2015 version of the policy stated.
"However, due to the complex supply chain and the gray market in the United States, despite our efforts, Pfizer cannot guarantee that a U.S. prison could not secure restricted products through other channels not under Pfizer's control," it cautioned.
The updated policy includes neither the redirection towards lawmakers nor the hedging of its own ability to control the supply chain. Instead, it outlined the company's efforts to regulate the distribution of key lethal-injection drugs.
Pfizer's distribution restriction limits the sale of these seven products to a select group of wholesalers, distributors, and direct purchasers under the condition that they will not resell these products to correctional institutions for use in lethal injections. Government purchasing entities must certify that products they purchase or otherwise acquire are used only for medically prescribed patient care and not for any penal purposes. Pfizer further requires that these Government purchasers certify that the product is for "own use" and will not resell or otherwise provide the restricted products to any other party.

Pfizer will consistently monitor the distribution of these seven products, act upon findings that reveal noncompliance, and modify policies when necessary to remain consistent with our stated position against the improper use of our products in lethal injections. Importantly, this distribution system is also designed to ensure that these critical medications will remain immediately available to those patients who rely on them every day.
States rely on a small collection of drugs to perform lethal injections, typically administered in one-drug or three-drug cocktails. Pfizer manufactures seven of them: the sedatives propofol, midazolam, and hydromorphone, the muscle relaxant pancuronium bromide and two variants of it, and potassium chloride, which is used to stop the inmate's heart.
Until recently, the standard method of lethal injection used sodium thiopental, a sedative, followed by a muscle relaxant and then potassium chloride. In 2007, the U.S. Supreme Court upheld the sodium thiopental cocktail's constitutionality in Baze v. Rees. In recent years, death-penalty opponents began pressuring drug manufacturers to stop selling it and other key drugs to U.S. prisons for executions. The European Union imposed an export ban on drugs for lethal injections to the U.S. in 2011.
With major pharmaceutical companies off limits and supplies dwindling, states turned to alternative, "grey market" sources instead. Multiple state departments of corrections purchased lethal-injection drugs from unlicensed suppliers in Britain and India, including one provider based in a single office above a driving academy. Both the Drug Enforcement Agency and the Food and Drug Administration have repeatedly seized unlicensed imports of lethal-injection drugs from states over the past three years.
States have also relied on clandestine domestic outlets to obtain the drugs, including compounding pharmacies with less stringent regulations. The Apothecary Shoppe, a compounding pharmacy in Oklahoma, secretly manufactured drugs for at least three executions in Missouri in 2013 and 2014, a BuzzFeed investigation found. The pharmacy shut down earlier this year after state and federal investigators found thousands of regulatory violations.
Another compounding pharmacy also provided the Oklahoma Department of Corrections with the midazolam used in the botched execution of Clayton Lockett on April 29, 2014. Lockett's death triggered a legal battle by other inmates that eventually reached the U.S. Supreme Court last year, where the justices upheld the use of the controversial sedative midazolam by a 5-4 vote in Glossip v. Gross.
Justice Samuel Alito, who wrote the majority opinion, accused capital-punishment foes of waging a "guerrilla war against the death penalty" during oral arguments. In a lengthy dissent, Justice Stephen Breyer urged the Court to reconsider the constitutionality of the death penalty itself.