What Will Paul Ryan Say at the Republican Convention?
The U.S. Speaker of the House faces a difficult choice: grudgingly endorse Trump, or silently watch his party fall apart.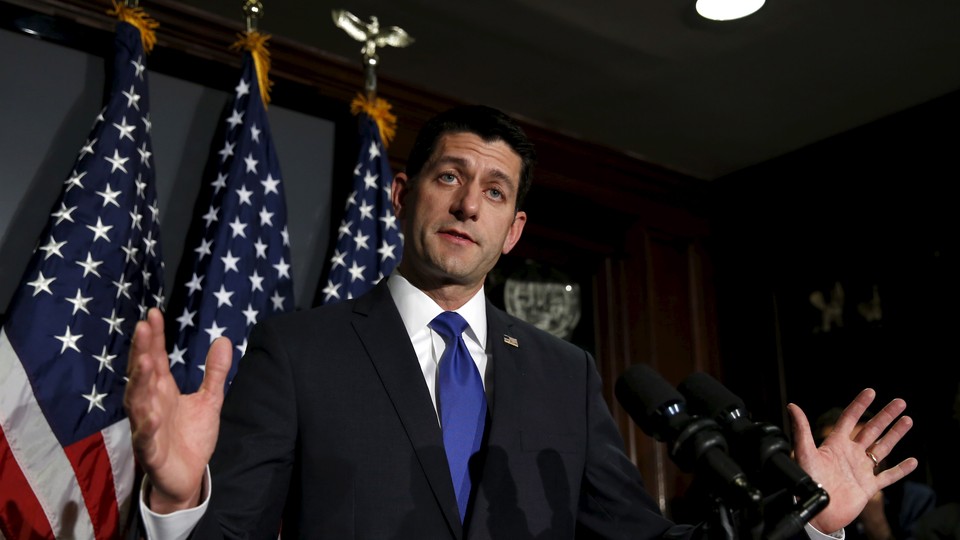 Paul Ryan has been deliberately coy lately when it comes to Donald Trump. In an interview last week, he told CNN's Jake Tapper that he was not ready to support the presumptive nominee. He preferred to keep quiet while watching to see if Trump could "unify" the party. But if history is any guide, Ryan is going to have to say something about Trump if and when he presides over the July GOP convention as its chairman—something nice.
The top Republican in the House of Representatives, whether he's the speaker or the minority leader, typically steers the GOP convention. During the gatherings of the last 20-odd years, the leader has typically followed the same procedure: He—and it's always been a "he"—gavels in the meeting, makes introductions, and gives remarks, often about the party's future, its ideals, and how the nominee will lead Republicans to victory in the November election. In the best of circumstances, a chairman and a nominee would be kindred spirits, who share no fractured history. But that's not happening in 2016. The GOP is bitterly divided into at least three camps: pro-Trump, anti-Trump, and lukewarm-on-Trump. Ryan hasn't said he would step down as chairman if he joins the anti-Trump faction. But on Monday, he told The Milwaukee Journal Sentinel he would abdicate the position if Trump asked him to. Ryan's decision on how to play the convention—not to mention whether to stay on as chairman—could affect whether the party comes together, or whether it fractures even more deeply into November.
Ryan's choices don't end there. Like chairmen before him, he will need to determine just how much praise to give Trump if he does decide to support him. Between 1992 and 2012, convention chairmen have mentioned a lot or a little of the nominees' qualifications in their remarks, and they've spoken about them with varying degrees of warmth. One quality, though, unites the chairmen's mentions of party nominees: They've all been positive.
In 2008, for example, then-Majority Leader John Boehner condemned Washington's dysfunction, arguing that Arizona Senator John McCain was the man who could fix it. "Republicans are returning to our roots and reclaiming our mantle as the party of reform," Boehner said. "The party America needs us to be." By 2012, he seemed even more passionate about the nominee, former Massachusetts Governor Mitt Romney, who was going up against incumbent Barack Obama. "President Romney—boy, I like the sound of that—President Romney will keep his word and he'll keep his courage, too," Boehner said. "He'll keep faith with the idea that government exists to serve the people, and the people who built this economy."
It's difficult to imagine Ryan saying he likes the sound of "President Trump," though. Over the course of this cycle, Ryan has occasionally condemned some of Trump's positions, such as his plan to ban all Muslims from the United States. He used his upcoming role at the convention as an excuse not to endorse during the primary, even as Romney, his former running mate, and other party leaders came out against Trump. In the CNN interview, Ryan's criticisms were mostly veiled; they were presented in the affirmative ("This must be done") rather than the negative ("He has not done this"). Here's one spot where Ryan is definitively critical:
It's time to go to from tapping anger to channeling that anger into solutions. It's time to set aside bullying, to set aside belittlement and appeal to higher aspirations, appeal to what is good in us and to lead a country and a party to having a vast majority of Americans enthusiastic about choosing a path. That's why I just feel so strongly about the chance and the choice and the opportunity that we have in front of us. But for this to work, our presumptive nominee, I believe, needs to unify the party for the party to be unified. And I want to help him do that.
Ryan said he hoped Trump will model Ronald Reagan and Abraham Lincoln, two nearly messianic figures in the GOP. After all, at the 2004 convention, House Speaker Dennis Hastert suggested something similar about then-President George W. Bush. "Both President Lincoln and President Reagan believed in the American Dream. They both believed in power of freedom. And they believed in the Republican Party," said Hastert, who most recently came into public view for troubles of his own. "George W. Bush shares the hopeful vision of Lincoln and Reagan."
House Speaker Newt Gingrich, at the 1996 convention, remarked on the party's nominee, but only briefly: After devoting most of his speech to the party's aspirations—easier-to-find jobs, fewer taxes—he signed off in praise of the man it hoped to elect. "This is not about power or glory or political games. This is about the kind of country we want for our children and our grandchildren," Gingrich said, according to his prepared remarks. "With your work and commitment, and under the heroic leadership of President Bob Dole, we are going to build a better tomorrow for all Americans." In 1992, Majority Leader Robert Michel also kept the nominee in the background, focusing most of his 10-minute speech on Congress. But "this year, the American people have the best opportunity in a generation to bring about the single most important change in recent political history and end to divided government in Washington," he added. "That means not only reelecting the Bush-Quayle team, but sending big, new responsive Republican majorities to both the House and the Senate so we can work together as a team."
Ryan is presenting his indecision as a matter of preparedness, and he dodged a question from Tapper asking what he plans to do. Ryan said he needs to see action from Trump—to see the billionaire "take up [Republican] principles and advance them" before he feels ready to offer his support. His nod could come before the convention, intended to influence voters, or it could come as a grand display at the meeting itself. Or he may never get to that point, if Trump boots him from the position or he chooses to conduct the convention without endorsing the nominee. His office confirmed he has not yet made a decision on Trump. Ryan certainly has more than just the presidency on his mind as he makes these calculations; he also has the House majority and his own leadership post to worry about. He invited Trump to meet Thursday to talk things through.
Not that Trump is actively working to cross any items off the speaker's policy wish list. He told The Washington Post the meeting would happen "before we go our separate ways." The day before, after Ryan's CNN interview aired, Trump released a short statement making his own opinion clear. It began this way: "I am not ready to support Speaker Ryan's agenda."