A Veto for Oklahoma's Quixotic Abortion Bill
Governor Mary Fallin rejected a bill Friday that would have sent doctors who perform the procedure to prison.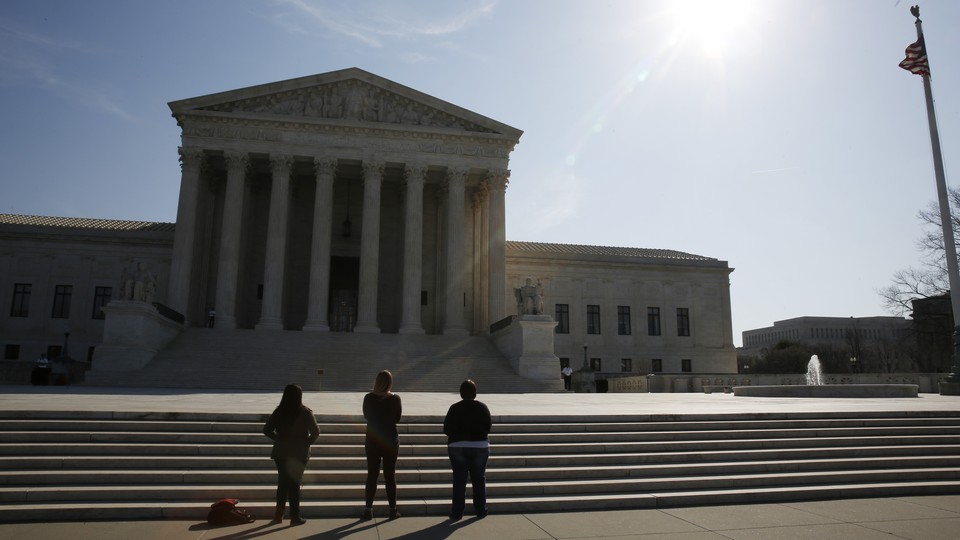 Updated at 6:07 p.m. on May 20
Oklahoma Governor Mary Fallin vetoed a unprecedented bill Friday that would have made it a felony for physicians to perform abortions in the state, saying the proposed law would not survive the inevitable legal challenges against it.
"While I consistently have and continue to support a re-examination of the United States Supreme Court's decision in Roe v. Wade, this legislation cannot accomplish that re-examination," Fallin said in a statement.
Senate Bill 1552 would have imposed a one- to three-year prison sentence for performing an abortion and stripped providing physicians of their medical licenses—a direct violation of Roe v. Wade that was virtually guaranteed to be struck down by the courts.
Oklahoma's Senate approved the bill by a 33-12 vote on Thursday. The Oklahoma House previously passed the legislation in April by a 59-9 vote.
Fallin, who strongly opposes abortion, signaled Thursday she could veto the legislation after it passed the Senate. "The governor will withhold comment on that bill, as she does on most bills, until she and her staff have had a chance to review it," Fallin spokesman Michael McNutt told the Washington Post at the time.
SB 1552 was the most drastic effort yet by Oklahoma lawmakers to curtail legal abortion. Previous attempts, however, often failed to survive judicial scrutiny. The Associated Press has more:
Nearly every year, Oklahoma lawmakers have passed bills imposing new restrictions on abortions, but many of those laws have never taken effect. In all, eight of the state's separate anti-abortion measures have been challenged in court as unconstitutional in the last five years.

In 2013, the U.S. Supreme Court declined to hear a case over an overturned Oklahoma law that would have required women to view of an ultrasound of her fetus before an abortion is performed. That same year, the Oklahoma Supreme Court struck down a law that would have effectively banned all drug-induced abortions in the state.

In 2014, the state Legislature approved a law requiring abortion doctors to have admitting privileges at nearby hospitals, but a challenge is pending before the Oklahoma Supreme Court.
With SB 1552, anti-abortion legislators anticipated the inevitable legal fight. State Senator Nathan Dahm, the bill's author, told reporters he hoped the bill would lead the U.S. Supreme Court to overturn Roe v. Wade.
Oklahoma's legislation joins a bevy of anti-abortion bills passed by Republican-led state legislatures in recent years. According to the Center for Reproductive Freedom, which supports abortion rights, state lawmakers passed 47 new laws restricting abortion and proposed 400 more in 2015.
In February, the Supreme Court heard oral arguments in Whole Women's Health v. Hellerstedt, which challenges Texas's restrictions on abortion clinics. As my colleague Garrett Epps noted then, a ruling in favor of the restrictions could force 32 of the state's 40 clinics to close and leave nearly 1 million Texas women of reproductive age more than 150 miles from the remaining ones. The Court's decision is expected in June.