Obama on Trump's Candidacy: 'This Is Not a Reality Show'
The president was responding to a question on the presumptive GOP presidential nominee.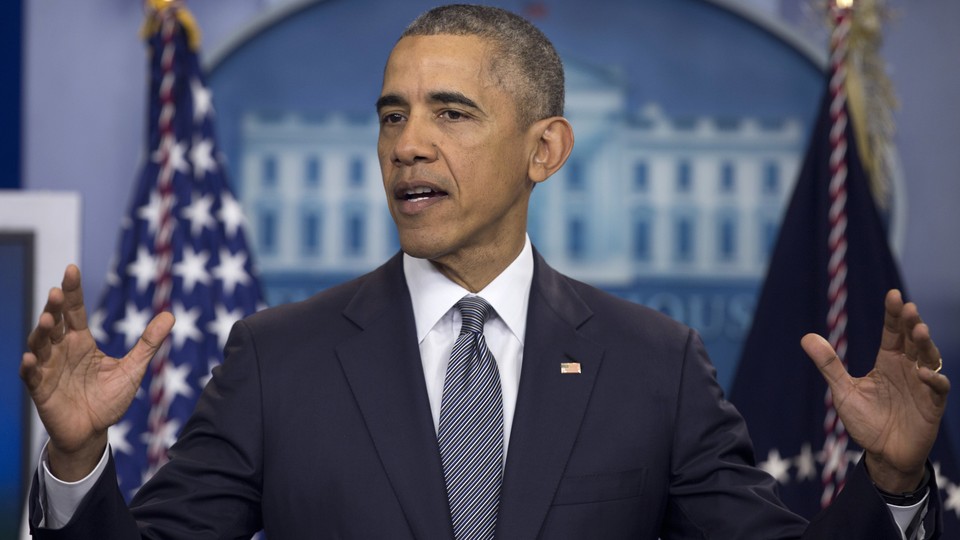 President Obama sharpened his criticism of Donald Trump, the presumptive Republican presidential nominee, saying GOP voters have to decide whether the New York mogul "speaks for them and represents their values."
"We are in serious times; this is a really serious job," Obama said at a news conference Friday. "This is not entertainment. This is not a reality show."
His remarks come as Trump won the Republican presidential primary in Indiana on Tuesday, prompting Ted Cruz, the U.S. senator from Texas who was his main rival in the race, to suspend his campaign. A day later, John Kasich, the Ohio governor, also dropped out, leaving the field clear for Trump—and prompting a major debate within the GOP on their presumptive standard-bearer.
Reince Priebus, the chairman of the Republican National Committee, acknowledged that Trump was now the party's presumptive nominee—even if Paul Ryan, the Republican House speaker, said he could not support Trump for now.
Obama acknowledged those divisions—even as he papered over fissures on the Democratic side where Bernie Sanders, the U.S. senator from Vermont, has indicated he will not drop out of the race in favor of Hillary Clinton, the front-runner.
"There's no doubt there's a debate that's going in the Republican Party about who they are," Obama said, "and who their standard bearer is."
He added: "Republican women voters are going to have to decide is that the guy I feel comfortable with."
Turning to the Democratic race, Obama pointed to similarities between Sanders and Clinton, adding Democrats "run on what we're for, not just on what we're against." In November, he said, "the contrast … will be pretty clear" to voters.