Born to Run
Supporters in New Jersey seemed willing to look past Donald Trump's flaws at a rally on Thursday night.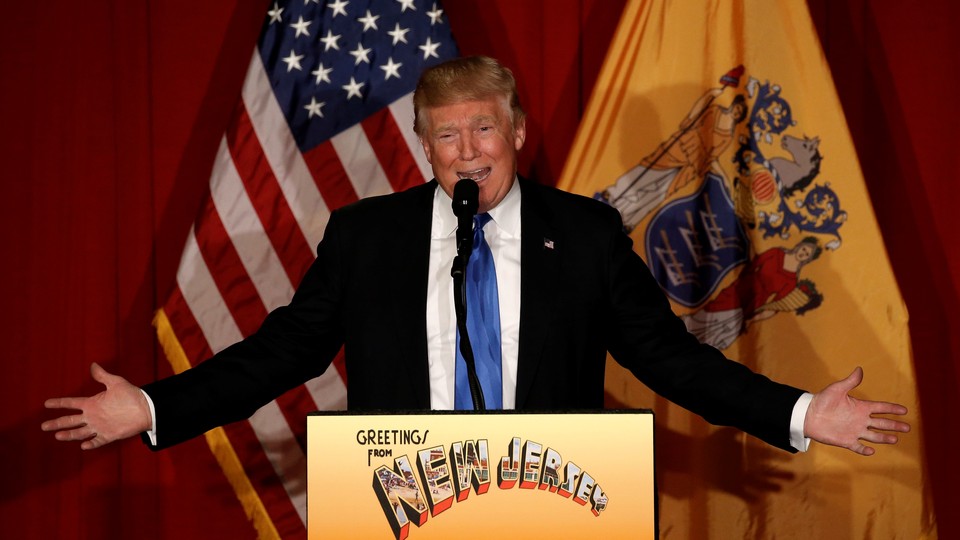 LAWRENCE TOWNSHIP, N.J.—Far at the back of the crowd, between a cement wall and a metal partition, Janet Korneff learned forward in her wheelchair. A lifelong Republican, she had endured a tough primary season—supporting Carson, then Huckabee—before finally coming home to Trump.
"I want a woman president, too, but I want the right one," she told me. None of the candidates this round suited her. She disliked Carly Fiorina, who had laid off all those people at Hewlett-Packard; and she didn't trust Hillary Clinton, who had undermined women who accused her husband of sexual harassment in the 1990s.
Korneff, 61, lives with epilepsy and multiple sclerosis, and she trembles and has no feeling in her feet and legs. Before her illnesses forced her to retire 12 years ago, she worked as a computer programmer, writing software for financial companies in COBOL and Fortran. She was self-taught, learning how to code at age 13 from equipment that her father brought home.
She lives near Philadelphia with her husband, a Vietnam veteran who retired this year after decades with the postal service. He was farther up in the crowd in a Trump hat. "He's a wonderful caregiver," she told me.
I asked Korneff what she thought about Trump's comments about women.
"I don't mind at all," she told me, smiling. "He makes fun of handicapped people, he makes fun of everyone. I'm not offended."
She went on. "You have to laugh. I am handicapped! If people can't laugh about something, and have compassion, they shouldn't be here."
Korneff wasn't the only supporter willing to laugh with, and warmly forgive, the presumptive Republican nominee for president. At the National Guard Armory in Lawrenceville, an exurb halfway between Princeton and Trenton, supporter after supporter seemed to recognize Donald Trump's flaws and endorse him nonetheless.
He, in turn, endorsed them back.
"I tell you what, if you can make it in New Jersey, you can do just about anything you want in life," Trump told a crowd of hundreds on Thursday evening, distorting the Frank Sinatra lyric in several important ways. "There's nowhere like New Jersey," he said. "Great people."
They had officially come to raise money for Governor Chris Christie, a one-time rival to Trump and his ally since February. But they had really come for Trump. They paid dearly for the privilege of attending the nominee's first ticketed rally ($200 for adults, $25 for students), and some of them paid even more dearly later that night, at his first fundraising dinner ($20,000 per seat).
And Trump was right about one thing—there is nowhere like New Jersey, and no one quite like its people. The roughly 700 supporters who assembled in the armory, tottering on its cement floors and swaying beneath its chandeliers and tile ceiling, came in a variety of apparel. Leopard-print heels, frilly black-lace hats, and liberally spackled blush intermixed with camouflage sweatshirts, American flag-embroidered shorts, Trump National Golf Club jackets, and Make America Great Again caps.
Plenty of jeans and button-down shirts too, which is what I was wearing. I'm a New Jerseyan—born and bred in the only state that Americans, on average, dislike—and when I heard that the Donald was speaking 10 minutes from my childhood home, I had to go. New Jersey is a small town, says my grandmother. These are my people—how would they respond to the agitator from up north?
One of them turned out to be my neighbor. Nick, a 17-year-old from nearby Pennington, is the son of the pharmacist who for many years filled my asthma prescription. His brother had been in my Boy Scout troop. Nick was wearing a shirt that said The H in Benghazi is Silent—the H was Clinton's campaign logo.
"A lot of my friends ask, do I even know where Benghazi is," he said. "Yes, I do. It's in Libya."
I asked him what he thought of Trump's proposal to ban Muslims from entering the United States. He winced. "I think something should be done," he said. "I don't know about everyone. That's a little much."
In fact, I could find no supporter who wanted to endorse Trump's ban outright. Mike Mulligan, a Republican committeeman in southern Salem County, said he thought immigrants should be vetted before coming in and that the U.S. should only admit "achievers." If that especially applied to Muslims? Well, that was fine.
After all, his family was Irish Catholic, he said, and the government had imposed limits on Irish immigration in the early 20th century. Why couldn't it do the same now?
Maria Appet, a comptroller at a catering firm near New York, had firsthand experience with the modern American immigration system. Appet was born in Montreal. Though she had emigrated to the United States three decades ago, she had never applied for naturalization.
It was only when Trump won New Hampshire that she finally filed her paperwork. She took the test over the winter, was accepted in March, and she had just been sworn in as an American citizen Thursday morning. In fact, she had driven straight from the immigration office to the Trump rally—it was her first civic act as an American citizen.
"He was saying out loud what I was thinking," Appet told me. I asked her to elaborate. "About political correctness—it was so refreshing."
"You always told us at the dinner table what you were thinking," said her sister-in-law next to her. She told me she would probably vote for Trump, but lamented that he wasn't more of a statesman.
Trump, of course, was there too. He walked on and off the stage to 2 Unlimited's "Get Ready for This," a bland jock jam that I will never again think of as the Space Jam song.
"We are viewed as the stupid country," he told the crowd. "We're like a big, big sloppy bully that gets punched in the face and goes down. You ever see a bully get knocked out? It's a terrible thing—unless you're doing the punching. Then it's okay."
He rambled through the highlights of his campaign platform. He said he would make NATO members pay up for their own defense, comparing them to his old "delinquent" tenants in Brooklyn. (If it was a dog whistle, the audience seemed not to hear it.) "Trade war? We're losing $500 billion to China, who cares if there's a trade war?" he shrugged. He would defend the Second Amendment, he said, and the crowd cheered the loudest it would all night.
Several times, he interrupted himself to assure the crowd that they would build a wall on the Mexico border. The audience knew what to do. "Build the wall! Build the wall!," they chanted. "Trump! Trump! Trump!"
You've heard it all before, maybe—and so had the audience. What was most surprising about Trump's remarks was that so few of them surprised. I had assumed there was some part of his stump speech that I hadn't heard, some dull middle section where he mentions policy details. But there isn't. Of the 40 minutes he spent on stage Thursday night, Trump spent many of them recounting his victory in the Republican primary in epic detail.
He described how he had embarrassed Marco Rubio, the Florida senator who had dropped out of the race more than two months ago. He recalled defeating him at a debate. "He looked like Perry Mason that evening, that was a rough evening for Marco," Trump said.
He reminded the Republican audience that the Republican primary, which he won, was rigged. Then he ever-so-briefly paused, as if in awe of his rhetorical power. "I used the word 'rigged' four, five months ago, and now everyone uses the word 'rigged,'" he said.
The crowd was overwhelmingly white. Courtney Johnson, an assistant town commissioner in the North Jersey city of Nutley, seemed to be one of the few blacks in attendance. Wearing a pinstriped suit and lavender shirt, he seemed mystified more African Americans weren't at the event.
"I came to the rally to show it's not a black culture, or a white culture, or a Spanish culture—it's an American culture that needs Donald Trump," he said. "And when he's the boss of this country, he's the boss of everyone."
"I think that people have a misunderstanding. Most African Americans are conservative—they're a very religiously based people," Johnson told me. He serves as a pastor at a pentecostal church in Nutley, and he inherited his Republican affiliation from his father. He is a Marine veteran, and his son is a current member of the corps.
Johnson took me over to meet Steven Rogers, a commissioner in Nutley and a Naval intelligence veteran. Rogers, who is white, was also in pinstripes. He told me he was the first elected official in New Jersey to support Trump. "Politico wrote a story about me," he said.
Rogers had appeared on Fox and Friends Thursday morning praising Trump, and Trump had in turn commended his performance at the lectern that night. He had also tweeted about Rogers that afternoon.
Johnson read the tweet aloud: "Thank you @LtStevenLRogers. We will respond to terrorism with strength in 2017!"
"Trump represents strength—he's absolutely a movement," Rogers told me. "I call it the 21st century grassroots movement. Notice that I didn't say it was a revolution."
Rogers, who is in his mid-60s, had me guess his age. "My wife, she emigrated from Russia, and she is 14 years younger than me! How about that," he said, turning to his wife, silent beside him.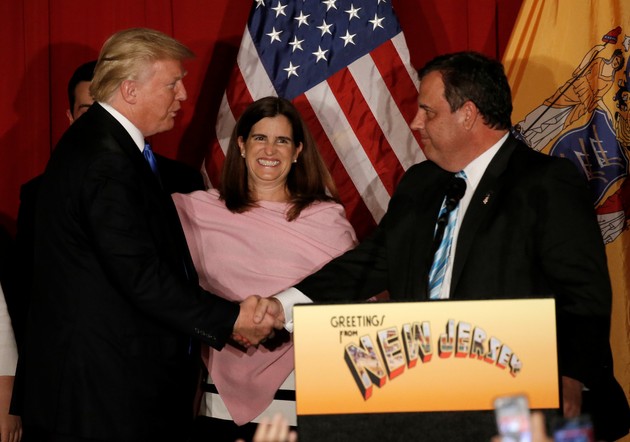 And what did Johnson think about Governor Christie, the man they had all gathered to fundraise for? "I support the party," he said. Christie's performance during the George Washington bridge scandal had "bewildered" him, he told me, but the governor's endorsement of Trump had brought him back into the fold.
Trump repaid that endorsement on stage Thursday. He assured the crowd that Christie had done wonderful things for the state. The bridge scandal, a favorite topic of Trump's last winter, went unmentioned. But he did not always extend the same tristate-area warmth to the governor that supporters could muster for him.
Halfway through his speech, Trump described how Nabisco was moving a factory from Illinois to Mexico. He said he had sworn off eating Oreos in protest, then he turned back to Christie, who has lost more than 85 pounds since undergoing gastric bypass surgery in 2013. "You're not eating Oreos anymore," he said. "No more Oreos. For either of us, Chris."
Three-quarters of the the room, and many of the Republican grandees onstage, guffawed. A group of middle-aged women standing next to me were silent.
Christie has long been able to call a winner. Days before Obama's re-election in 2012, the governor was photographed with the president walking along a beach strewn with debris left by Hurricane Sandy. He spotted Trump early too, endorsing him in February.
But it has not helped him in his home state. Though a majority of New Jersey Republicans approve of Christie, his approval rating in the state generally has plunged. Just 29 percent of New Jerseyans approve of Christie, a record low, according to a Quinnipiac poll released last week.
In March, the editorial boards of six local papers called for Christie to resign. "Governing New Jersey is a distant second priority for him, far behind the demands of his personal ambition," they wrote. "His fulsome praise of Trump, after his stinging condemnations only a few weeks ago, is impossible to believe."
The editorial stung all the more as it came from two powerful papers in the state's conservative north, the Asbury Park Press and The Star-Ledger. Both had endorsed Christie's second-term bid in 2013.
Around the highways that run into Trenton, a progressive group this spring put up billboards showing photos of Trump and Christie. They were impossible to miss as you drove to the statehouse: Christie looks confused and uncomfortable in the background, as Trump yammers in front of him. A caption exhorts the governor to "speak up against racism, sexism, and bigotry, [not to] stand behind it," but it's dwarfed by a single, enormous word: "Sad!"
None of that was broached on Thursday. Before Trump made his big appearance, Christie recalled how he had sat at the kitchen table with his wife, Mary Pat, discussing whether to re-enter the electoral fray and endorse anyone.
"We've been friends with Donald Trump for 14 years, and we know him well," Christie said. And he repeated for the crowd what he had told her: "You never, ever make a mistake by standing by your friends."