The Show-Me-Your-Voter-ID State?
Missouri voters will decide on a constitutional amendment that would require photo identification in order to participate in elections.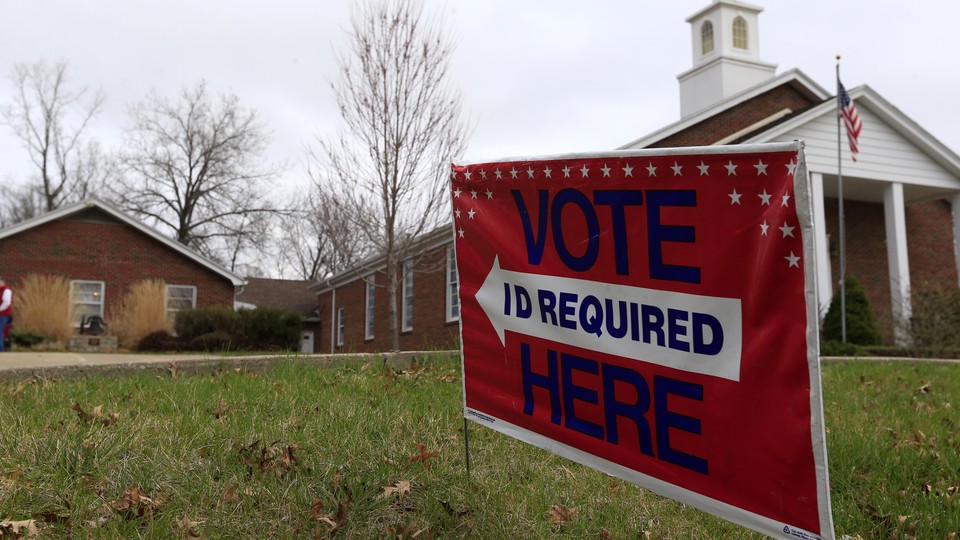 Missouri voters will soon be asked to vote on how they vote.
Thursday evening, the Missouri State House voted to send a referendum to the ballot that will ask citizens to amend the state constitution to require voters to show photo identification in order to cast a ballot. That measure is the second half of a two-part maneuver: Legislators previously passed a bill that governs how the requirement would be implemented, but thanks to a state supreme court decision ruling against a similar law in 2006, the Show Me State has to amend its constitution in order to create the requirement.
Missouri Democrats, outnumbered in both houses of the General Assembly, blasted the law but were powerless to stop it. Nor can Governor Jay Nixon, a Democrat, veto the ballot referendum—though he does get to decide when the vote will be held.
"The sad part of this is that people in this body think it's a joke," state Representative Brandon Ellington said, according to the St. Louis Post-Dispatch. "They think that when we push these buttons in front of us — the red and green buttons—it has no implications. Then we hear people say, 'Well, you know, everybody has an ID, everybody has a bank account.' Well, that's ignorance, because that shows the fact that you don't understand the difference between a privilege and a right. It's a privilege to have an ID."
The debate in Missouri has been unusually long-running—Republicans have been trying to create a voter-ID law for a decade now—but it mirrors similar battles around the nation, especially in states like Texas, North Carolina, and Wisconsin. Advocates argue that the sanctity of the vote must be protected, but critics note that there's next to no evidence of actual vote fraud and that studies show that voter-ID laws suppress minority votes. (In Missouri, voters already have to show some ID, but the list of accepted documents is long, and includes things like utility bills and state university student IDs.) They say that the laws are an attempt to drive down turnout among minority voters who overwhelmingly support Democrats. That argument is bolstered by some voter-ID advocates who keep slipping up and stating publicly that such laws will help Republicans and conservatives win.
But voter-ID backers have had a string of victories in the courts. The Supreme Court's 2013 decision in Shelby County v. Holder opened up the field for states to pass more restrictive voting laws. Last month, a judge in North Carolina ruled against a challenge to the state's voter law, though that decision has been repealed.
Backers of Missouri's law say that it solves some of the flaws of other states' laws. The constitutional requirement would not go into effect unless the state funds efforts to make sure everyone can access an ID, and a provision added by the state Senate late in the process allows voters without an ID to sign an affidavit and cast a ballot under certain circumstances. Nonetheless, a study by Missouri Secretary of State Jason Kander found that 220,000 registered Missourians don't have photo ID—or nearly 10 percent of total votes cast in the state during the 2012 presidential election.
"I think compromising on this stuff is kind of like getting the shiny apple. It's not what it seems at all," said Laura Swinford, executive director of Progress Missouri, which opposes the measure. "There are some things you don't compromise on, and our fundamental right to vote is one of them."
The ballot referendum makes Missouri's case something of a wild card. Most voter-ID laws have been passed by legislatures, rather than direct votes. By and large, voters tend to back voter-ID laws, though a referendum in Minnesota in 2012 was decisively defeated. Swinford said opponents will mobilize to try to block the measure, but since Missouri is a redder state, they may struggle to marshal the same support as in Minnesota, meaning Missouri is likely to become the latest state with a voter-ID requirement.