The Debate Over Mississippi's Religious Freedom Law
The ACLU has sued the state over new rules that the group argues sanction discrimination against LGBT people.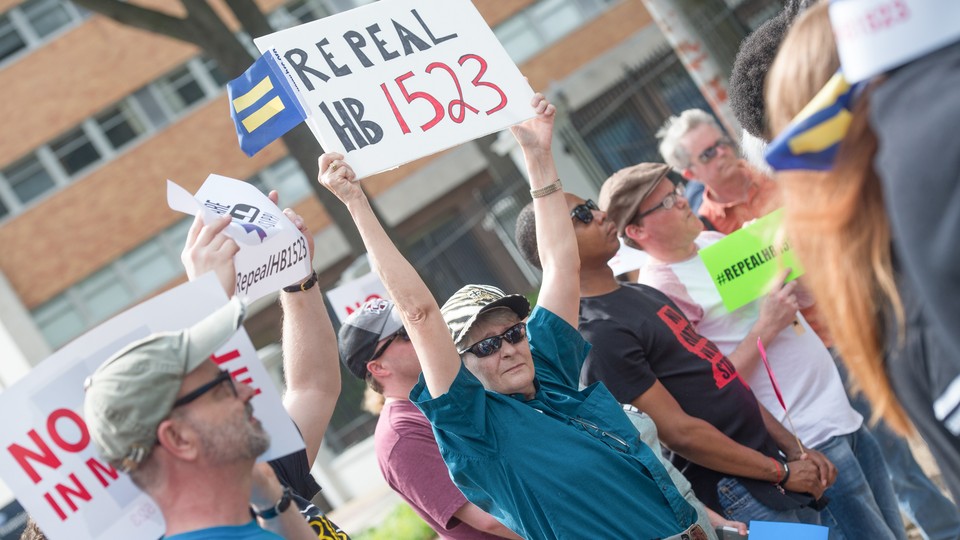 The American Civil Liberties Union of Mississippi and a gay couple are suing the state over a controversial new law that allows people to deny services to lesbian, gay, transgender, and bisexual individuals based on religious beliefs.
The lawsuit, filed Monday, alleges that H.B. 1523, signed by Republican Governor Phil Bryant last month, is unconstitutional. The ACLU argues the law, known as the Protecting Freedom of Conscience From Government Discrimination Act, violates the 14th Amendment "by subjecting the lawful marriages of same-sex couples to different terms and conditions than those accorded to different-sex couples."
The ACLU and Nykolas Alford and Stephen Thomas, who are engaged to be married, are suing Judy Moulder in her official capacity as the state's registrar of vital records. Alford said at a press conference Monday that H.B. 1523 "makes us feel like second-class citizens":
The Mississippi legislature introduced H.B. 1523 in response to last summer's Supreme Court ruling that legalized gay marriage nationwide. The law says the state government will not punish individuals who refuse to provide "services, accommodations, facilities, goods or privileges" to people based on the providers' "sincerely held religious belief" against same-sex marriage, extramarital sex, and transgender people.
Bryant and supporters of the law say it protects the religious freedom of people who are opposed to gay marriage. When he signed the legislation in April, Bryant said H.B. 1523 "does not limit any constitutionally protected rights or actions of any citizen of this state under federal or state laws." Opponents say the law allows for government-sanctioned discrimination against LGBT people.
The law goes into effect July 1.