It's a Different Story Down the Ballot
In Indiana, an outsider candidate for Senate struggles to replicate the enthusiasm that has propelled Trump and Cruz.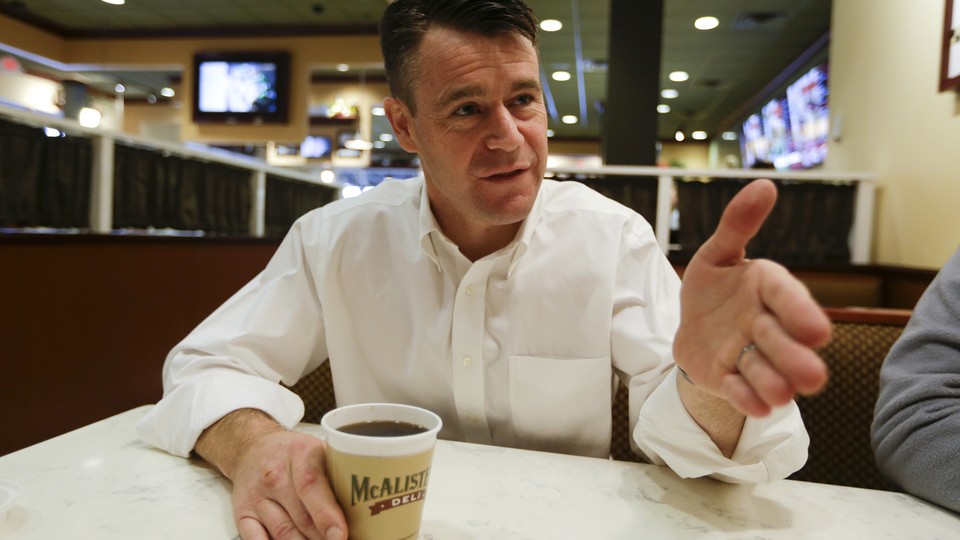 In Indiana, Republican Representatives Todd Young and Marlin Stutzman are locked in a battle for the seat of retiring Senator Dan Coats. But unlike the presidential primary, in which outsider candidates have gained traction, candidates in down-ballot races are facing challenges. So it goes in Indiana, where the establishment candidate holds a solid lead over a self-proclaimed outsider.
Young and Stutzman were both elected to the U.S. House in 2010. Despite their roughly equal tenure in Congress, establishment Republicans have coalesced behind Young, while Stutzman has dubbed himself the outsider. Leading up to the state's primary on Tuesday, Young held a commanding lead in the polls. According to a recent NBC/ The Wall Street Journal / Marist poll, 56 percent of likely Republican primary voters backed Young compared to Stutzman's 24 percent, with 19 percent undecided.
Young, a former Marine and three-term Republican House member, represents Indiana's 9th district. His run for Coats's Senate seat has garnered establishment support, including a super PAC associated with Senate Majority Leader Mitch McConnell and the U.S. Chamber of Commerce, which spent a little over $1 million backing Young. The Senate Leadership Fund also fronted nearly $800,00 in support of Young. As a result, Politico reports, "Young and his supporters have outspent Stutzman 9-to-1 on TV."
On the other hand, Stutzman has racked up support from a number of Tea Party groups, including the Club for Growth, FreedomWorks, and the Senate Conservatives Fund. Stutzman is a member of the House Freedom Caucus, the group that voted against then-House Speaker John Boehner before his resignation. That's given him leeway to tout his status as an outsider, helping him win support among Tea Party groups. But Stutzman's conservative support has generated more endorsements than cash. The Club for Growth spent $12,392 for Stutzman and the Senate Conservative Fund spent $82,816. Late last month, the Tea Party Express endorsed Stutzman. Its executive director, Taylor Budowich, said in a statement, "The Indiana Senate race is a clear example where the politicians and lobbyists in Washington have picked one candidate while the grassroots of Indiana have picked another candidate." Stutzman hopes to translate his stance against the establishment into votes from Donald Trump and Ted Cruz supporters. "First thing I do is tell them that Mitch McConnell is with Todd Young," he said. "Usually that does it."
Both campaigns have also had their hiccups. Young was accused of not having the sufficient number of voter signatures to run for the U.S. Senate, but remained on the ballot after a tie vote by the Indiana Election Commission. And Stutzman has had to answer for a six-day trip to California worth $2,000, which was reportedly paid for by his Senate campaign. He's reimbursed the campaign since.
Indiana leans Republican, but whoever wins on Tuesday is likely to run against former Representative Baron Hill in November, when Democrats hope to take back the majority. Young defeated Hill in a 2010 congressional race. Also looming over the Senate primary race is the memory of 2012, when Senator Richard Lugar lost in the primary against Richard Mourdock, who then went on to lose in the general to now-Democratic Senator Joe Donnelly.
The gap between Young and Stutzman echoes the way other down-ballot races have unfolded this year. In North Carolina, Greg Brannon, the anti-establishment candidate, lost to incumbent Richard Burr. And Representative John Shimkus delivered an upset in Illinois against Kyle McCarter, who was backed by the Club for Growth. In the Democratic Party, a similar situation has unfolded. Last week, in Pennsylvania, former congressman and outsider Joe Sestak lost to Katie McGinty, who was backed by national Democrats.
So why are outsider candidates not able to replicate the enthusiasm propelling some presidential candidates?
It could be that down-ballot elections receive far less media coverage, as Roll Call notes. But on the Republican front, it may also be evidence of a divided party, hoping to maintain its Senate majority, even as it turns to insurgent presidential candidates. Whatever the case, voters will head to the polls in Indiana on Tuesday to participate in a heated primary. And if Young wins, it could further cement the notion that in down ballot races, it is not the year of the outsider.