Is This the Libertarian Party's Moment?
After a hostile primary season on the Democratic and Republican sides, this third party hopes voters might give it a try.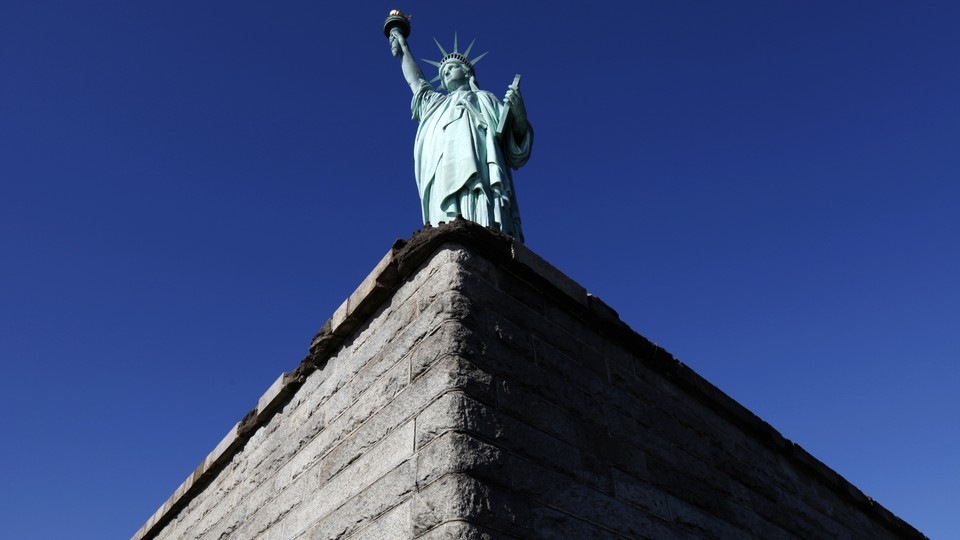 To the uninitiated, which is to say, most everyone, the Libertarian Party has been a political nonentity. Sure, voters might know a few of the top-line principles—limited government, limited economic regulation, a lot of individual liberty—but chances are they have not given much thought to a party that has never put a candidate in Congress. Or nominated a presidential contender who is truly competitive nationally.
After a hostile primary season on the Democratic and Republican sides, though, Libertarians hope that might start to change. Especially the three candidates with the most viable chance for the nomination at the party's convention later this month.
"It's really a mixed bag," said Gary Johnson, the former two-term New Mexico governor who was the party's nominee last cycle, on his reaction to Donald Trump's presumptive Republican nomination. "Sorry for America," but it could give "the libertarian nominee a real shot."
A third-party candidate winning a general election is pretty unlikely. But there are some small signs Americans have grown more interested in the Libertarian Party since Trump has caught fire. The conservative Breitbart News has noted "spasms" among libertarian-leaning Republicans since Trump won Indiana, and it encouraged "PANIC" over an uptick in Google searches for the party. The Washington Examiner reported on Wednesday that the Libertarian Party saw "a drastic increase in new donors as the primaries started and it became increasingly clear that Trump would be the nominee"; and online applications to the party jumped once Ted Cruz dropped out after the Indiana primary. Those figures are small—in the hundreds—but for a small party looking to make national change, they must be encouraging. And Libertarians got at least one high-profile nod last week: The Republican strategist Mary Matalin switched her party affiliation to Libertarian on Thursday, though she refused to acknowledge a connection between her move and Trump's shoe-in nomination.
The Libertarian Party will soon consolidate around a nominee at its meeting in Orlando, Florida, over Memorial Day weekend. Three candidates are considered front-runners. There's Johnson, who first ran for president as a Republican in 2012, before switching parties mid-cycle. He's often described as the presumptive nominee, which he does not deny. There's also John McAfee, as famous for his antiviral software as he is for an admittedly "checkered" past, including his stint as an international fugitive. And there's Austin Petersen. He owns a video and photography consulting company, founded a libertarian website, and once worked for the Libertarian National Committee and on a Fox Business show. If there were a contest for the best campaign slogan this cycle, two of these guys might be contenders. McAfee bills himself as "The Most Interesting Candidate in the World" (sans any mention of Dos Equis), while Petersen's motto stays on message: "Taking Over the Government, to Leave Everyone Alone." (Johnson's slogan is the ho-hum "Be Libertarian With Me.")
The Libertarian Party's primary season is not entirely dissimilar to those of the major parties: It has a national meeting; debates, including one televised on Fox Business last month; state conventions, which candidates sometimes attend; and straw polls. Their version just happens to be smaller and cheaper (for better or worse)—and get far less attention. The field, though, is comparable in size to the once-huge Republican slate: The party officially recognizes 17 presidential candidates. One contender, though, does not meet all the federal criteria for a presidential run: He refused to file with the Federal Election Commission because, naturally, he does not recognize its "constitutional authority."
As foreign as this alternate political universe may be to some voters, many of the race's dynamics, and the way candidates style themselves, should not be. They have undoubtedly been influenced by the discourse around the Democratic and Republican candidates. As the Libertarian Party's former nominee, Johnson has been named—or, in some cases, accused—of being the "establishment" guy; Petersen told me his opponent has the "trappings" of an incumbent. (Johnson, for his part, calls "bullshit" on the notion he is "establishment," citing his pro-small-government record as governor.) Petersen considers himself "sort of like the Bernie Sanders of this race," because of his individual campaign contributions. And McAfee willingly makes connections between himself and Trump—despite disagreeing with the real-estate mogul on nearly all the issues. Both are candidates who have never held elected office, who have worked as businessmen, and who have enjoyed great wealth, even if their respective finances are both currently murky.
The Libertarian Party's key challenge is getting voters' attention, and party officials see the general-election debates as crucial to that effort. Along with other third parties, the Libertarians have taken legal action to see the Commission on Presidential Debates change their qualifying criteria. Currently, per Commission rules, candidates must appear on enough state ballots "to have a mathematical chance of winning a majority vote in the Electoral College" and must get 15 percent of the vote in five national polls selected by the Commission.
Getting on state ballots might not be that difficult: National committee Executive Director Wes Benedict predicts the party will appear on 49 ballots this cycle, though it is aiming for all 50. But when it comes to polls, Johnson said, the party is in a catch-22. He explains the problem this way: Polling companies do not test libertarian candidates because mainstream media does not cover them much, and the mainstream media will not cover them much because they say, "'You're not polling.'" Of course, Johnson is not polling because "I'm not in the poll!" He did see some encouraging numbers in one late-March Monmouth University survey, in which he was the only Libertarian tested in a hypothetical contest with Hillary Clinton and Trump. Johnson got 11 percent of the vote. In the 2012 election, he received roughly 1 percent of the vote nationwide, a record for the party.
From the party's perspective, the consequences of not debating are dire. "When people watch those debates, they think those are the candidates running," Benedict said, "and others must not matter if they're not in those televised debates." The lack of polling and media coverage also makes it difficult to assess where the Libertarian candidates stand in the race. And the candidates themselves don't even know how many delegates they will snag at the upcoming convention, because Libertarian delegates are uncommitted—or "squishy," in Petersen's words. Like Democratic superdelegates, they are not tied to any candidate.
The Libertarian candidates know they have high hurdles to vault, but they sense this cycle could be riper than usual for potential converts: Many voters are disenchanted with the Republicans and Democrats and want somewhere to turn. Even Johnson, who told me back in January that he had "no delusions of grandeur," last week said yes when I asked if he was in the race to win the presidency. McAfee, known for his intense personality, took a harder line on his eventual victory: "I don't have the time to waste on folly."
The contenders are trying to draw major-party voters to their cause. Johnson and Petersen both made overtures to the anti-Trump crowd once Cruz dropped out of the race on Tuesday and Trump's nomination looked near certain. Petersen, who bucks his party's platform by identifying as pro-life, has specifically reached out to Cruz voters on social media.
But it's not just Republicans they are trying to lure. Benedict said the Libertarian Party sees a "surge" of Republican voters whenever the GOP nominates someone the base does not like. But this year, Democrats could follow that model, too, Benedict suggested. With Sanders's supporters unhappy about Clinton's Wall Street ties and "aggressive military stance," they might be more disposed to vote Libertarian. Libertarians are typically against military intervention abroad.
Johnson said he and Democratic socialist Sanders "part ways" on the economy—which, it should be noted, is no small thing—but Johnson sees commonality on social issues like abortion, crony capitalism, marijuana, and immigration. McAfee said nearly the same thing in a recent Guardian interview, and Petersen suggested to me that Libertarians and the senator's supporters can indeed find some common ground.
Just weeks away from the convention, Benedict is predicting the best-attended meeting in over a decade, with more than 1,000 Libertarians slated to be there. He does not sound quite as win-focused as the presidential candidates, noting that Libertarians run "to promote certain issues," not for "a big payoff at the end of the election season." He said they typically have more luck on the city or county level.
Win or lose, the party has had an effect on the country, Benedict said. "People laughed at us for many years" when Libertarians talked about ending the War on Drugs or legalizing same-sex marriage. But now, "those are becoming policy." For the candidates, the challenge is to convert those successes into a place at the table in Washington.