Jimmy Carter Makes One Final Push to End Racism
The former president wants his fellow Christians to lead the country to reconciliation. But churches are in a period of profound uncertainty.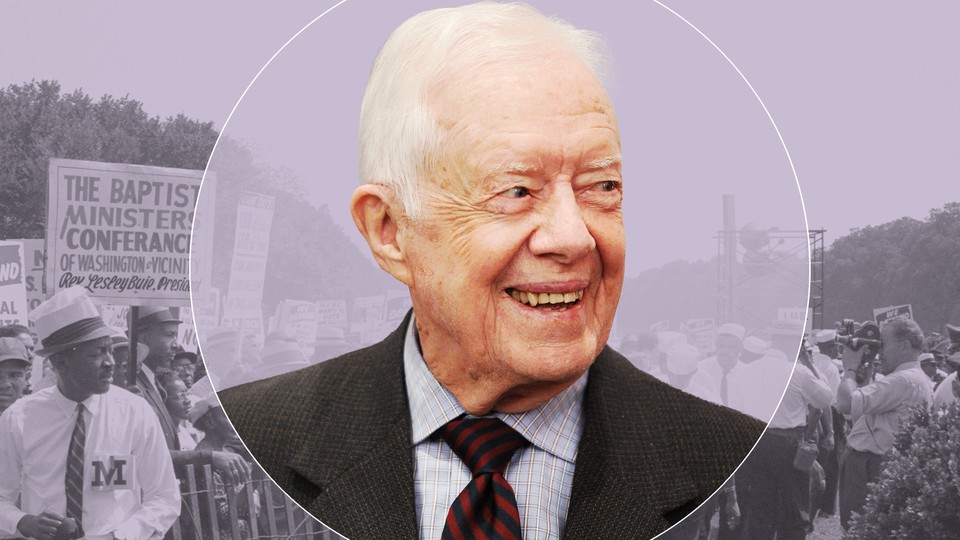 Jimmy Carter, 91, has a wish for his fellow Baptists: end racism. "Our country is waking up now to the fact that we still have a long way to go in winning a battle that we thought was over in the 1970s or '60s," he said in an interview. The longtime Sunday school teacher and former United States president wants to start this change within his own faith: He's pushing churches to organize around social-justice issues, including racial discrimination.
But the future of progressive Christianity in the U.S. is fragile. Congregations are shrinking; young people who organize politically largely do so outside of the church. Carter is hoping for a new generation of institutional Christian leadership precisely at a time when Christian institutions are becoming weaker.
Nine years ago, Carter brought together Baptist leaders to form a coalition called the New Baptist Covenant. Roughly 15,000 people gathered in Atlanta in 2008 to kick off a new era of unity in the fractured denomination, which has split a number of times, including over the issue of slavery. Since then, the group has worked in fits and starts—it held some regional meetings and other conventions, along with efforts to convene online that "didn't work very well at all," said Bill Leonard, a preacher and Wake Forest professor who is involved in the organization.
Now, the group is trying to reboot, with a public-relations push for media attention ahead of another meeting in Atlanta this fall. It's also hoping to foster partnerships between predominantly black and white churches, called "covenants of action," across the country. The congregations work together on issues such as payday lending, mass incarceration, and education. About 12 partnerships have started in a "pilot phase," said Hannah McMahan, the executive director. By 2018, they want to have 100.
The New Baptist Covenant does not identify with any particular ideology, McMahan said. But Carter and Bill Clinton, both Democrats, were involved in the founding; it seems largely oriented toward progressive causes and political action, even if its leaders wouldn't say that outright. Many progressives, even those who share Carter's faith, have long been uneasy with overt religious influence on policy. This is partly why progressive Christians in the U.S. have not had as prominent a public voice as their conservative counterparts. Carter, the first self-described "born-again Christian" to take the White House, worked hard to disentangle his religion from his politics. As a result, the "era when I was president was when some of the white Christians formed an alliance with the Republican Party," he said. In some ways, the New Baptist Covenant is an attempt to correct that imbalance, giving a unified voice to more progressive and moderate Baptist congregations.
A lot of factors work against them, though. The conservative Southern Baptist Convention is the single largest Protestant group in the country, and even though not all Baptists are part of it, the group has largely come to represent Baptists in American public life. This is partly because "the smaller Baptist groups are much less uniform and much less agreed on strategies," said Leonard. "They do not have a consensus on who speaks for them. Their diversity makes it more difficult for them to speak collectively."
No leaders from the conservative Southern Baptist Convention are involved, even though the invitation has been extended, said Carter, who left the SBC in 2000 because of its opposition to female pastors. Fred Luter, who served as the first African American president of the SBC until 2014, said he'd never heard of the New Baptist Covenant—if they had reached out during his time in office, he said, "I definitely would have been aware of it." He said Baptists should not let politics divide them, "and if it, does, shame on us," he added. "The world may divide on things. The Body of Christ should come together regardless of what our political parties are because of our relationship through Jesus Christ." While Carter said he hopes SBC leaders will eventually participate, Leonard was skeptical. "I think it's really wasted energy to try to make the New Baptist Covenant a source of reconciliation between Southern Baptists and the so-called old-guard moderates," he said. "I think we're way past that generationally and organizationally."
Old internecine squabbles aren't Baptists' biggest challenge, anyways: The denomination as a whole is declining. This includes an "aging constituency, declining baptisms, declining attendance, changes in church attendance even for those who are most regular and engaged," said Leonard. While mainline Christian congregations—some of which are Baptist—have been struggling with these issues for some time, evangelical Baptist groups are now feeling them as well. As more people drift away from institutional religion and a long period of default American Protestantism draws to a close, denominational division could be an existential threat. "We need each other in ways we didn't when our denominations were larger, more solvent, and more engaged," Leonard said.
That may be why older Baptists are so eager to focus on race issues and "turn the responsibilities over to a younger generation," as Carter put it. Many denominations have recognized that race issues are not just politically relevant—they matter to young people, and if the church wants to stay relevant, it has to engage with them. "Discrimination by white Baptists against African Americans or Asians or Hispanics or even against other people who have different views from the majority have been a major factor in driving young people away from the church," Carter said. "The success of the New Baptist Covenant is going to be, we hope and pray, a positive factor in attracting young people who are alienated from the church to come back." The Southern Baptist Convention has also been making an effort to advance what it refers to as "racial reconciliation."
When speaking about Black Lives Matter, Carter remarked, "The obvious response to that is all lives matter."
But Baptists have been slower to move on other issues, including outreach to the LGBT community. The denomination is incredibly fractured on the issue of same-sex marriage and homosexuality—Southern Baptists strongly oppose both, as do some predominantly black Baptist groups, while others tentatively support gay rights. The New Baptist Covenant wasn't founded to focus on this issue, Carter said, but "I think that's the same principle … to being all people together, and to eliminate any vestige of discrimination, not only because of race but because of sexual orientation and so forth."
Carter also said he hopes the New Baptist Covenant can "understand the motivations" of rising political movements like Black Lives Matter, which is largely led by people in their 20s and 30s. But generational hand-offs aren't always simple. When speaking about Black Lives Matter, for example, Carter remarked, "The obvious response to that is all lives matter"—a phrase often used as a retort to outrage over racial discrimination and police violence. At most, it seemed like a generational faux pas—"white people need to understand the special discrimination that still exists against our black neighbors," Carter went on to say—but the moment seems symbolic of the larger disconnect between older religious leaders and their younger peers.
"I see children—our children, my children—who may or may not be wearing the Baptist label or church label but participating in [movements] like Black Lives Matter," said Aidsand Wright-Riggins, a preacher, member of New Baptist Covenant's executive committee, and former leader in American Baptist Churches USA, a predominantly black denominational group. "Generationally, it's oftentimes harder for those of us who have been part of one movement to see the connection of our movements to those who come after us, but I think it's important for us to understand that God has a role for those who have come after us."
This may be the biggest challenge to the vision of the New Baptist Covenant: A lot of the action on issues such as policing, mass incarceration, and education reform is happening outside of the church. Congregations largely "have a mentoring or a rooting-section role in those movements," said Wright-Riggins. While he thinks earlier eras of religious activism, like the civil-rights movement, are often romanticized, the role of the church in American politics has definitely changed. "Movements often become institutionalized and lose their power and fervor," he said. "I think that's what's happening in the progressive church. But I don't think progressivism itself is dead."
A lot of younger people are already doing work in the Baptist church. McMahan, who recently took over the New Baptist Covenant from the former Southern Baptist Convention President Jimmy Allen, is in her early 30s. Danielle Ayers, who leads social-justice initiatives at the 12,000-member Friendship-West Baptist Church in Dallas, said her congregation has a lot of enthusiasm for political advocacy. "We are being equipped, when we come on Sunday mornings, to go out into the public square to make our voice heard, particularly for those who live on the margins and those who feel the brunt, quite frankly, of empire," she said. But they also struggle with the question, "What does church look like as we move forward in the 21st century?" she said. "You have a whole generation or two that are unchurched. … Churches always have to be aware of the times they are ministering in."
It is the wish of every leader to know their efforts will survive them. Perhaps that's one reason for the urgency behind this next phase of the New Baptist Covenant. After all, Carter likely won't be able to speak for the movement much longer. His generation of religious leaders is turning to see what will come behind them. The answer, at least in their churches, is uncertain.