How Long Can Ivanka Trump Defend Her Father?
Trump's treatment of women threatens to derail his daughter's very polished brand.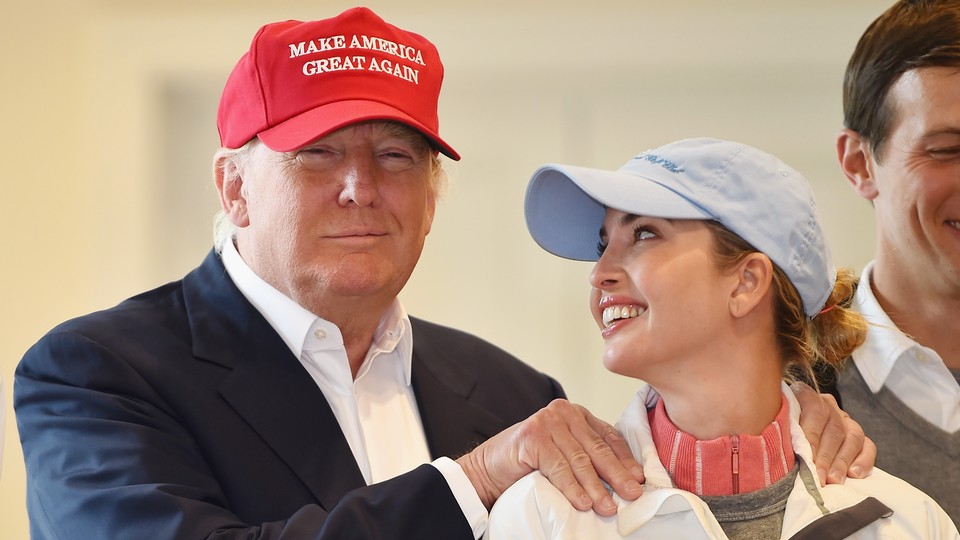 In an interview on CBS this Wednesday, Ivanka Trump was asked by Norah O'Donnell about the now-infamous New York Times piece detailing her father's bizarre, and oftentimes flagrantly misogynistic, behavior towards women—both personal and professional.
"I found it to be pretty disturbing, based on the facts as I know them," she intoned in polished Ivanka-speak, before asserting that the entire story had been discredited by the fact that one of the women interviewed, Rowanne Brewer Lane, is now saying the Times took quotes out of context.
O'Donnell moved to a different part of the piece, and asked about the reportedly misogynistic climate inside the Trump Organization.
"Is there unending commentary on the female form?" O'Donnell asked.
Trump emitted a half giggle, as if to underscore the absurdity of this question, and urged, "No, no—and again, this is an article that is widely being discredited."
O'Donnell pressed further, asking Ivanka about an incident where her father allegedly groped a female associate:
By the time the three of them were having dinner at the Oak Room of the Plaza Hotel the next night, Mr. Trump's advances had turned physical, Ms. Harth said in the deposition. "Basically he name-dropped throughout that dinner, when he wasn't groping me under the table," she testified. "Let me just say, this was a very traumatic thing working for him."
Trump rolled her eyes and shrugged her shoulders.
"Yeah, well," she began. "Look, I'm not in every interaction my father has, but he's not a groper."
She smiled at this—a groper!—as if enjoying how ridiculous it sounded.
"It's not who he is. And I've known my father obviously my whole life, and he has total respect for women. He was promoting women in development and construction at a time when it was unheard of. There was no trend towards equality in the real estate and construction industry in the 1980s, and he was doing it because he believes, ultimately, in merit."
What is nearly certain is that Donald Trump did not consider himself a feminist in the way-back '80s, nor was he making these hiring decisions, particularly, to shatter any glass ceilings. He enjoyed bucking convention (something he still seems to enjoy), but mostly, Trump says he admired hard workers. And women, it appeared, often worked harder. So he hired them.
"I know you're a woman in a man's world," he said [to one hire]. "And while men tend to be better than women, a good woman is better than 10 good men."
That said, this decision—to hire the hardest workers—has won Trump accolades in retrospect, and now serves as the counterpoint ne plus ultra when charges of sexism, harassment, and otherwise lewd or inappropriate behavior are brought up. Trump hired women for top posts! In the construction industry!
Even Megyn Kelly, positioned for the last nine months as the Trump Slayer, said this week:
He's such a contradiction in that way. He's much more complicated than the buffoon that the New York Daily News—for example—would have you believe when it comes to women.
Never mind that Trump is on record saying that the "ideal woman"—in this case, his mother—is a housewife. Or that he vowed never to again allow one of his wives into his business affairs (despite her apparent success) because it complicated his preferred spousal roles.
My big mistake with Ivana was taking her out of the role of wife and allowing her to run one of my casinos in Atlantic City, then the Plaza Hotel. The problem was, work was all she wanted to talk about. When I got home at night, rather than talking about the softer subjects of life, she wanted to tell me how well the Plaza was doing, or what a great day the casino had. I will never again give a wife responsibility within my business.
Trump may have hired women for the top posts in construction and industry, but make no mistake: When it comes to his own women, mothers and wives alike, he wants not a hard-nosed business mogul, but a woman who will entertain "the softer subjects." (His current wife Melania has a jewelry line, but thus far seems to comport with this mandate.)
On this count, his daughter may be hard pressed to offer an excuse. Ivanka Trump appears to celebrate her mother Ivana for being a working parent. A glowing post on Ivanka's website revisits the golden years when, "unlike many of the society wives in her social circle, Ivana was devoted to her career, working long hours with great energy and enthusiasm." Those would be precisely the years that Donald Trump has complained about.
In fact, the proposition of the working wife and mother is central to Ivanka Trump's public identity: This is a woman whose preferred hashtag is #WomenWhoWork, a mogul who has styled herself a role model for aspirational, if not actually high-powered, women looking to achieve their dreams of corporate-mommyhood—where babies can be balanced alongside spreadsheets.
Ivanka hawks this paradigm-busting business advice forcefully and often. She has lately been a fixture on the high-end speaking circuit, places like Fortune's Most Powerful Women Summit or swishy industry confabs like 100 Women in Hedge Funds, where she was interviewed by Google's Eric Schmidt about, among other things, ways in which corporate culture can better celebrate "multidimensional" women.
Advice-proffering is a mainstay of her brand, which offers interested readers profiles of "7 Mompreneurs to Know" alongside helpful tips on How to Avoid Office Drama (something her father could probably use help with). All of this is executed in Ivanka's signature blend of mellifluous but ambiguous corporate-speak: She is prone to talking about "architecting one's life," and the elusive concept of "personal bandwidth." It is a conspicuously non-partisan iteration of feminism born of Ted Talks, rather than Freedom Trash Cans.
And although feminists of varying stripe (and age) may have a hard time reconciling this strain of empowerment with the values and traditions that began the movement, what is undeniably true is that there is no room even in Ivanka's brand of hyper-efficient, non-confrontational feminism for the piggish antics and antiquated, un-hashtaggable gender tropes embraced by her father.
Put another way: If the tables were turned and Donald Trump worked for his daughter, he would have been fired long, long ago.
If Ivanka has thus far managed to wave away distressing newspaper reports by offering a defense of her father's hiring practices 35 years ago, and if she has yet to be pressed on her father's anachronistic notions about women in the workplace, there is yet a more devastating league of Trumpian Indiscretion as it concerns women. And that's the way in which Donald speaks about his female children.
For over a decade, Ivanka Trump has been an object of her father's sexualization, fetishized by a parent who said he'd otherwise date her if she weren't, uhm…his daughter.
The Times touched on Trump's inability to control this odd impulse:
"Don't you think my daughter's hot? She's hot, right?" Ms. Lee recalled [Trump] saying. "I was like, 'Really?' That's just weird. She was 16. That's creepy."
And it is something that's been going on for years.
In a 2004 New York profile, Jonathan Van Meter visited Trump to discuss his parenting savoir faire:
When he's had enough of our small talk, he claps his hands together and says, "Tell me about my children." Before I get far, he jumps in, "Let me tell you one thing: Ivanka is a great, great beauty. Every guy in the country wants to go out with my daughter. But she's got a boyfriend."
Notoriously, appearing on the View in 2006 with Ivanka sitting beside him, Trump announced: "If Ivanka weren't my daughter, perhaps I'd be dating her."
Ivanka gamely shook her head, tongue firmly in cheek, as if to say, "Yep, that's my dad!" (This was before she became someone who tweeted out #ITWiseWords, including quotes from Eleanor Roosevelt about self-worth).
Trump did not appear to be cowed by the public gross-out. He has gone on to talk about the fact that Ivanka has "the best body" and to again suggest—this time to Rolling Stone—that he might bed her, were it not for the inconvenient fact that they are related.
But perhaps ickiest of all these covetous moments is a 1994 clip of Trump and then-wife Marla Maples, unearthed recently by the Daily Show, in which Trump says of his one-year old daughter Tiffany:
"Well, I think that she's got a lot of Marla, she's a really beautiful baby, and she's, uh, she's got Marla's legs. We don't know whether or not she's got this part yet," Trump said, motioning to his chest, "but time will tell."
Evaluating the sex appeal of an infant is paradigm-shifting alright, especially when said infant is one's own child. One can only imagine Ivanka the Mompreneur's potential displeasure if her husband, Jared Kushner, spent their daughter's teenage years crowing about her hotness, and his desire to date her, if not for the for taboos on incest.
More broadly, this pattern of behavior—Donald Trump's vulgar inclination to objectify and even humiliate his very own progeny—is an anathema to most women, most mothers. You might wonder what #ITWiseWords Ivanka would have to share on the subject.
So far she remains her father's loyal ally and most articulate spokesperson, someone the press has deemed "his secret weapon." But Donald Trump's unseemly behavior goes far beyond the disputed accounts by Rowanne Brewer Lane, and at some point his daughter Ivanka will have to reconcile how his gluttonous misogyny fits into her highly calibrated attempt at female empowerment.