The House Freedom Caucus Is Trying to Be Reasonable
The cadre of conservative budget hawks on the Hill feels damned if it does play spoiler in budget negotiations, and damned if it doesn't.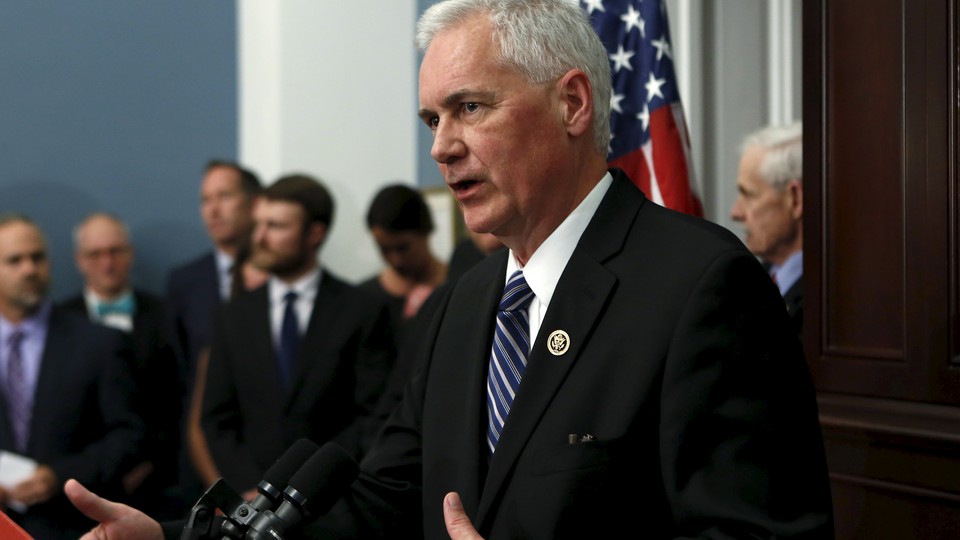 Members of the conservative House Freedom Caucus want you to know that they are not the bomb-throwing, gridlocking, bash-and-slash anti-government zealots that their reputation suggests. Okay, maybe they are in general. But when it comes to this year's budget circus, they insist that reports of their intransigence and irrationality have been greatly exaggerated.
The basic contours of the budget stalemate between House Republicans seem pretty straightforward: On one side, Speaker of the House Paul Ryan and Co. are pushing a blueprint based on the $1.07 trillion in discretionary spending (commonly referred to as "the 10-70 number") that Boehner and other congressional leaders hammered out last October. On the other, Freedom Caucusers are rejecting any budget that busts the $1.04 trillion (or "10-40") top line set by sequestration—and political difficulties be damned.
But, caucus members insist, there is so much more going on behind the scenes! Yes, they desperately want spending levels to come down. They need them to, in fact—both on principle and for political reasons. "One hundred and fifty three Republicans voted against the 10-70 number last year," says Representative Dave Brat, who serves on the budget committee. "There would be tremendous political pressure to explain to voters why, if we voted no last year, we then voted yes this year."
That doesn't mean caucus members don't understand—or perhaps even sympathize with—the pressures that House leadership faces. "In their defense, they believe that a deal has been made and that we need to stick to the deal," says Representative Mark Meadows. But what upsets Freedom Caucusers—hurts their feelings, if you get right down to it—is that no one is giving them a lick of credit for working so hard to come up with a solution.
Budget tensions during an election year run especially high. To avoid a new wave of abuse from the Senate and White House, Ryan needs to pass a budget resolution with the 10-70 top line. Caucus members get that, and many are willing to hold their noses and back the higher level. "We would vote for the crap sandwich number!" says Brat. But! In exchange, they want—make that need—something they can point to as a victory for the cause. "This matters tremendously to the Republican conservative brand," says Brat.
What kind of something? On this point, Freedom Caucusers are flexible, and for the past few months they have indeed been throwing ideas at leadership with both hands. Proposals range from the grand to the ticky-tacky. Some would immediately whack spending. Brat, for instance, wants to directly offset the extra $30 billion in discretionary spending with a $30 billion cut in entitlements. Representative Gary Palmer, also on the budget committee, wants to target the $100-plus billion in improper payments of various kinds that the federal government makes in any given year. "GAO did a report on it," his spokesman, Cate Cullen, emailed me—complete with italicized hyperlink—specifically addressing the issue of Medicare, welfare, and other payments going to dead people. "This can easily be remedied by sharing death data collected by the Social Security Administration between government agencies," she insisted. Palmer (one of the most prolific of compromise floaters) also favors reclaiming a chunk of the $900 billion in unobligated money that federal agencies are currently sitting on. "The director of GAO assured"—again with hyperlink—"the Congressman that they could recall at least $30 billion without causing any significant problems," stressed Cullen.
Other ideas look to facilitate future cost-cutting by changing House rules. Budget Committee member Tom McClintock (who resigned from the Freedom Caucus in September, but whose ideas members still cite approvingly) would make it harder for Congress to waive existing rules—as is now common practice—prohibiting appropriations that are unauthorized or that would bust the budget cap. (You read that right: He is looking to pass a new rule that the House can no longer ignore existing rules.) He also wants to put entitlement spending up for review every year.
A few ideas are purely process related. Meadows has floated the possibility of supporting the 10-70 budget in exchange for a change in the order and method of how this year's appropriations bills are handled. (Defense funding would need to be among of the first four bills considered, those four bills would all need to pass by regular order, and so on.) He also has a proposal for overhauling SNAP (Supplemental Nutrition Assistance Program) and one for tightening identification requirements for people filing for child tax credits.
"We have given leadership a plethora of ideas on how the Freedom Caucus could say yes" to 10-70, Meadows tells me, noting that he has spent an absurd amount of time trying to find a path forward—especially considering he's not even on the budget committee.
By Brat's estimate, the caucus has put forth around three-dozen compromise proposals. But so far, he says, leadership is not offering any feedback. "It's very frustrating."
"We keep throwing out ideas," confirms Representative Scott Garrett, another Budgeteer. "But we're not hearing back."
Now, budget aficionados may note that, earlier this month, $30 billion in entitlement cuts were, in fact, packaged into a separate bill that Budget Committee Chairman Tom Price decreed was "ready to go." The plan is for the package to be a "sidecar" that would accompany the budget resolution through the legislative process.
That would be a lovely solution, say caucus members, if only the sidecar had any chance in hell of surviving the trip. Which it does not. (Freedom Caucusers may be zealots, but they are not idiots.) "No one really anticipates that the sidecar has much of a chance in the Senate," says Garrett. Weakly linking cuts to the budget resolution—which is itself non-binding—is pointless, he observes. "You have to get that $30 billion into some must-pass piece of legislation."
Here again, caucus members have been full of suggestions. Some favor linking the cuts to FAA reauthorization, or maybe the funding bill for military construction and the VA. "These are things everybody wants to pass," says Brat.
Meadows thinks he has the perfect solution: Attach any compromise to the legislation helping Puerto Rico restructure its debt. "As a member from North Carolina, if I did not act on Puerto Rico I would probably get points instead of demerits," he says. "But it seems to be a priority for the administration and even some in a bipartisan way here on Capitol Hill." If for some reason the bill comes up without the agreed upon compromise proposal, members could refuse to support it without too much blowback. "That way you're not shutting down FAA. Not doing away with food stamps. It becomes an issue that you can walk away from if it doesn't pass."
For its part, the speaker's office insists that productive negotiations are ongoing. Ryan's press secretary AshLee Strong tells me, "Members had a good budget conference before the recess—taking in ideas from many members, including those in the Freedom Caucus—and we plan to resume that conversation this week."
But Freedom Caucusers are not optimistic about the situation turning out well, especially after Majority Leader Kevin McCarthy indicated that there would not be a budget vote this week. After May 15, the House is free to start moving funding bills without a budget resolution, and pretty much everyone assumes they will begin moving at the 10-70 level. Eventually, predicts Garrett, appropriations will grind to a halt altogether, and Congress will have to deal yet again with a continuing resolution in September. The whole process will, as usual, wind up being a colossal mess—one for which Freedom Caucus members are well aware that they will likely be blamed.
For the most part, they are okay with that. But they want everyone to understand that they did not just sit around obstructing leadership's efforts to make something happen. They tried to play nicely. They really did. "But there are only so many proposals you can make and get 'no's to," says Meadows. "Ultimately, you've got to stand your ground."